During the recent cold snap, a viral meme on social media compared different countries describing the biting cold temperatures and heavy snowfall as a 'snow cannon', the 'beast from the east', and the 'Siberian bear'; Finns are referring to it simply as 'Wednesday'.
It is a complimentary nod to Finnish stoicism and sisu, and it was shared so widely it reached a global audience of millions.
Joel Willans - the creator of Very Finnish Problems, which posted the meme - regularly posts about humourously-described 'problems' in photo and video format across his social media platforms. Social media analyst Steve El-Sharawy of EzyInsights says the concept has proven to be particularly popular on Facebook where the page's on-post engagement (likes, reactions, comments, shares) is comparable to that of Helsingin Sanomat.
El-Sharawy attributes the success of Very Finnish Problems - and another popular meme-sharing site 'Finnish Nightmares', which follows the adventures of the stereotypically-introverted Finn 'Matti' - to having found a niche in the Finnish social media market.
"Finnish people are fond of reading about how they are viewed in the world, especially when it's favourable, and content written in English carries a novelty and weight. Finns don't like to blow their own trumpets about anything, so when it's done for them it takes away the 'look at me' stress factor and allows them to be proud of their many accomplishments."
"Love us like we really are"
Petra Theman, of the Finnish Ministry for Foreign Affairs, says the popularity of viral Finnish content reflects Finns' self-deprecating sense of humour, but also a pride in certain traits associated with Finnishness.
"They both touch Finnish weaknesses, inhibitions, sentiments, quirky things - that over the years have been deliberately hidden, when there were efforts to 'make Finns more presentable'. Being proud about these things and showing this attitude of "love us like we really are" has become very popular in recent years."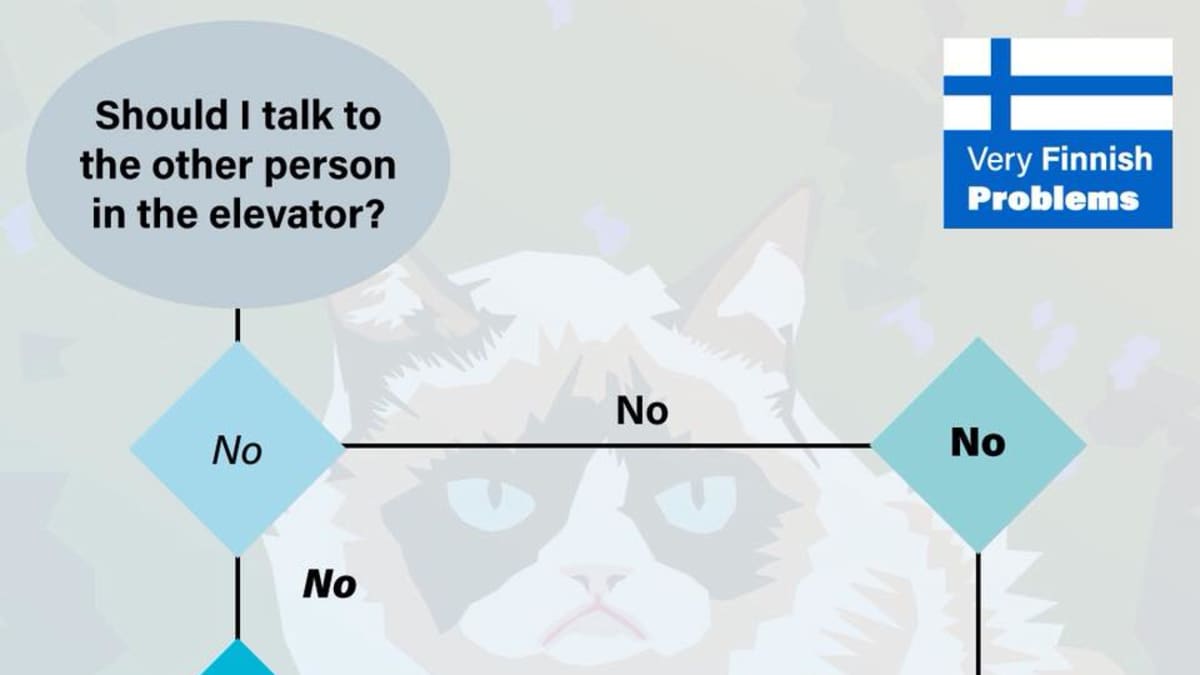 Finns are certainly interested in how they are seen by foreigners. . The term 'Suomi mainittu!' ('Finland mentioned!') has become a tongue-in-cheek catchphrase used by Finns whenever Finland receives foreign media attention, mocking the perceived reaction that any and all attention on the country is welcome. Theman believes that while Finland is usually painted in a positive light, there was something lacking - until very recently.
"Finland is perceived as a well-functioning place with a very good and stable government system and services - especially schools - but we lack on the fun-side. So I especially welcome all endeavours that work to this end; telling the everyday-life story from Finland from a funny point-of-view."
Game-changer
With a background in both content marketing and short-story writing, Willans is accustomed to having his finger on the pulse of social attitudes and trends. Spotting the gap in the market for humorous presentations of Finland, Willans launched Very Finnish Problems after betting a friend the concept would get 10,000 followers within the first month. Four weeks later he had 15,000 followers, and Very Finnish Problems is now one of the top 3 viral content publishers in Finland.
He describes the audience for Very Finnish Problems as falling into three main categories; foreigners living in Finland, Americans of Finnish descent, and Finns themselves - whether living in Finland or abroad.
"All of these people combined have a reason for sharing stuff that celebrates their life or their country or their history, and we try to make the content and the stories as fun as possible. So it's bigging up Finland, in a fun way."
The advent of social media has been a game-changer, allowing content creators to reach a wider audience very quickly.
"We could create a video today, publish it tomorrow, and it could get 100,000 views. The idea of being able to create something that reaches loads of people instantaneously, that's what has always driven me behind doing this. It's a buzz."
In its best month to date, Very Finnish Problems' posts had a global reach of over 20 million people, including 4.1 million views of a video entitled "How Finland Ruled The World in 2016".
'I came to Finland because of the weather'
Willans' own journey to Finland began the same way many foreigner-in-Finland stories begin - he fell in love with a Finn - but his reasons for staying in Finland are not quite so typical. After returning from a round-the-world trip with his Finnish girlfriend - now wife - to a rain-sodden London in July 2002, they decided to spend the summer in Finland instead.
"We arrived in Finland and it was the hottest summer here in two or three hundred years. It was beautiful, everything was magical, and I said "let's just stay here". So I came to Finland because of the weather, which is really, really, very rare."
After initially planning to only stay for a year, Willans soon began copywriting for Nokia before setting up his own content marketing company, Ink Tank Media.
"I very quickly managed to embed myself in Finnish society. I was lucky as it was very easy for me to settle in Finland. I had thought I would be here for just one year, yet here I am - all these years later."
A Very Finnish Problem
Despite the relative ease of adapting to life in Finland, Willans says getting to grips with the Finnish language is the biggest problem he has faced during his time here. Although he describes his current language level as "passable", he feels there is still room for improvement.
"I have a Finnish teacher who says I am better than I think I am, and that I have a lot of words in my head but I don't activate them. But It pains me on a daily basis, that I am so crap. I would really like to get Finnish citizenship so I need to be better."
Therefore his advice to any newly-arrived foreigner in Finland is to learn the language before the enthusiasm "slowly withers and dies".
"Just do everything you can to master it. Get the people you know to only speak Finnish to you, go to as many classes as possible, and just really try and nail it. And if you can master Finnish, then you are a hero in my eyes. Or a heroine."