New figures from the Ministry for Employment and Economic Affairs indicate that workers aged 55 to 64 are leading the charge toward rising employment.
According to ministry advisor Johanna Alatalo, officials were initially sceptical of the numbers. She added that it's now beginning to seem that government is getting closer to its goal of achieving 72 percent employment by 2019.
"No one really thought they were realistic. It's now beginning to seem that we are getting somewhat close to the goal. During the last four to five months employment has grown a great deal," she noted.
The rebound in employment figures can be attributed to stronger than expected economic growth. Exports have picked up, consumption is on the increase and investors are becoming more active, officials pointed out.
Jobs for everyone
According to data from Statistics Finland and the ministry, it seems that every age group has benefitted from the jobs boom. That's because of the scope of the increased economic activity, which has not been concentrated in specific areas or sectors, Alatalo said.
"You could say that many different groups have found work. Both men and women of all ages and professions have found employment in all geographical locations," she added.
However the data show that one age group stands out from all the others in terms of a steep increase in employment. According to ministry figures, the employment rate rose highest among workers aged 55 and over.
Compared to the first quarter of 2015, the employment rate among jobseekers aged between 55 and 64 has increased by six percentage points. That translates into 36,000 more people in this age group who now have jobs compared to three years ago.
The trend is in part explained by the fact that nowadays older workers are healthier and better educated, factors that are reflected in their employment prospects. A similar kind of development has also been observed in Sweden, for example. However in spite of the positive development, employment levels among this age group in Finland still lags behind that of the country's western neighbours.
In addition to health and education factors, new laws that took effect in 2017 postponing the retirement age in Finland have also had an impact. However, that development has long been in the making, said Seppo Orjasniemi, secretary general of the evaluation council of the Economic Policy Council think tank.
"Employment among over-55s has been rising somewhat steadily since the end of the 1990s. It is not due to any recent policies, but is the result of an improvement in working conditions and the ability to work," Orjasniemi noted.
Story continues after graphic.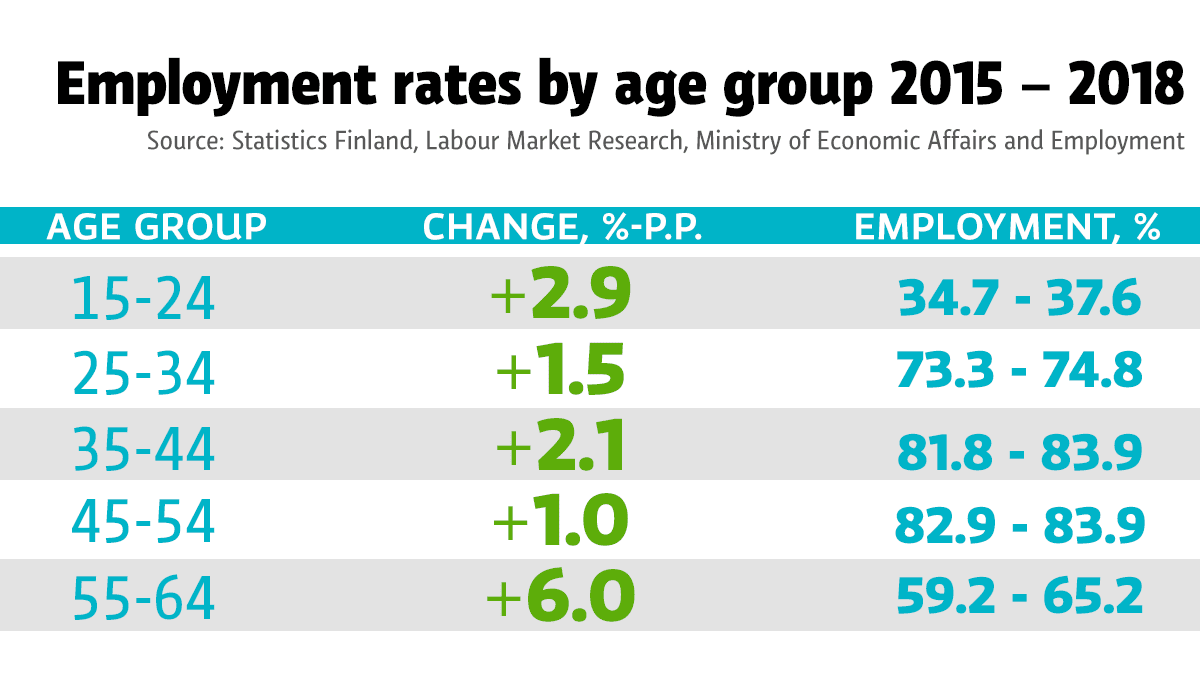 Another group that appears to have benefitted from rising employment prospects is on the opposite end of the labour force spectrum, the 15 – 24 year-olds. They saw a nearly three-percentage-point increase in employment between 2015 and 2018. They obviously fared better in the labour market than their slightly older peers, the 25 – 34 year-old group, who an increase in employment of just 1.5 percentage points.
"The employment rate among 25 – 34 year-olds shows that the economic recession delayed the first job for many and made it significantly more difficult to get into the job market," Orjasniemi commented.
Bank of Finland experts have also taken note of the phenomenon and commented that the so-called Y-generation (people born in the 80s and 90s) faces poorer earning prospects than previous generations. It's a problem that they say is affecting young men in particular.
The specialists said that there is still room for employment rates to rise among both the over-55 and 15 – 14 year-old age groups. The economic policy think tank said that the best means of improving employment among young people is education.
"However education measures are slow. In addition it might be useful to consider some kind of income subsidy for those who are more difficult to hire. It is important to identify problem areas and apply targeted measures," Orjasniemi recommended.
In its latest framework budget, the government has proposed making it easier to hire under-30 year-olds on fixed term contracts to ease unemployment among this group.
However in an interpellation debate, the opposition Social Democratic Party, the Greens and the Left Alliance have accused the government of trampling on the rights of young workers. Critics have also charged that the proposal may be inherently unconstitutional.
Higher employment rate needed
Another highly controversial government measure for reaching its employment target has been the introduction of the activation model, which imposes certain conditions that unemployed jobseekers must satisfy on pain of having their benefits cut.
Orjasniemi said that it is difficult to estimate how far the measure has influenced employment figures.
"These different incentive measures do have an overall positive effect on employment, but the scale is difficult to assess. Employment growth has more to do with the fact that the economy has picked up," he noted.
Finance Ministry permanent secretary Martti Hetemäki has proposed that in future, the employment rate would have to rise to over 80 percent to ensure that the public purse can handle the cost of caring for the country's ageing population.