As fewer children are born in Finland each year, researchers are trying to determine the reasons why.
More people are choosing to postpone pregnancy or not to have children at all. People cite a wide variety of reasons for this: including everything from climate change, fear of childbirth and the simple decision to forego the responsibility.
But money is also a factor in many different ways.
"Nowadays people spend a lot of time waiting for the right time, a suitable partner and a proper place to live," says researcher Anneli Miettinen, who is one of the authors behind the annual Family Barometer publication released by Finland's Population Research Institute.
Yle set out to calculate the costs of having a child in 2018, by tracking the expenses associated with rearing a child until the age of one year and 9 months in two families.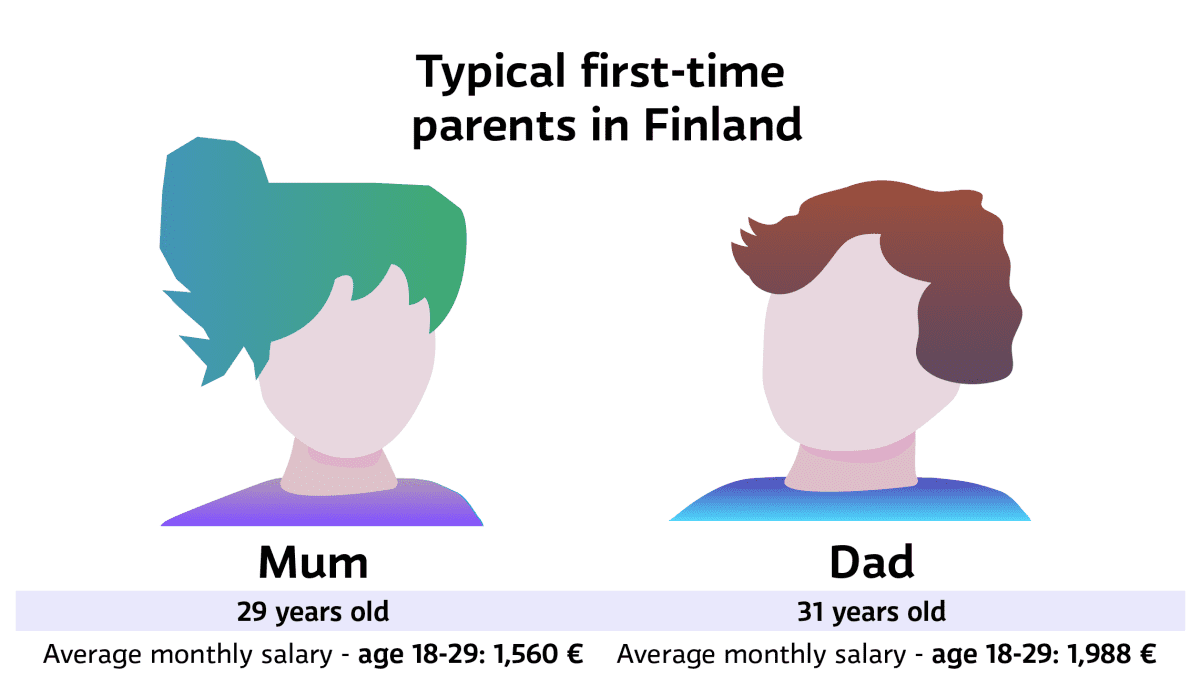 The Peltomaa family: 8.5K in first 21 months
The first-time parents in the Peltomaa family received quite a few items as gifts after their daughter was born, and bought the rest new. The mother breastfed their baby for six months, and the child has been in part-time day care since her parents returned to work after about one year.
The family recorded that it spent 1,300 euros on clothing, 1,340 euros on other associated child care equipment, 1,150 euros on food, and 810 euros on diapers. Other expenses, such as day care expenses, baby swimming classes, insurance, water bill increases, baptism and first birthday party, rang up 3,900 euros more in expenses.
This brought the Peltomaa family's total expenses for the 21 months to 8,500 euros.
The Pynnönen-Nyqvist family: 4.8K in first 21 months
The Pynnönen-Nyqvist family received many of their baby's toys as gifts and bought most of their child's clothing second hand. The mother will return to work this fall after two years at home caring for their daughter.
They report spending close to 500 euros on clothing, 1,460 euros on other equipment, 515 euros on food, 765 euros on diapers and 1,640 euros on other expenses such as those mentioned above for Family Peltomaa.
This brings the Pynnönen-Nyqvist family's 21-month total to roughly 4,860 euros.
Higher housing and water costs
The effect of having a child on a family's housing expenses can be calculated by subtracting the cost of a home for two adults from the costs of paying for a home with the extra space that is needed for the child. On average in Finland, families with one child have a home with six more square meters than childless couples.
According to rent levels in Finland's largest cities, this increase means an average addition of 94 euros in the capital city region, 79 euros in Tampere, and 76 euros in Jyväskylä. Add to this another 10 or so euros per month in higher water bills.
A fraction of pension earnings for years spent at home
In terms of lost pension earnings, the rule of thumb is that mothers or fathers that are home on leave earn pension according to a monthly income of 720 euros for each month they aren't working. If a mother normally earns 1,900 euros per month, this means that she is accruing less than half the pension she would have earned if she had stayed at work.
Specialist researcher for the Finnish Centre for Pensions Kati Kuitto says that this deficit is still much smaller than that resulting from general gender pay gaps in Finland, at the end of the day.
A Danish study (siirryt toiseen palveluun) from earlier this year found that having a child affects a woman's career detrimentally and lowers her earnings by up to 20 percent for a long period after childbirth. A similar study has not been conducted in Finland.
"In Finland, the so-called 'child penalty' could potentially be much greater, because mothers are away from work even longer than they are in Denmark," says research director Tuomas Kosonen from Finland's Labour Institute for Economic Research.
More part-time work could mitigate 'child penalties'
Even though Finland offers financial support for parents to stay home with their children for the first three years, taking time off from work is still considered a threat to new parents' careers in Finland, says the Population Research Institute's Miettinen.
Many young people hold out in the hope that they will get a permanent job first, in order to provide their progeny with economic security.
Miettinen says that one solution would be for Finnish society as a whole to start seeing part-time work and shorter work days as viable options.
"We've got this on-off way of thinking: we either work full-time or we are home full-time."
She says fathers should also start taking more child care leave in Finland, in order to better share the load. The time that dads spend with their small children should not be seen as a career threat.
"Labour market organisations should emphasise that taking time away from work to care for children is okay. They are important years for young families," Miettinen says.