Turku city officials decided to quietly observe the first anniversary of the deadly knife attacks that claimed the lives of two victims and injured eight others on Saturday, and no official commemorative events were planned.
"We don't think the tragic crime or its perpetrator deserve commemoration. We will honour the victims and people who helped by working every day with other officials and with civil society to improve security, cultural understanding and the integration of immigrants," Turku Mayor Minna Arve told Yle News.
The decision by city authorities to refrain from open observances did not stop other groups from turning out on Saturday, however.
Boos and banana peels for Nordic Resistance Movement
The neo-Nazi Nordic Resistance Movement PVL gathered hundreds of supporters for a procession through the streets of the city. Marchers joined a chant calling for freedom of speech and named individuals whom they said were traitors to the people, including President Sauli Niinistö, Foreign Minister Timo Soini and Foreign Trade and Development Minister Kai Mykkänen.
Story continues after photo.
As the procession progressed, onlookers along the route booed and tossed items such as banana peels at the marchers. The Nordic Resistance Movement has appealed a ban on its activities in Finland issued by the Pirkanmaa District Court last December. The Turku Appeal Court will hear the case from 28-30 August and is expected to deliver a verdict by the end of September.
Decorated hero takes part in counter-protest
Meanwhile by mid-day another group specifically aiming to outnumber the PVL had already assembled at Puolalanpuisto on the edge of the city prior to marching into downtown Turku.
Story continues after photo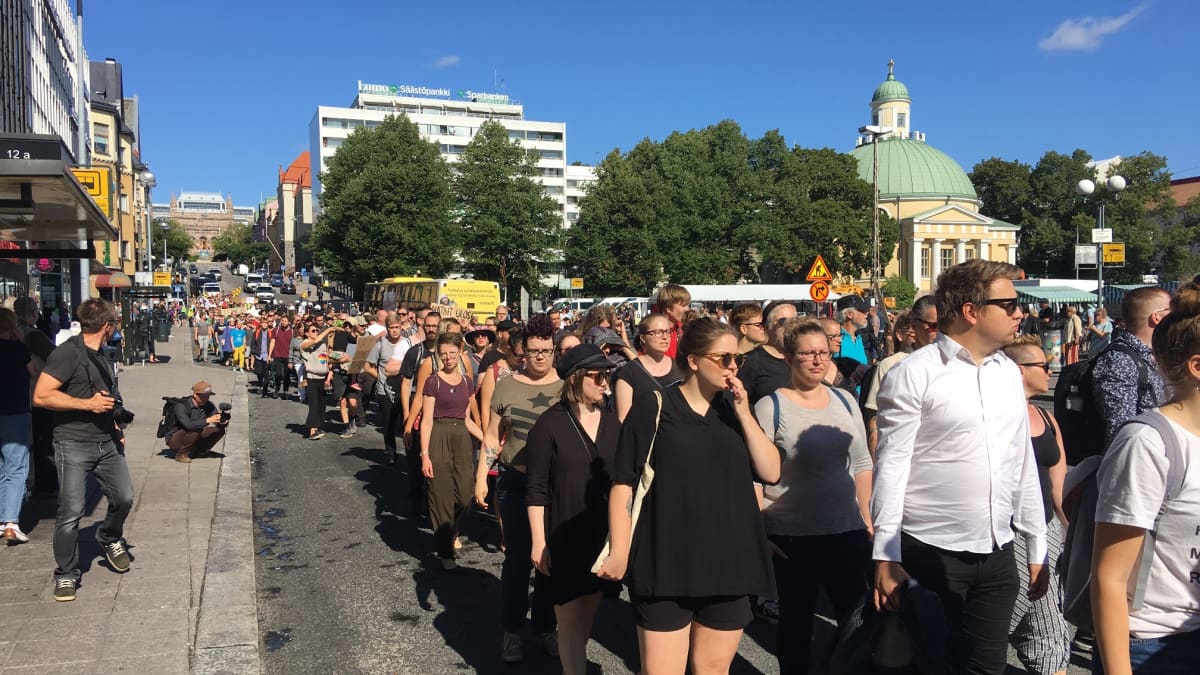 Several hundred supporters of the group "Turku without Nazis" made their way into the city centre to chants of "Turku belongs to everyone -- except Nazis," a sentiment echoed by many speakers who had addressed the crowd ahead of the procession.
One of the speakers was Hassan Zubier, an onlooker who intervened during the attacks to help one of the victims and was himself stabbed. His actions were later recognised by Britain's Queen Elizabeth, and he also received a life-saving award for heroism from Finland.
A third commemoration dubbed "188" by the Kansallismielisten liittouma or Nationalist Alliance - an openly anti-immigrant group set up about one year ago was scheduled for Saturday afternoon. Participants planned to lower wreaths into the Aura River to honour the victims of the attack.
The perpetrator of the attack was handed a life sentence on two counts of murder with terrorist intent and eight counts of attempted murder with terrorist intent. His defence has indicated that he will appeal the sentence.