Residents and visitors in Helsinki who are interested in the future of driverless public transport can take short rides in a robot-operated bus over the next few months.
Helsinki's RobobusLine, a project led by the Metropolia University of Applied Sciences, is an autonomous bus experiment which takes passengers on five-minute journeys in the city's Kalasatama district.
The vehicle is steered with the use of lidar (a laser-based version of radar) as well as satellite-based GPS technologies, and travels at a maximum speed of 14 km/h.
The little bus takes passengers on a pre-programmed route around the neighbourhood, making four stops along the way, using its lasers to scan and measure distances from edges of the road and buildings - as well as to avoid obstacles.
The bus makes three trips an hour, shuttling between the Redi shopping centre (at Englantilaisaukiosquare) and Isoisänsilta ("Grandfather's Bridge"). Rides are cancelled if the weather is exceptionally rainy, however.
Test rides will continue on weekdays through November. Schedules for the route (number 26R) can be found on Helsinki Regional Transport's (HSL) journey planner. https://reittiopas.hsl.fi/en
The city celebrates Helsinki Day on Wednesday, and is offering rides on the bus to mark the occasion from 9:00am - 3:00 pm.
The rides are free of charge and the boxy, driverless bus is able to carry up to eight passengers at a time.
Smart city effort
RobobusLine's project leader, Eetu Rutanen, said that the Kalasatama district was chosen for testing due to its suitable street layout, and because of other "smart city" projects going on in the area.
Helsinki is one of three European cities that are currently testing autonomous public transport vehicles. The effort is part of the mySMARTLife project, which aims to make cities more environmentally sustainable by cutting carbon emissions and boosting the use of renewable energy.
The mySMARTLife project is funded by the EU's Horizon 2020 research and innovation programme.
Safety first - and an XBOX controller
Even if the robot bus technically navigates and drives itself, it is not entirely autonomous at this stage. A human operator is always aboard the bus during the trips to ensure the bus gets to its destination safely.
Story continues after photo.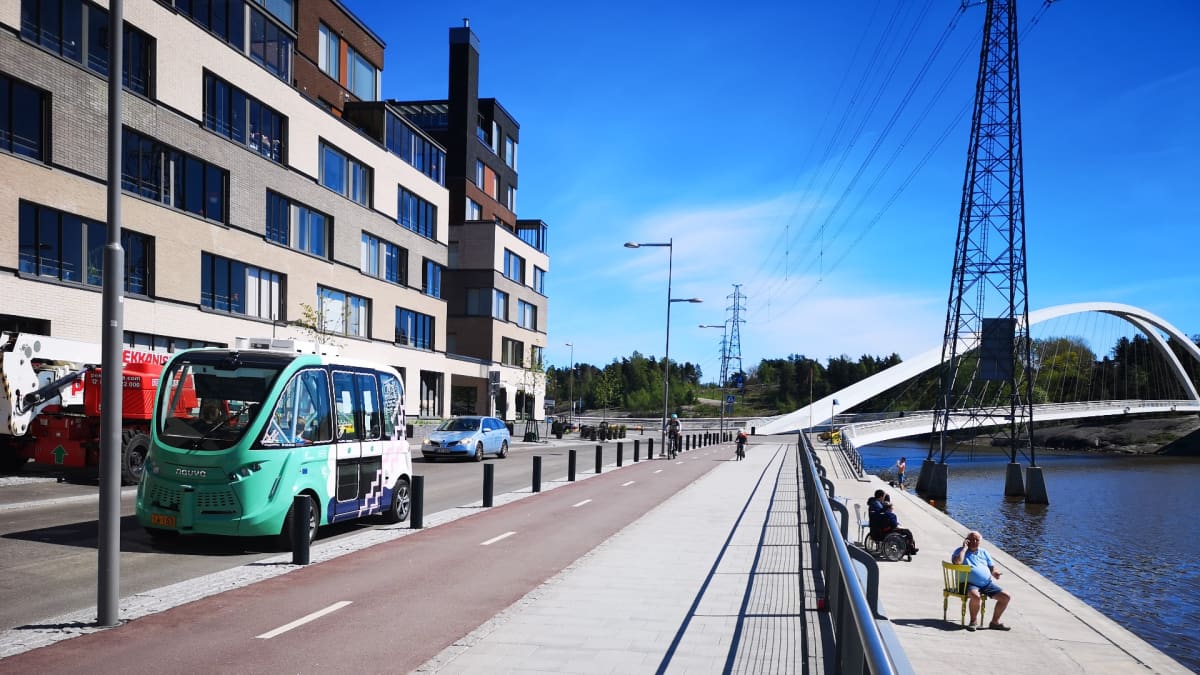 If something doesn't go to plan, the attending operator can steer the bus with the help of an Xbox game console controller when needed.
"Safety is an important part of the project. The bus only goes 14 km/h and if it detects something is in the way, it brakes - hard. There hasn't been anything close to an accident that's happened," Rutanen said.
Rutanen said that people should anticipate potential cancellations, as the bus is sensitive to weather conditions.
"This bus doesn't do well in sleet or rain. But we hope that the technology can be developed so that it can become a permanent part of the city's public transport network," he said.