The 42nd President of the United States, Bill Clinton, spoke to a crowd of hundreds at an outdoor concert in Mariehamn, the principal city of the autonomous Finnish island of Åland.
The ex-president was spotted visiting Finland as a private individual on Thursday, and that same evening he attended the 73rd birthday party of business magnate Anders Wiklöf – known by locals as the "king of Åland", according to daily Ilta-Sanomat.
The gathering at Miramar Park in Mariehamn featured performances from Eurovision stars Johnny Logan and Krista Siegfrids as well as Åland-born soprano Jenny Carlstedt; but Clinton received what IS describe as the biggest applause of the night.
Wiklöf gifted president Clinton with a unique saxophone, inscribed with an environmental message, as a token of his appreciation, according to the tabloid.
"I'll remember this day for the rest of my life," Clinton said on stage.
The former president's speech focused on the current condition and importance of the world's seas and oceans, which was also the theme of this year's annual summer event. Clinton spoke about the deteriorating health of the Baltic Sea, but also emphasised the importance of environmental activism.
FFA: Tornio salmon not poisoned
In other environmental news, daily Helsingin Sanomat reports that the Finnish Food Authority (FFA) has found that a spate of dead or sickly "zombie" salmon in the Tornio River in northern Finland is likely due to a vitamin B1 deficiency, and not poisonous effluents.
A lack of vitamin B1, also known as thiamine, causes a reproductive disorder called M74 to occur in salmon, especially those that have migrated from the Baltic Sea, explained FFA veterinarian Perttu Koski.
The Natural Resources Institute (Luke) wrote on its website that a thiamine deficiency can cause adult female salmon to behave lethargically and die before spawning.
"Public accounts of the fish acting passively and not going for the lure attest to this deficiency theory," Koski told HS. "Sick fish can't cope as well as healthy ones."
Luke said that a thiamine deficiency can form when salmon eat large amounts of fatty fish; the amounts of B1 stay too low compared to the proportion of unsaturated fats the salmon ingest.
"Hundreds or even thousands of specimens are likely affected by the vitamin deficiency," said Luke researcher Atso Romakkaniemi.
HS wrote that environmental activist group Pro Ylläs expressed concern that the salmon are being killed or made ill by runoff from an iron mine not far away in Sweden. Koski said this was unlikely.
"Problems like these haven't been reported in other fish species. It seems unlikely that the mine could cause this."
First jackal makes its way into Finland
Moving from fish to mammals, the first ever reported sighting of a wild golden jackal (Canis aureus) in Finland on Tuesday has been confirmed by the Natural Resources Institute.
Tampere daily Aamulehti wrote that a motorist in Northern Savo spotted the creature while driving towards the city of Kuopio. The man said he first thought the jackal might be a fox or a dog, but the colour and other features did not match either animal.
Story continues after photo.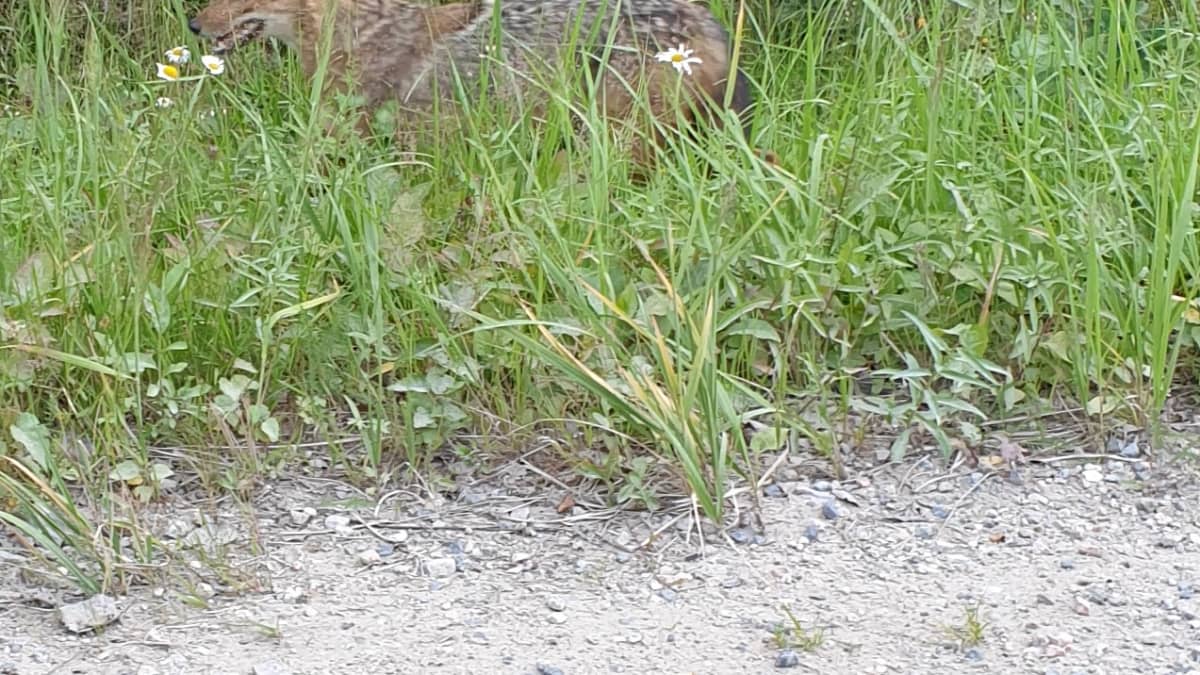 Researcher Ilpo Kojola from Luke said in AL that a single specimen poses no threat to people or the agricultural industry, and that seeing a jackal in Finland was no surprise.
"They've been sighted in Estonia for years. Young jackals have a tendency to roam, this one probably traveled about 100 kilometres per day."
The Centre Party group within the Parliamentary Committee on Agriculture and Forestry immediately called for the removal of the jackal from Finnish territory, saying the species is invasive and may oust other endemic animals and spread disease if left unchecked.