Heavy downpours hit the capital region on Friday morning, causing transport disruptions and delayed opening hours. Water flowed into tunnels and buildings, hampering morning commutes and closing roads and buildings.
Yle meteorologist Matti Huutonen says that more plentiful rains are moving in from the southwest in the afternoon.
Story continues after photo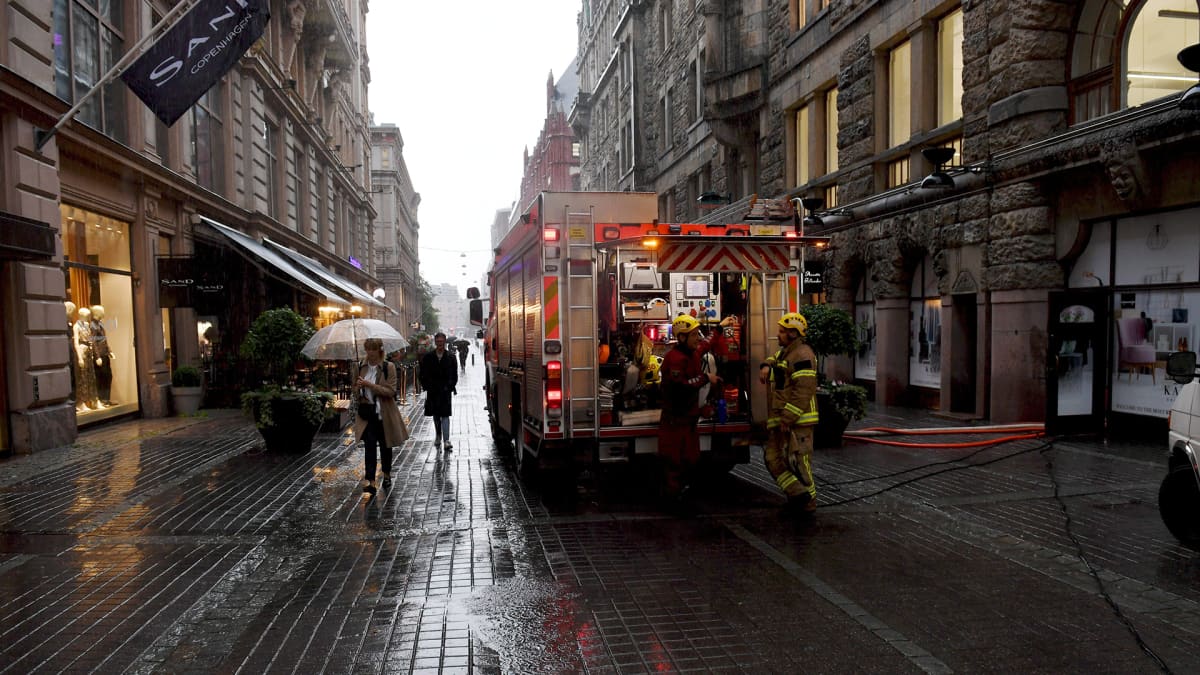 "I wouldn't be surprised if today brings the whole monthly average of rain," Huutonen said in the early afternoon.
Helsinki usually gets 70-80 millimetres of rain during August. Friday morning alone brought 56 mm of water to Kaisaniemi Park, where the Finnish Meteorological Institute (FMI) has a weather station.
Tunnels under train station flooded
With many roads and tunnels flooded, the Helsinki Region Transport (HSL) reported many delays.
In the early afternoon it said that Metro trains were not running between the Ruoholahti and Helsinki University stations, a stretch that includes the Central Railway Station stop, which suffered significant flooding.
Story continues after photo
Metro trains are running to the east and west of the city centre, but at irregular intervals and skipping some stops. Service may be disrupted until around midnight, HSL says.
As a replacement, the Lauttasaari buses 20 and 21 are driving directly to the Kamppi terminal, skipping the Bulevardi and Eira segments of their routes.
The Helsinki Rescue Department says that worst hit by the morning floods were the Metro stop under the Railway Station and the nearby Eliel underground parking garage, where water was up to a metre and a half deep.
Story continues after photo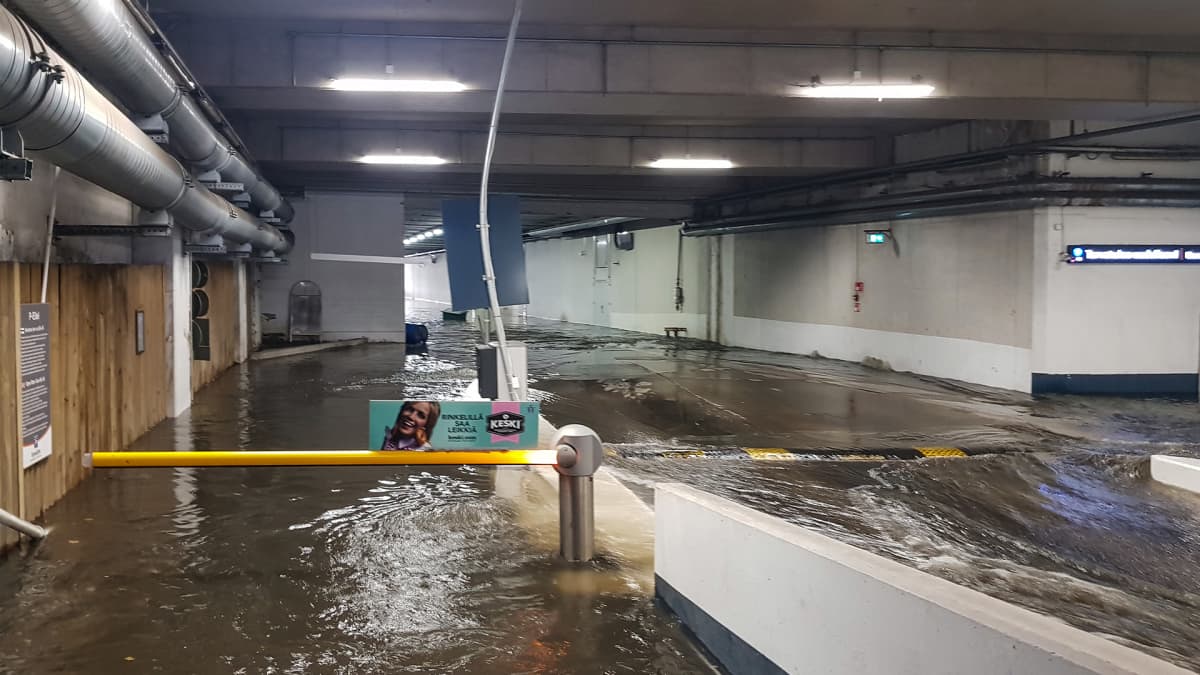 Rescue workers were still pumping out water in the afternoon. During the morning the department tackled water damage at 27 sites, included overflowing sewers and flooded cellars.
The Kiasma Museum of Contemporary Art said that its exhibition areas would not open until 3 pm due to water damage. The Kaari shopping mall in Kannelmäki was partly closed, with escalators and lifts at a standstill.
Fuel spill and slippery roads
In Helsinki's Pikku Huopalahti neighbourhood, pedestrian walkways were impassible due a stream overflowing its banks. On Varikkotie, a cloudburst knocked over a 3,000-litre fuel tank at a construction site, spilling some of the contents.
Story continues after photo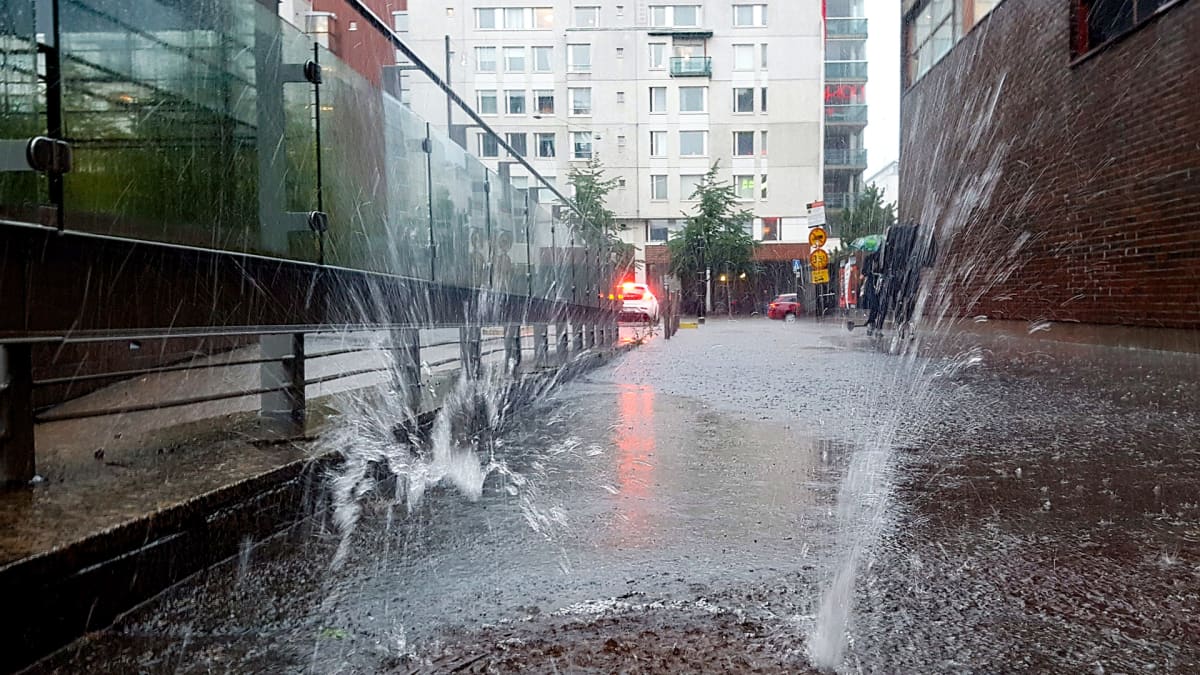 The FMI warns of more heavy rain, with an additional 50 mm possible, and a risk of hydroplaning on road surfaces in the Uusimaa region, especially in underpasses and lower elevations.
It also issued a wind warning for the Gulf of Finland, with southwesterly gale force winds of 15 metres per second in the afternoon and evening, making it hazardous for recreational craft and small boats. The FMI also warns of rough waves of more than 2.5 metres on Friday evening.
Story continues after photo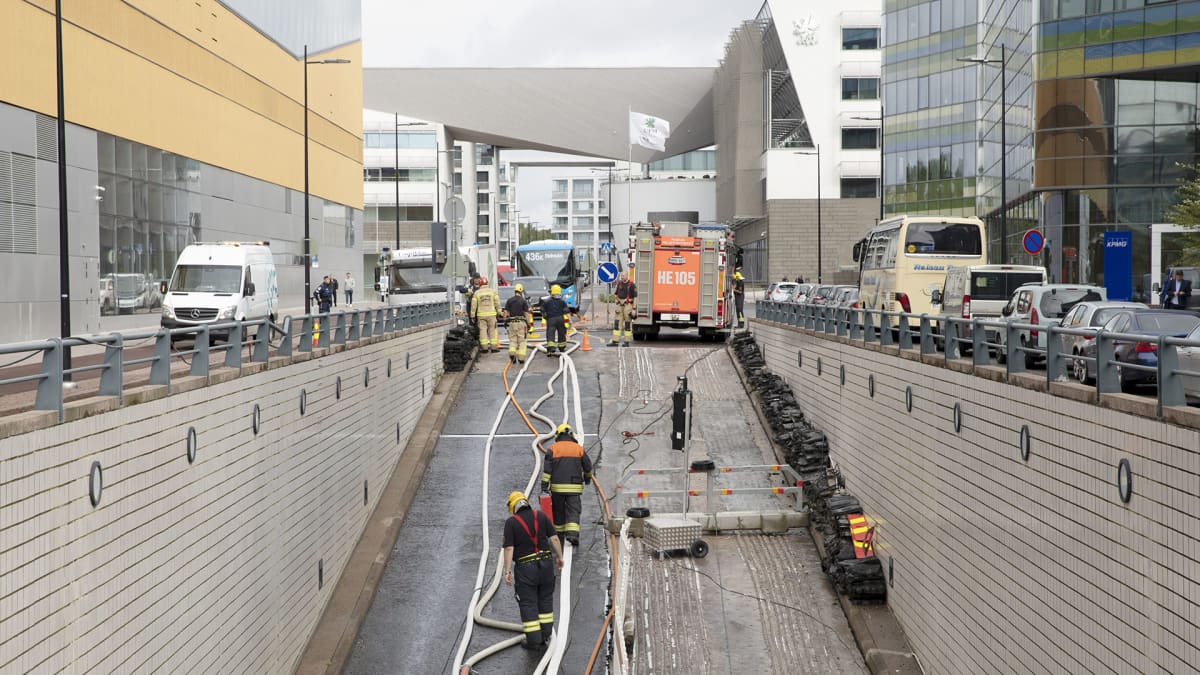 In neighbouring Espoo, 48 mm of precipitation was recorded on Friday morning, and at least one major road, Tekniikantie, was closed. Besides Espoo, rescue officials responded to water damage calls in Kirkkonummi and Siuntio.
Elsewhere in Finland, areas just south of Oulu received 5-10 mm of rain per hour, while some parts of North Savo and North Karelia received as much as 20-30 mm an hour, says meteorologist Nina Karusto of the FMI.