The fastest passenger rail connection between Oulu and Helsinki takes 5 hours and 24 minutes, too long for many travelers. As a consequence, air links between the two cities are the most heavily traveled in the country, with more than a million passengers annually.
Even though the journey is not fast, north-south travel by train is showing a sharp upward trend. In October of this year, the number of passengers was 43 percent higher than during the same month of 2018. That is the biggest increase on any rail route.
Not only do more than 1.1 million people travel by rail between the two cities annually, there is a large volume of freight traffic on rail lines in and out of Oulu.
Residents of Oulu, as well as local business and industry, have pushed for faster connections to Tampere and Helsinki for years. It is hoped that improved connections could trim travel time to Tampere down to three hours and to Helsinki down to four.
A four hour city-centre to city-centre connection between Oulu and Helsinki would be a solid alternative time-wise to air travel. In addition, it would help cut the nation's fossil fuel emissions.
Sweden on the wish list, too
According to Juho Hannukainen, the planning director for the state railways VR, bringing travel time between Oulu and Helsinki down to under 5 hours is not possible on the present tracks.
"Cutting a half-hour from travel time would require rather large increased investment in straightening out some sections of track," says Hannukainen.
It has been estimated that the rail improvements needed to increase speeds on the route between Oulu and Tampere would cost 1.1 to 1.2 billion euros.
There have also long been calls to start regular passenger traffic between Oulu and the Swedish city of Luleå. The problem is a stretch of track from about 100 km north of Oulu to Tornio on the Finnish-Sweden border is not electrified.
The electrification of this section of track is contained in the programme of the present coalition government, but so far no decision on the project has yet been made.
Funds from privatisation?
Proponents of northern rail improvements were disappointed by the lack of project funds in the government's latest state budget.
"There is talk of this being a climate government, of climate change, carbon-neutral transport, and yet there is no fast action on northern rail projects," says Janne Heikkinen, opposition National Coalition Party MP from Oulu.
Story continues after photo.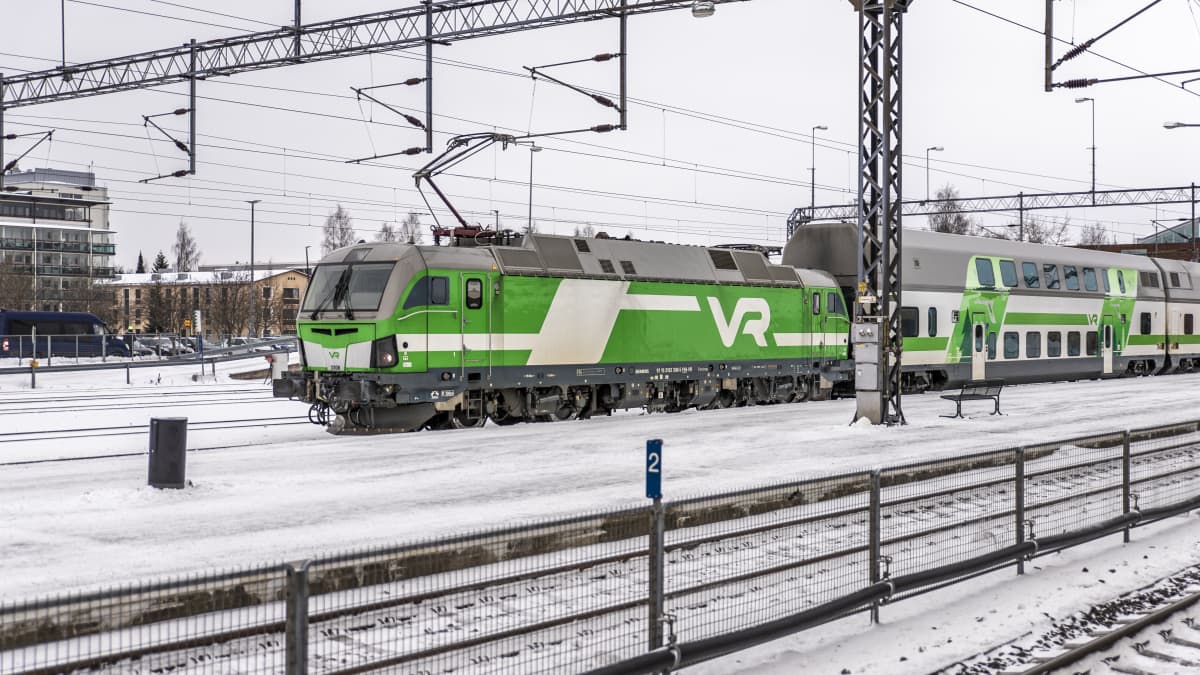 Heikkinen believes that the money needed for these projects could be taken from funds from the privatisation of state assets.
"Since the government is selling three billion euros worth of state assets, a large share of that should be used for transport projects," he argues.
Jenni Pitko, a Green League MP from Oulu, filed a formal written question to the government about the absence of funding for northern rail line improvements. She believes that the importance of these projects is not understood down south.
The focus has been on cutting rail travel time between Helsinki and Turku to one hour, even though passenger volume between Oulu and Helsinki is nearly the same.
"The one-hour trains have taken over the narrative. A lot has been invested in lobbying, and the money has spoken," says Pitko.
In her reply to Pitko's question, Minister for Transport and Communications Sanna Marin stated that the need for main track development is a part of a 12-year transportation system plan that Finland is just starting to formulate. Pitko was not satisfied with the answer, as she hoped for some concrete pledge for the financing of planning work.
Left Alliance MP Merja Kyllönen, who is also a former minister of transport, notes that decision makers in Turku and Tampere have been under a lot of pressure to get rail projects serving those cities moving ahead. She adds that any "leftover" funding tends to go to the home districts of government ministers.
The Kainuu region would also be keen on seeing faster trains on north-south routes in hope of, for example, a 5-hour rail connection between Kajaani and Helsinki.
Finland should be in a hurry to implement its new 12-year transport system planning process, if it wants to be able to tap into EU rail project funding.
The next funding period covers the years 2021–2027 and could cover 15-30 percent of rail project costs.
However, according to Kyllönen, Finland itself must quickly decide what it wants to use the money for.