The five-party government coalition led by the Social Democratic Party has been in office for just six months, but already there has been a shake-up of ministerial portfolios, following a loss of confidence in the leadership of SDP chair and ex-premier Antti Rinne.
The biggest changes have occurred among the ranks of the senior government partner, the SDP, with just a few ministers continuing in their original positions.
You can listen to our weekly All Points North podcast via this embedded player, Yle Areena, Spotify, iTunes or your normal pod player using the RSS feed.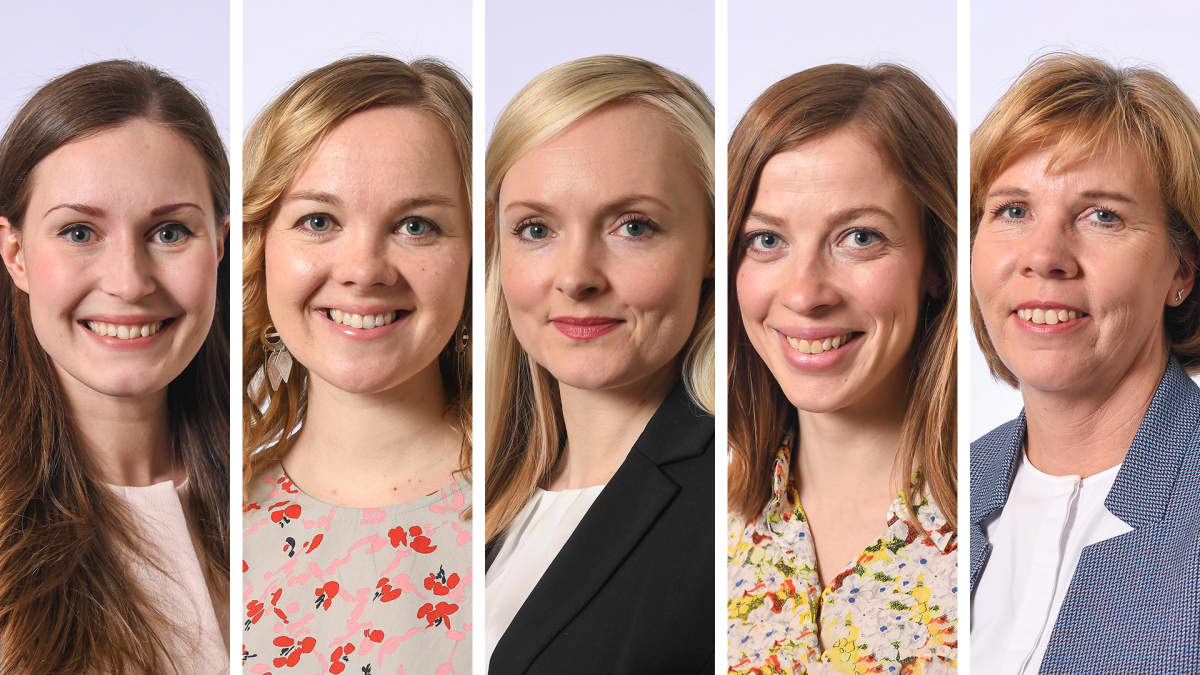 Sanna Marin, Prime Minister, SDP
At 34, Sanna Marin has become the youngest premier in the world following Antti Rinne's resignation from the post following a political firestorm. In a vote by the party leadership last Sunday, Marin won a razor-thin victory over the other frontrunner, SDP parliamentary chair Antti Lindtman. She is a popular politician favoured by voters and is now expected to help boost the party's voter approval rating from its current low point.
Marin was the former Transport and Communications Minister in the Rinne administration. She had already begun to grab headlines at the beginning of the year when she took over from the ailing party chair who went on sick leave in the prelude to the general election. Marin had already earned accolades over her steady stewardship of a contentious Tampere city council, with videos of the meetings taking social media by storm.
Tytti Tuppurainen, Minister for European Affairs and Ownership Steering, SDP
Social Democratic MP Tytti Tuppurainen will continue as Minister for European Affairs, but will also assume responsibility for the troublesome state ownership and steering portfolio. Like her fellow MP Timo Harakka, Tuppurainen had also challenged Antti Rinne for the chairmanship of the party some years ago. Gender equality issues are close to her heart and she is the chair of the SDP women's group.
Sirpa Paatero, Minister of Local Government, SDP
Media coverage of the recent government crisis painted former State Ownership Steering Minister Sirpa Paatero as a scapegoat in the affair. She resigned, presumably for not prosecuting the government's desire to protect 700 postal workers who were transferred to lower-paying employment contracts by their employer, the state-owned mail carrier Posti. After stepping down, Paatero went on sick leave only to return this week as Municipal Affairs Minister in the reformulated administration. Paatero is widely considered to be a confidant of ex-prime minister Antti Rinne.
Timo Harakka, Transport and Communications Minister, SDP
Timo Harakka previously held responsibility for the Ministry of Economic Affairs and Employment in the Rinne administration but in the new government he takes over from Sanna Marin as Transport and Communications Minister. Harakka should be comfortable with the new brief, given that before his career in politics he was an Yle journalist known as the host of the "Black Box" discussion programme from 1997 to 2000. He was also a presenter and producer of the light entertainment current affairs television show "Pressiklubi". During the six months in his previous position, he entombed the much-reviled "activation model", which required unemployed jobseekers to meet certain criteria to maintain their benefits. The SDP saw its favourability soar when it protested the model in opposition.
Tuula Haatainen, Economic Affairs and Employment Minister, SDP
Veteran SDP politico Tuula Haatainen takes over from Harakka as Economic Affairs and Employment Minister and now faces one of the government's most testing challenges of boosting employment. She will leave behind the position of Deputy Speaker to take up her new portfolio and will in turn offer the important post to outgoing PM Rinne. Last year, Haatainen challenged Sauli Niinistö's hold on the presidency when she contested the presidential election as an SDP candidate and placed third. She is one of the more experienced ministers in the cabinet, having previously served as Education as well as Social Affairs and Health Minister. She was also a deputy mayor of Helsinki and deputy chair of the Association of Finnish Local and Regional Authorities before she returned to parliament as an MP in 2015.
Krista Kiuru, Minister of Family Affairs and Social Services, SDP
Family Affairs and Social Services Minister is one of just two ministers to retain her original portfolio following the recent government upheaval. An experienced minister Krista Kiuru came under scrutiny during the final stages of the last government as a colourful figure in negotiations over then-Prime Minister Juha Sipilä's ambitious bid to overhaul social and health care services. At the time she was chair of Parliament's Social Affairs and Health Committee. The Pori resident is a four-term MP, who has previously served as a minister of housing and communications, education and education and communications.
Ville Skinnari, Minister for Development Cooperation and Foreign Trade, SDP
Lahti resident Ville Skinnari is another minister who will retain his old brief in the new administration. He is one of the SDP's economic policy wonks and is often positioned on the right of the left-leaning party. Like Marin, he is one of the party vice chairs. The second-term MP is a former national ice hockey player and is the son of ex-parliamentarian Jouko Skinnari.
Katri Kulmuni, Finance Minister, Centre Party
Centre Party chair Katri Kulmuni nabbed the Finance Ministry portfolio from predecessor Mikä Lintilä during the cabinet reshuffle. The swap offers Kulmuni an opportunity to dig the party out of a voter approval slump, particularly after she was criticized for what some saw as a spiritless performance when she declared that the Centre had no confidence in ex-PM Rinne. The Tornio resident proved to be a vote magnet during last spring's parliamentary elections.
Mika Lintilä, Minister for Economic Affairs, Centre Party
After six months as Finance Minister, Mika Lintilä has deferred to his party leader Katri Kulmuni and taken up a new position as Economic Affairs Minister. The post is not new to this veteran politician, as he held the brief during the Juha Sipilä centre-right administration. He became Economic Affairs Minister when Olli Rehn moved over to the Bank of Finland in December 2016. Lintilä is also no stranger to parliamentary politics, having served as a lawmaker for two decades.
Antti Kaikkonen, Minister of Defence, Centre Party
Antti Kaikkonen also continues in his previous role as Defence Minister. He is an influential figure in the Centre Party, having lost to Kulmuni during leadership elections. This is the five-term MP's first stint as a minister. During the party's time in the previous administration, he served as chair of the parliamentary group. His political career has been overshadowed by his role in a campaign funding scandal and a five-month suspended prison sentence handed down in 2013 as a result.
Hanna Kosonen, Minister of Science and Culture, Centre Party
Hanna Kosonen replaces Annika Saarikko as Science and Culture Minister during the latter's maternity leave. Kosonen was the deputy leader of the Centre's parliamentary group during the last government's term. The second-term MP is a former elite athlete, having previously won gold and bronze in ski orienteering world championships in the early 2000s.
Jari Leppä, Minister of Agriculture and Forestry, Centre Party
Jari Leppä brings a great deal of experience and agricultural expertise to the position. He was also agriculture minister in the Sipilä government from 2017. He is a farmer by profession and a six-term parliamentarian.
Maria Ohisalo, Minister of the Interior, Greens
Greens chair Maria Ohisalo is only a first term lawmaker and will continue in her original post as Interior Minister, which she held under Rinne. The popular Helsinki vote-getter has worked as a poverty researcher before embarking on a career in politics. She took over her party's top spot in June of this year.
Pekka Haavisto, Minister for Foreign Affairs, Greens
Pekka Haavisto is a founding member of the Greens and has the most extensive ministerial experience among his colleagues. He has contested presidential elections twice, placing second on both occasions. He is also a seasoned MP, beginning his first stint in Parliament in 1987. He has been minister twice. He led the Greens to record their best-ever election result in the spring general election and was one of the most popular candidates among voters. He passed the baton of the chairmanship to Ohisalo in June. The minister is currently embroiled in controversy over a plan to repatriate Finnish women and children at the al-Hol refugee camp in Syria.
Krista Mikkonen, Minister of the Environment and Climate Change, Greens
Joensuu resident Krista Mikkonen represents the voice of the provinces to the Greens' parliamentary group and to the government. The second-term lawmaker stood for parliamentary elections three times before she was elected as the only Green MP in the Savo-Karelia electoral district.
Li Andersson, Minister of Education, Left Alliance
Turku resident Li Andersson was one of the more popular parliamentary election candidates, having secured the second-highest number of votes nationwide during last spring's general election, beating out the SDP's Sanna Marin. Andersson has consistently been assessed as having greater appeal than other party leaders. In June Andersson was re-elected party chair unopposed. It is Andersson's first time in government and she continues in the portfolio she held under Antti Rinne. In opposition she was profiled as a direct and articulate critic of right-of-centre policies.
Aino-Kaisa Pekonen, Minister of Social Affairs and Health, Left Alliance
Riihimäki resident Aino-Kaisa Pekonen was previously a practical nurse and will serve under Marin as the Minister of Social Affairs and Health. Pekonen was elected to parliament to represent the constituency of Hämeenlinna in 2011, and is currently serving as the chair of the Left Alliance parliamentary group.
Anna-Maja Henriksson, Minister of Justice, Swedish People's Party
Jakobstad resident Anna-Maja Henriksson was the Minister of Justice in Rinne's cabinet and will continue in this role under Marin. She also previously served as Minister for Justice in Jyrki Katainen's cabinet from 2011 to 2014, and in Alexander Stubb's cabinet from 2014 to 2015. Henriksson was first elected to parliament in 2007 and became the first ever female leader of her party in June 2016.
Thomas Blomqvist, Minister for Nordic Cooperation and Equality, Swedish People's Party
Thomas Blomqvist is a farmer from the town of Ekenäs in southern Finland and is an experienced Swedish People's Party representative. He was first elected to the Finnish parliament in 2007 to represent the Uusimaa constituency and recently chaired the party's parliamentary group.