Nearly half of all respondents to an Yle poll said they consider nuclear power to be a sustainable form of energy in efforts to curb climate change.
Nuclear energy was considered viable by 48 percent and non-viable as a safe way to battle global warming by 35 percent; the rest, 17 percent, said they didn't know. The poll surveyed 1,000 people and has a 3.2 percentage point maximum margin of error.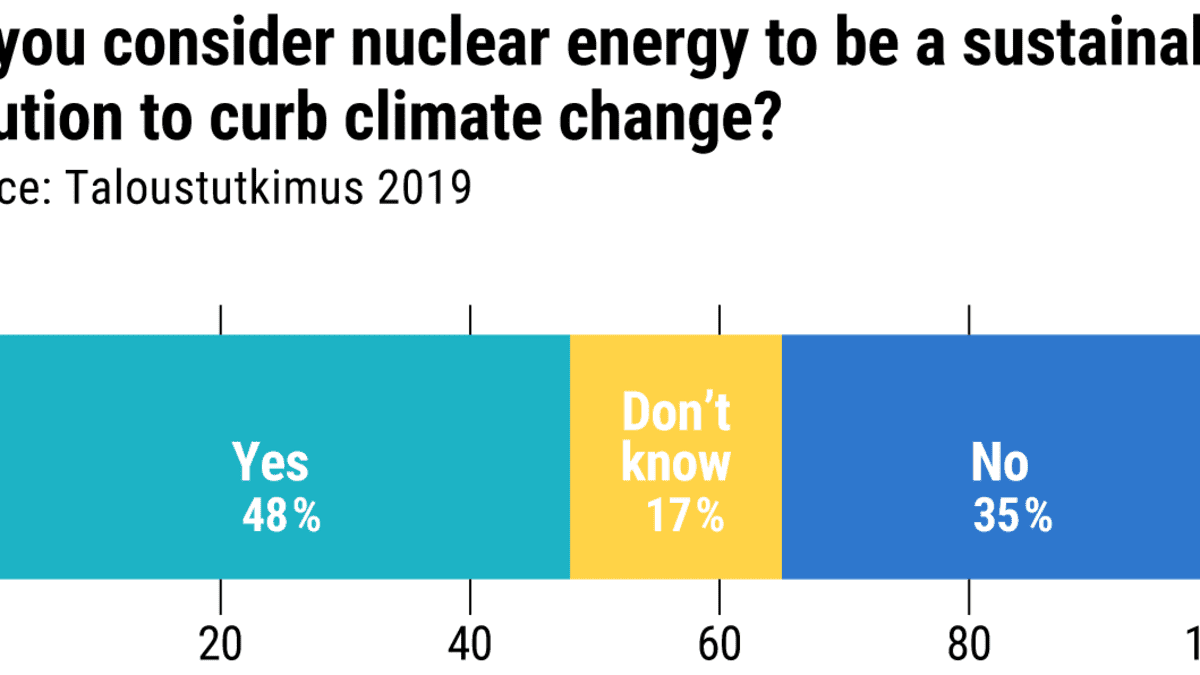 Aalto University professor of energy technology Sanna Syri said the figures reflect "practical" Finnish attitudes toward nuclear-produced electricity.
"One factor that explains this is probably that the utilisation of Finnish nuclear power plants is among the best in the world," Syri said.
In this case a high utilisation factor means that Finland's two nuclear plants, in Loviisa and Olkiluoto, have reliably produced electricity for several decades.
Young and male respondents most optimistic
Positive attitudes toward nuclear energy are higher among 15-24-year-olds, according to the poll conducted for Yle by Taloustutkimus. Nuclear power was considered sustainable by 52 percent of this demographic, while 29 percent opposed it.
Yle approached students at the Aalto University metro station to ask about their opinions on nuclear power as a force against global warming. Many said they supported nuclear energy despite waste concerns, because the process does not directly produce CO2 emissions.
"I think people are quite aware of the issue and of the fact that nuclear power is safe," said environmental engineering student Iris Nihti, 22. "There are problems with it, of course, but the problems of fossil fuels are much bigger."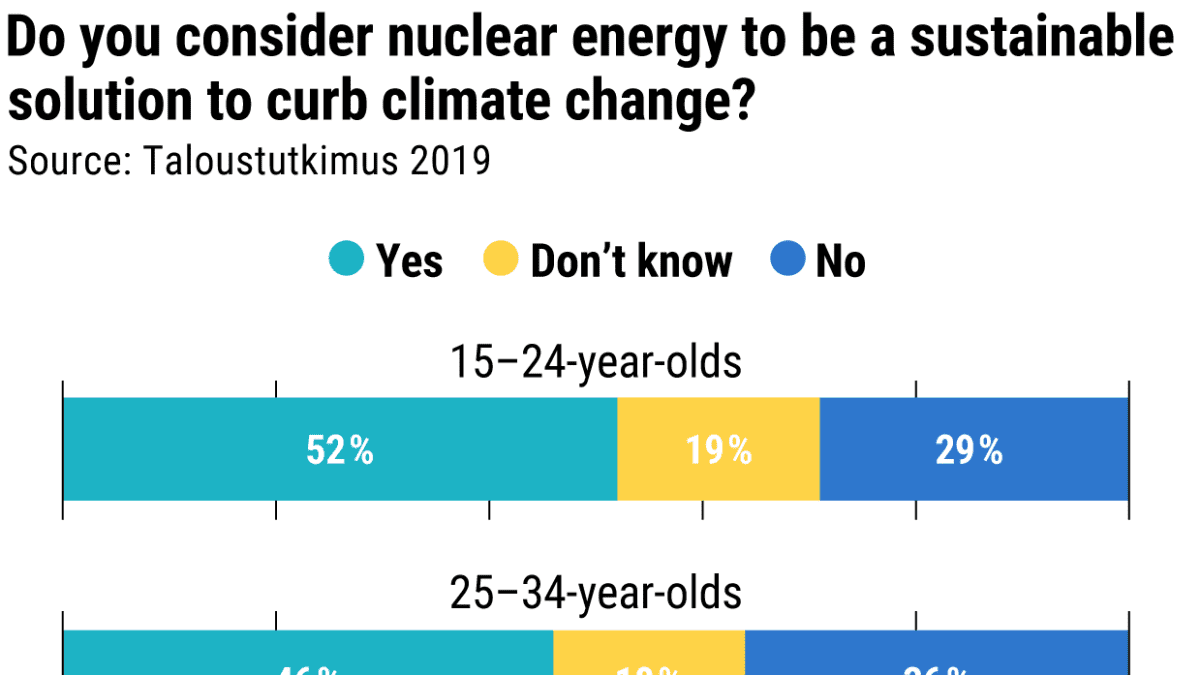 The poll also found that responses were highly gendered. Nuclear power was viable to 68 percent and non-viable to 22 percent of male respondents, while only 29 percent of women supported and 47 percent opposed it.
Professor: Nuclear needed for carbon neutrality
The topic of atomic energy is ever more relevant politically as the European Union tries to decide whether nuclear power can be officially considered ecological. Certification would indicate to investors and insurance companies that the technology is green and safe enough to fund.
Sustainable policy lobbyist Finnish Energy said that financing for nuclear projects may be at risk if the EU does not certify nuclear power as an ecological effort. This in turn could lead to problems with attaining climate goals, the group said.
While nuclear energy production does not cause direct CO2 emissions, the radioactive waste left over from atomic fission is a concern in many EU states.
The European Commission said the EU's 2050 carbon neutrality target cannot be reached without nuclear energy, along with other sustainable energies. The Commission also said that electricity production would need to grow to 2.5 times its current output by 2050.
Syri said that 30 years is a very short time for the ambitious goal to be reached.
"Even if we estimate the rapid growth of renewable energy technologies by that time, the target is impossible without nuclear power," Syri said.
Division in EU, Finland on board
The main hiccup within the EU stems from the opposing energy views of its two most powerful nations, Germany and France.
Germany has vowed to abandon all nuclear power production by the beginning of the 2020s, while France has said it would produce the lion's share of its electricity with atomic power plants.
This means that France's government has pushed for nuclear power to be classified as sustainable, but Germany has demanded the opposite.
As the current chair of the EU, Finland has rooted for a pro-nuclear policy and considers nuclear power a sustainable form of energy.
A budget agreement compromise between EU member states, the European Parliament and the European Commission reached last Thursday does not rule out nuclear energy as a source of electricity, but getting it approved as a "green investment" continues to face stern opposition.
Member state ambassadors will weigh in on the policy on Wednesday, after which the package will await approval from the European Parliament.
Nuclear energy currently accounts for about 25 percent of the EU's total electricity needs. Most of the facilities are more than 30 years old, however, and they must be renovated by the 2050 target year.
The Commission estimated that these overhauls will require some 400 billion euros in funding.