Increased health insurance and pension contributions as well as slightly higher taxes will eat into the salaries of middle and high-income earners in 2020, according to the Taxpayers Association of Finland.
All the same, the organisation said these groups could see a bump in purchasing power if unions can agree wage hikes in ongoing collective bargaining agreements and when they will take effect.
Next year, middle income earners should see their purchasing power rise by 0.9 percent. This figure takes account of a nearly-three-percent rise in income and a 1.3-percent increase in annual consumer prices or inflation.
In determining earnings, the association calculated possible salary increases agreed in collective bargaining agreements as well as pay scales in different sectors, overtime compensation, bonuses and vacation pay.
When the association crunched the numbers, it concluded that middle income earners being paid 3,466 euro a month will pay up to 180 euros more in taxes annually.
Story continues after graphic.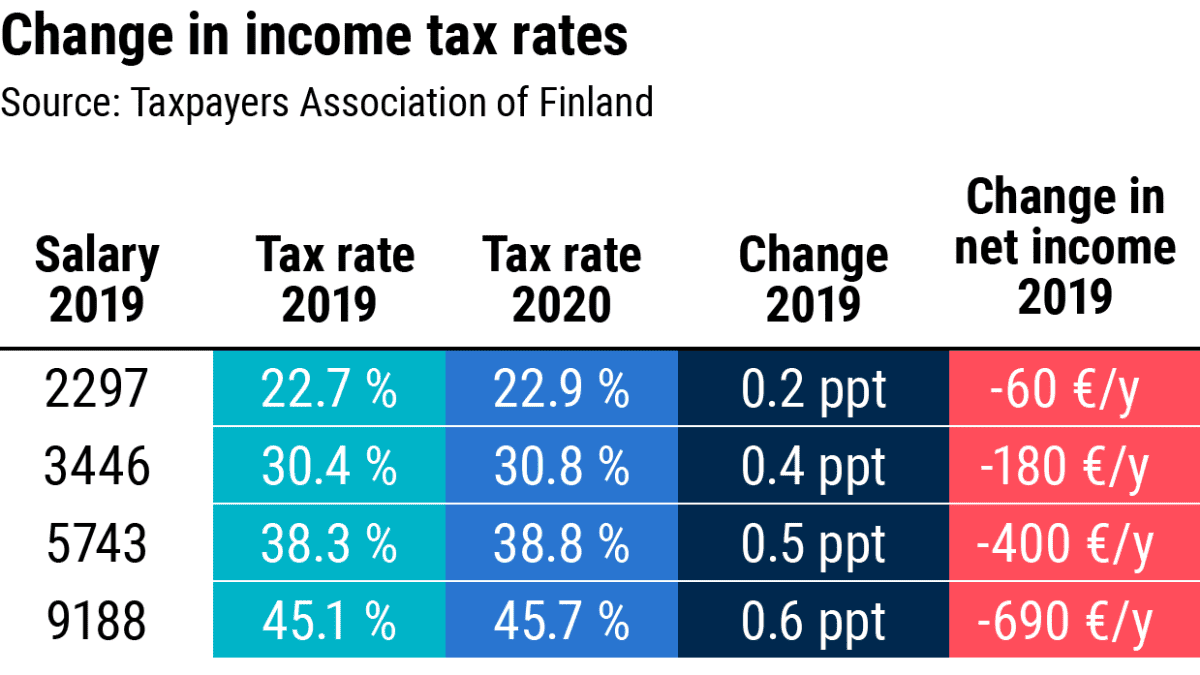 In particular, this group will fork out more for health insurance contributions, which will rise from zero to 0.68 percent of their wages. Pension insurance contributions will also rise as a result of the competitiveness pact introduced by the Juha Sipilä government in 2016.
To ease the pain, economists do not expect to see any dramatic increase in the annual growth of consumer prices or inflation. However the petrol and cigarettes will become pricier as taxes on these commodities will rise next year.
"The purchasing power of the average wage earner looks promising if they get some kind of pay rise. The growth in buying power will remain on the plus side," head economist of the taxpayers' association Mikko Kirkko-Jaakkola commented.
Taxation will increase most in the case of Finland's highest income earners (monthly pay from 5,743 to 9,188 euros), who will find themselves with less money in hand for discretionary spending in 2020. They will likely have to hand over several hundreds of euros more every year, according to the taxpayers' association.
Lower taxes for lower income groups
Taxation on monthly wages of less than 2,000 euros could ease up slightly during 2020, boosting purchasing power. However the biggest winners will likely be low-income pensioners who will be taxed more lightly and will also benefit from increased national and guarantee pensions.
"We are talking about tens of euros a month at most," Kirkko-Jaakkola noted.
In downtown Helsinki, retiree Jukka Mustonen said that he lives quite comfortably so he will not be significantly affected one way or another by a pension rise of a few dozen euros. On the other hand he said he is worried about how Finland will maintain its welfare programmes.
"When you listen to them, then [you see that] they aren't doing terribly well in this economy. I am actually very concerned about the situation and above all about whether we'll be able to maintain the so-called welfare society," he added.
The economic outlook for next year is shrouded in uncertainty, according to the head economist.
"Economic development next year does not appear to be very positive. On the other hand it is linked to uncertainty and risk in the global economy that could swing either way," Kirkko-Jaakkola added.
A series of economic forecasts issued throughout the autumn confirm the slightly downward trend. Finland's short-lived economic recovery now appears to be a thing of the past as economists try to determine if a slump lies ahead or if the upsurge will continue, the economist continued.