In a bid to reduce congestion and cut traffic emissions, some cities around the world have made their public transportation systems free-of-charge. Meanwhile, prices for public transport tickets - along with expanded routes and services - are generally rising in the Helsinki region. Some residents would like to see ticket prices slashed or even eliminated, but several experts said offering free public transport is not viable.
Luxembourg, Europe's wealthiest country, is set to make its public transportation system free-of-charge in March. Meanwhile, in Tallinn, Estonia, locals have been travelling for free on local buses, trams and trains since 2013.
Luxembourg decided to stop charging for public transport services over a growing traffic congestion problem. But Tallinn's decision was primarily aimed at reducing the cost of daily life for residents.
Experts and researchers in Finland have examined the possible effects that a free public transportation system would have on mobility, the use of private cars, emissions and energy consumption, public transport management and competitiveness.
However, according to the director of the transport ministry's markets unit, Elina Thorström, free public transportation is not the answer to many of those issues.
"According to research and trials, free transport systems offer no significant reduction in personal vehicular traffic, and its impact on cutting transport emissions has been limited," Thorström said.
Traffic only marginally reduced
The head of the research group at Tampere University's Transport Research Centre Verne, Heikki Liimatainen, said that mere act of making public transport free to customers is not a solution in itself without broader urban development goals and business plans.
"Free public transportation increases the number of passengers, and can increase them significantly, but the shift is mainly from pedestrians and cyclists, and hardly takes drivers from their cars," Liimatainen said.
Story continues after photo.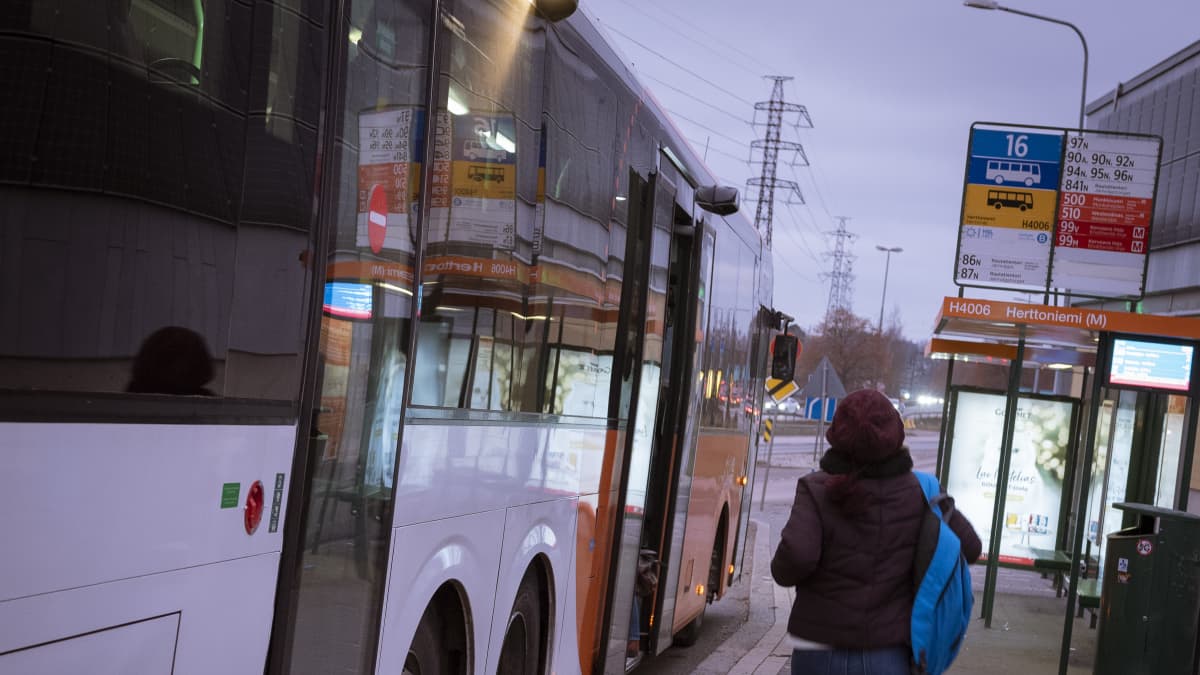 According to Liimatainen research in various cities around the world has found that car traffic is not necessarily reduced once public transport fees are waived, but rather when parking costs are increased.
"If a door-to-door journey on public transport takes as long as it does by car, half of commuters will take public transport and half will drive their cars. If the same trip by bus or train is one-and-a-half times longer, public transport use drops by 25 percent. If the journey is twice as long as in a car, then no one other than those who have no other means will use public transport," Liimatainen said.
"I'd rather walk"
The director of customer experience at Helsinki Regional Transport Authority HSL, Mari Flink, said free public transport would encourage unnecessary and excessive use of the services at the expense of society.
"There's no justification to take public transport trips for one or two bus stops. I'd rather walk," Flink said.
Walking and cycling levels decreased during trials of free public transport in Mariehamn, Åland, and the same phenomenon occurred after Tallinn made its transportation system free.
Flink said that free rides would lead to a decline in value of public transportation itself.
"There's a lot of research that found when monthly ticket packages are higher people use public transport more in order to get more value out of them," Flink said.
"Free" isn't free
The transport ministry's Thorström said that free public transportation reduces revenues for such services.
"Increasing the attractiveness of public transport by improving service may be a better option than cutting ticket prices," she said.
Helsinki has experimented with reduced ticket prices for its elderly customers. The transport authority gives passengers over the age of 70 a 50 percent discount on single tickets during the day between 9-2pm. However, most seniors don't take advantage of the offer.
HSL's Flink said it is possible the transport authority may examine other models of limited reduced or free services someday in the future.
Transportation researcher Liimatainen estimated that making public transport totally free would only reduce personal vehicular traffic by a couple of percentage points, but at the same time potentially overburden the transport system.
"Due to the capacity constraints of public transport, they would become congested," he said, noting such a development would negatively affect the experience of end users.
Flink noted that transport service levels in Tallinn have not been sufficiently developed since they went ticket-free. She said that no new tram lines have been built since 2013 even though new housing developments have sprouted up in the city.
She said municipalities would have to bear the financial burden if ticket revenues disappeared, saying that the threshold to improve or develop services would become very high.
"If public transport were free, it would mean that development of services would likely stop," Flink said.