A large group of people gathered by Turku Synagogue on Thursday evening in a show of support following the vandalism attack on the house of worship earlier this week.
The building's front door, steps and facade were found splattered with red paint on Monday, which was International Holocaust Remembrance Day. Another similar incident that day was reported in Tampere, involving a neo-Nazi group that burned an Israeli flag.
Finnish President Sauli Niinistö called the incidents very worrying, saying they were an indication of broader racism.
On Thursday evening, several hundred people from various churches, congregations and human rights groups came to show their support for the Jewish congregation.
Supporters adorned the synagogue's fence with flowers and the Archbishop of the Evangelical Lutheran Church, Tapio Luoma, was just one of several speakers at the event.
"What happened here in Turku on Holocaust Remembrance Day is unacceptable. It is very important that we've gathered like this so we can see how many people show support when something tragic like this happens," Luoma said. "Our community is stronger than hate."
The group of supporters also condemned other similar vandalism incidents made against a Catholic congregation last week as well as a number of local pizzerias.
Story continues after photo.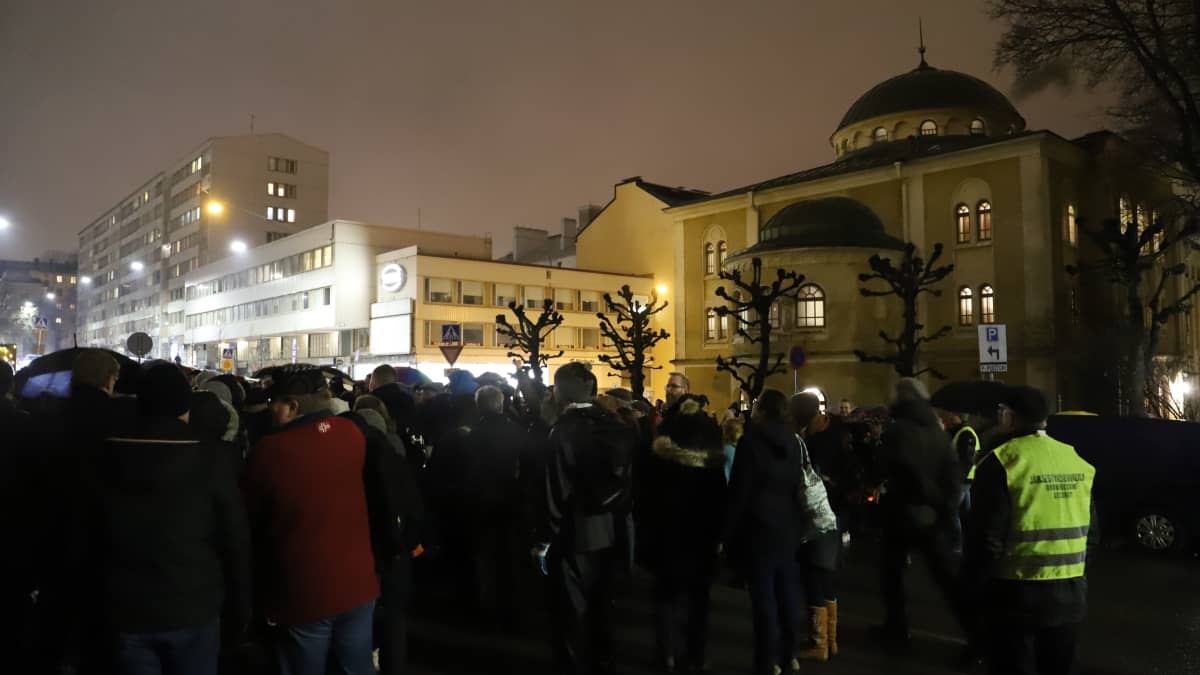 "It is very refreshing to see so many people from different religions and congregations gathered in this way," Luoma noted, saying that the demonstration was sending a message to the rest of the country that people should have nothing to do with acts motivated by hate.
"It is very difficult to really swallow that what took place at Turku Synagogue really did. The fact that the message [of the vandalism] was filled with hatred and linked to the Holocaust cannot be ignored. Therefore, we must do everything we can to keep hateful ideas from turning into hateful acts," Luoma said.
Thursday evening's vigil was organised by the Ecumenical Council of Turku, the Archdiocese of Turku, the Turku Cathedral congregation, as well as the grass-roots human rights group We See You.
Turku resident and vigil participant Christer Lindholm said he was pleasantly surprised by how many people were taking part.
"It's very gratifying to see so many people here. This shows that while anti-Semites may be loud, at least they are in the minority. It's important to protest against all forms of racism. And now, it is also particularly important to take a stand against anti-Semitism, as it seems to be making a strong comeback," Lindholm said.