As a result of the ongoing novel coronavirus outbreak, Finnish ferry firm Viking Line said it was revising its financial outlook for the year. The company's competitors also noted at least a slight decrease in reservations due to passenger concerns about the coronavirus situation.
"As a result of the coronavirus, operating conditions in our markets have deteriorated significantly. It is still too soon to quantify the impact on results since there is great uncertainty regarding developments. Therefore, our earlier business performance outlook no longer applies," Viking Line CEO and President Jan Hanses said in a company release issued Wednesday.
The company's previous outlook said the firm expected 2020's operating income to be on par with the previous year. However, now that novel coronavirus has wreaked havoc on many industries and markets - including the travel sector - the firm said there was major uncertainty about business development.
The company also noted there was fierce competition in the Baltic ferry market. It also noted that there's a risk that it might lose one of its growing customer segments - tourists from Asia - due to the viral outbreak.
Novel coronavirus is known to have originated in China's Hubei province. So far, China has suffered the biggest losses caused by the outbreak, where at least 80,000 people have been infected and more than 3,100 people have died from the disease.
Situation aboard Baltic Sea ferries
On Tuesday, Svenska Yle reported that the three major firms that operate passenger ferries in the Baltic Sea out of Finnish ports - Viking Line, Tallink Silja and Eckerö - all said they have noticed at least a minor increase in cancellations or postponements of cruise holidays by customers concerned about the virus' spread.
One of the ferries' destinations is Finland's western neighbour Sweden, where the number of novel coronavirus infections had reached 233 by Wednesday afternoon, according to Swedish public broadcaster SVT.
Infection rates have been rising quickly in the Scandinavian country, but the cruise firms that regularly shuttle thousands of passengers between Finland and Sweden that spoke with Yle said they have not substantially changed their routines.
However, the companies said they had focused efforts to prevent the spread of the virus on the ships.
Story continues after photo.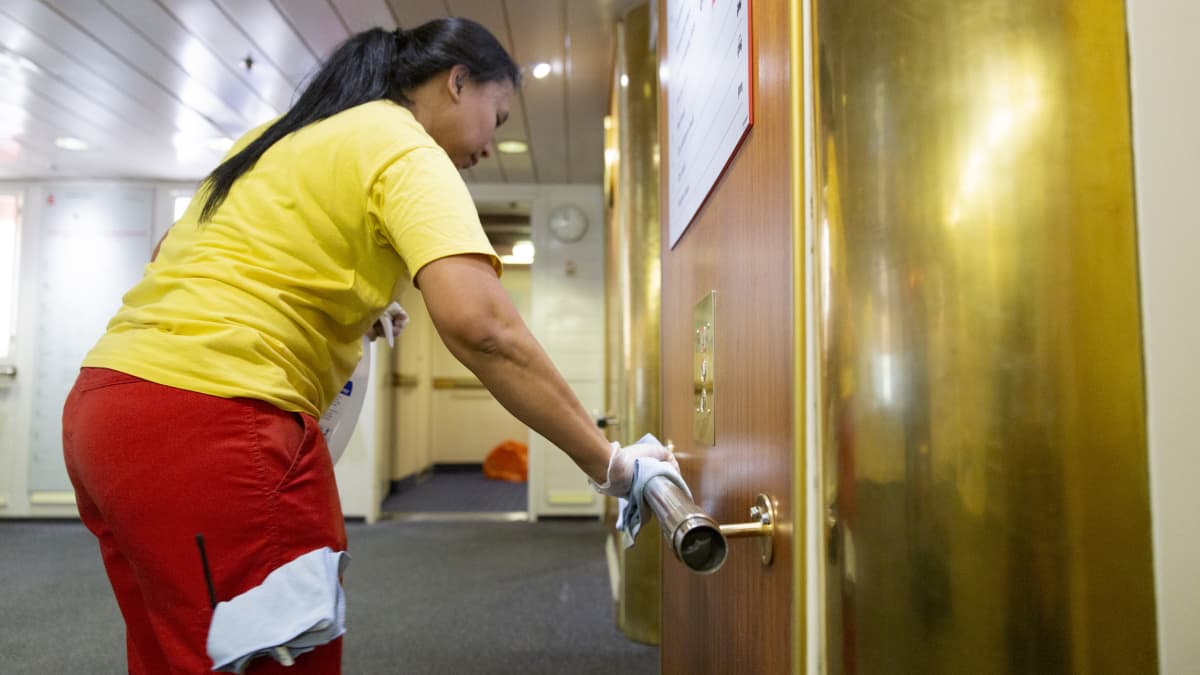 According to Tallink Silja's SVP of communications, Marika Nöjd, said the ferry firm already heightened its cleaning policies at the beginning of the year.
Similarly, Viking Line's marketing director, Kaj Takolander, said ship cleaners were using more effective cleaning products and were basically cleaning the company's ships around the clock. Takolander said fixtures like door handles, elevator buttons and stair railings receive extra attention from the cleaners and that the use of electric hand dryers have been removed from the firm's ships.
Whie Viking Line has seen a reduction of passengers due to the outbreak, Tallink Silja reported that passenger levels were relatively normal for this time of the year.
For a small fee, Viking Line offers reservation cancellation insurance during ticket purchase. However Tallink Silja does not offer such coverage and reservation changes or cancellation are subject to the firm's standard policies.
Coronavirus' broader effect
Novel coronavirus also threatens the passenger ferry industry around the world. On Tuesday, Yle News reported that cruise ship lines Royal Caribbean Cruises and Carnival Cruise Lines saw major sell-offs of their shares, sparking concern for Finland's Turku Meyer shipyard, where seven huge cruise liners have been ordered to be constructed.
The business-oriented think tank Research Institute of the Finnish Economy (Etla) said that could have a knock-on effect on the country's shipbuilding industry and its overall GDP.