Finland has increased the number of novel coronavirus tests carried out across the country, according to the Institute of Health and Welfare (THL).
The agency said that more than 21,000 Covid-19 tests had been carried out by Monday, the same day it reported a total of more than 1,300 cases of the illness and 13 deaths.
On Monday evening Prime Minister Sanna Marin announced that Finland would ramp up testing, stating that healthcare workers should always be able to get a test done.
Prior to that Finland had received criticism, particularly in the early stages of the outbreak, for testing less than other countries. Critics have said the spread of the disease cannot be accurately measured without reliable data on infection rates revealed by broad testing.
The THL says that testing capacity is limited so they have to prioritise.
In its aim to slow the spread of coronavirus, rather than testing large swaths of the population, Finnish health officials encouraged self-quarantining, social distancing, remote work and other measures.
In mid-March, when Finland had only confirmed around 240 novel coronavirus cases, health officials announced that the country was tightening the criteria for carrying out tests - only healthcare workers, the seriously ill or those in risk groups would be tested.
Shortly after the announcement, THL's director-general, Markku Tervahauta, said that the actual number of people with coronavirus infections could be 20-30 times higher than confirmed by tests.
However, according to data collected by Yle, Finland gradually began testing more frequently. At the end of March, around 2,300 tests were being carried out per day in Finland, according to THL.
Article continues after graph.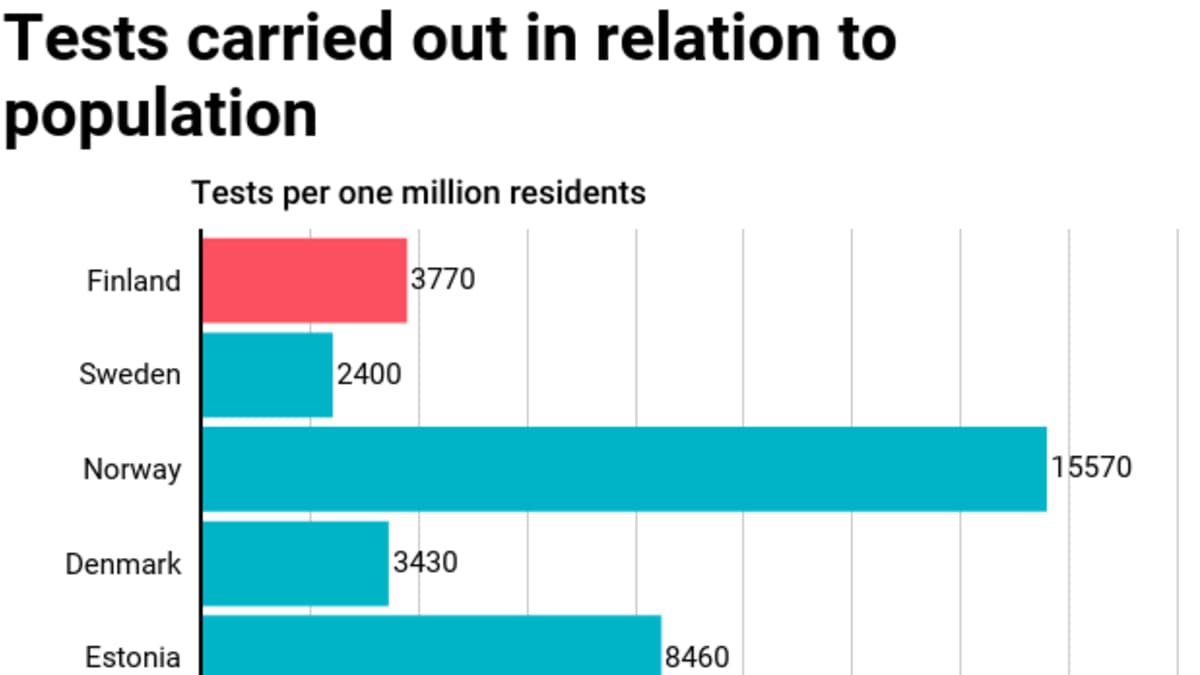 Compared to other Nordic countries, Finland has been testing a bit more than Denmark and nearly one-third more than Sweden, but Norway overwhelmingly tests more than its immediate neighbours in the region.
However, one country not indicated on the graphs in this article, is Iceland, which has tested far more than its Nordic counterparts.
According to Yle's national data survey, Iceland, a country of about 364,000 people, has already carried out around 47,000 tests per million. Icelandic health officials have said the country aims to test all of its residents. According to Statista.com, Iceland had nearly 1,100 confirmed novel coronavirus cases by March 29.
Finland has so far carried out about 3,770 tests per million residents, Denmark carried out 3,430 tests per million and Sweden carried out 2,400 tests per million.
Norway's testing
At about the same time, Nordic neighbour Norway carried out some 15,570 tests per million residents.
The international survey showed that more tests were being conducted in Finland per capita than in Sweden, the US and UK. Last week, Sweden announced plans to significantly increase testing. However, countries including neighbouring Estonia, Italy, Canada and South Korea have all been testing on a broader scale than Finland.
Norway and South Korea have been consistently testing more than Finland, countries that are using the tests as a strategy to fight the spread of the disease.
Lasse Lehtonen, the director of diagnostic services at Helsinki University Hospital, said that as the epidemic nears its peak, only those patients who are seriously ill will need to be tested, while those with no or mild symptoms will be tested less - and this is how the number of positive test results grows.
Article continues after graph.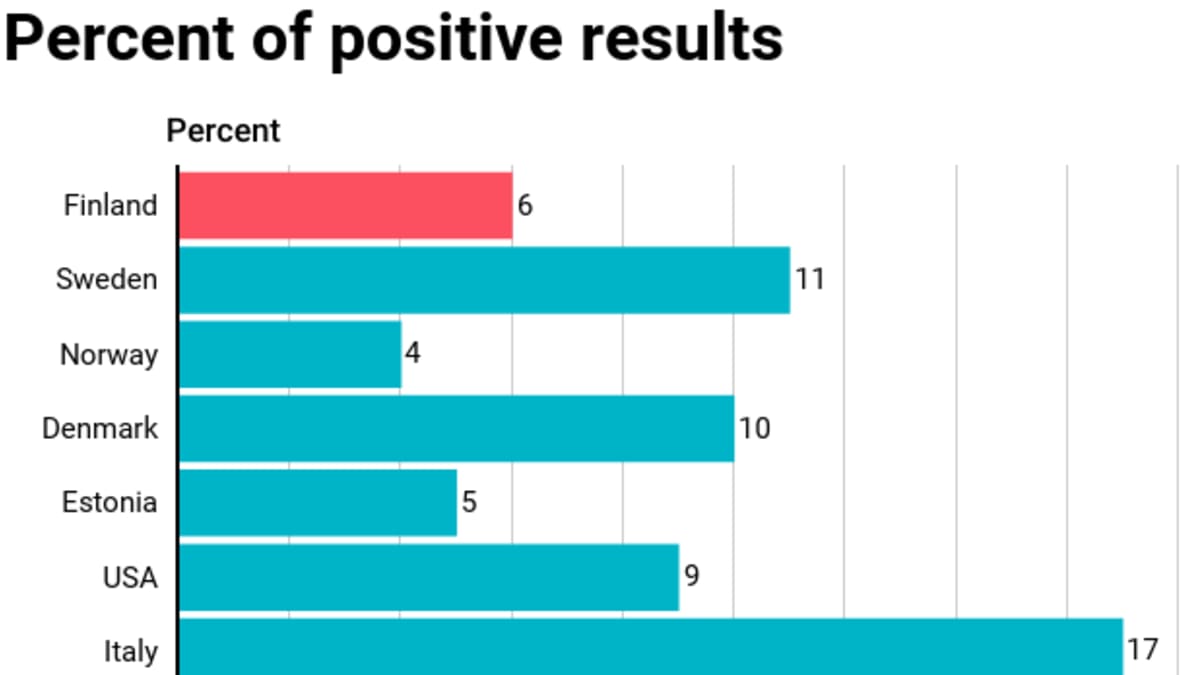 "In the beginning of an outbreak, if there was widespread testing of health care workers, [the number of] positive results would hopefully be small. When the epidemic expands, and the number of patients tested increases, then the number of positives increase," Lehtonen explained.
According to the data that Yle collected, six percent of tests carried out in Finland came back positive. Finland has had a relatively high threshold for determining who gets tested. Meanwhile, Norway, which has tested at more than triple the rate of Finland, saw positive results in four percent of Covid-19 tests.
Positive ratios likely to increase
In Italy, where the disease had claimed more than 10,000 lives by Monday, around 17 percent of the tests came back positive, while testing at roughly half the rate of Finland. Italy's high positive rate is consistent with the disease's mortality rate in the country.
In addition to confirmed cases, there are also likely large numbers of individuals in Italy who showed mild or no symptoms and spread the virus.
A similar pattern can also be seen comparing Finland to Sweden. The two countries have carried out tests on patients using largely the same criteria, but in Sweden, the proportion of positive samples is about twice that of Finland.
Over the weekend, coronavirus-related fatalities (110) were also significantly higher in Sweden than Finland (11), which suggests that Sweden is farther along in the course of the epidemic than Finland.
The data collected from various countries was obtained from local health agencies and ministries, with the exception of the US, which was administration-cited data published in the Washington Post. Professor of epidemiology at the University of Tampere, Pekka Nuorti was also consulted for this article.