Normally, this time of year would be busy for Tony Webb, as he gears up for another summer tourist season.
The former army nurse from Southend in England makes a living making and selling souvenirs at Helsinki's Kauppatori market. But this year, things are different: the novel coronavirus outbreak is hitting self-employed people hard, leading the government to pledge an additional 150 million euros to support them, on top of 100 million euros previously earmarked for sole traders.
"It got harder at the start of the year when tourists from China stopped coming," he said. "Once the borders closed, there's been no one around."
As a result, he estimates that since January he's lost around 7,000 euros in sales.
For self-employed people like Webb, there are now 2,000-euro grants available via local municipalities. These are part of the government's previously-announced 1.1 billion euros of support for people laid off during the coronavirus crisis.
But they come with a catch - the money can't be paid out to traders who were in financial difficulty before coronavirus, or who owe tax payments.
"I looked at the grants, the 2,000 euro one, but I'm not sure I can apply for that because I've got tax debts," Webb explained
Webb's tax debt is an Value Added Tax (ALV in Finnish) payment due in March. He said he couldn't pay because by that time his income had already dropped as a result of the novel coronavirus outbreak.
Story continues after photo.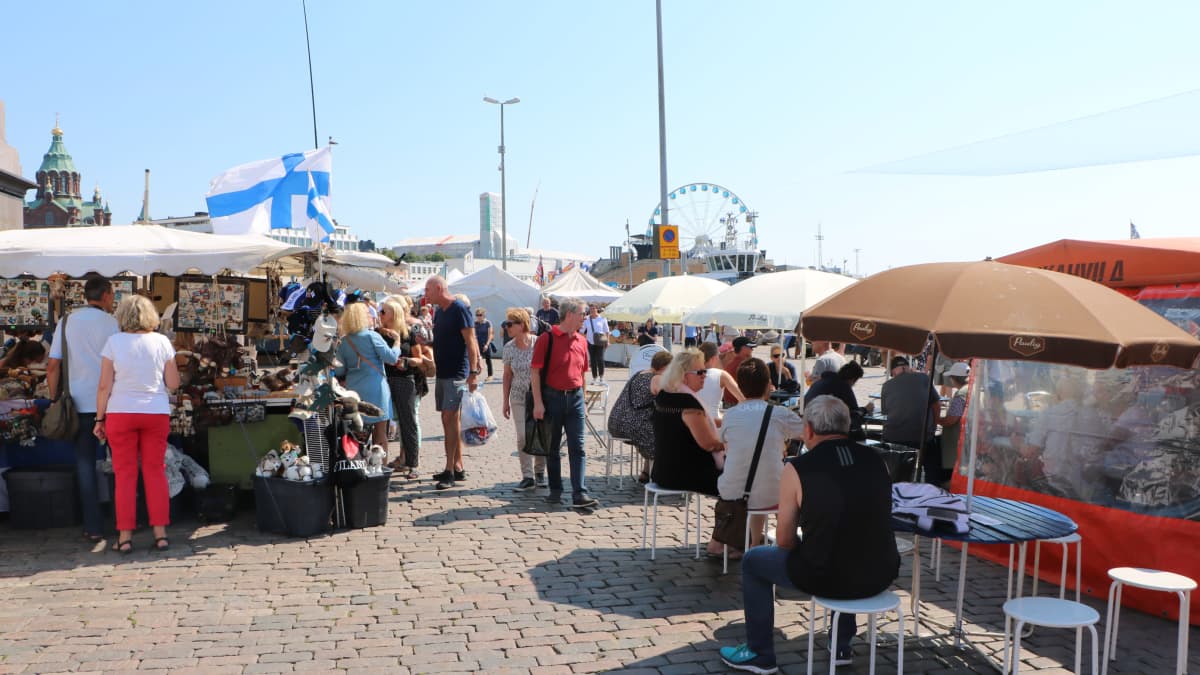 Unintended consequences of working from home
Christopher Dare is another entrepreneur hit by the virus.
He should be looking at a full schedule of bookings for SOUP, his Helsinki-based catering business, with about four or five jobs every week. Instead, he's had just one enquiry in the last three weeks, and many future clients are cancelling on him.
"Everything sort of stopped around 17 March," he said. "We work mainly for big tech companies, but they all started working remotely."
The hospitality industry is particularly hard-hit, witha recent study by Aalto University finding that up to half of restaurants in Finland could be out of money by the end of May.
"The situation's much worse for large restaurants," Dare explained. "We're lucky, our rent's pretty low and we only had one contracted member of staff (now furloughed)."
Even so, he's looked into the options on offer to help self-employed people and small business owners - commonly referred to as entrepreneurs in Finnish government information.
"Vero has said you can apply to pay tax in instalments, but you can do that anyway, so that's not changed anything," Dare said.
The Federation of Finnish Enterprises, which represents the country's small business owners, is calling for more support from the government.
"The crisis is so deep and the problems so enormous that we need more direct support," the group's president Mikael Pentikäinen told Yle News, "Our estimate is that the Finnish entrepreneurs and enterprises will need direct support of approximately five billion euros during this difficult crisis."
Claiming unemployment benefits
The government has said it's responding to the crisis by opening up sources of income that weren't previously available to self-employed people.
"The situation caused by the coronavirus to many entrepreneurs is quite unreasonable, and now we wish to support them in a number of ways," said employment minister Tuula Haatainen in a statement.
"Entitling full-time entrepreneurs to unemployment benefits is one of these. We want to make it as easy as possible for the entrepreneurs to apply for it and get the payments."
Shut out of other sources of emergency funding, Tony Webb has taken the offer to register for unemployment benefit.
New rules mean that self-employed people don't have to shut down their businesses in order to apply, but it's still frustrating for Webb.
"What annoys me is that I only need a thousand euros to get through," he told Yle News. "If I have to register unemployed it would cost the government more than one thousand in benefits."
Building alternatives
While funding from Business Finland - a government organisation that promotes trade and business innovation - isn't an option for sole traders like Watts, the organisation is making funding available for small businesses to find ways of adapting to the coronavirus pandemic.
Ansgar Frankenberg received funding for an automated chat bot that helps entrepreneurs take their business online. His service, YourDigiGuide, is "mainly for people who are not tech savvy," he explained.
"For example, one guy runs training for construction workers, usually in person," he said. "He said, 'do I have to cancel everything?' I said, 'Wait, wait.' We set him up with a web shop and a Zoom account.
Frankenberg said many self-employed people who've contacted him are looking at moving online as a way for their businesses to survive the coronavirus' economic impact.
"Think what you can do now, even if it's selling vouchers for the time after coronavirus. Something is better than nothing," he argued.
It's a message that chimes with Christopher Dare, who's looking at options outside of his usual catering business, like providing consulting services to restaurants.
In the meantime, he plans to "keep costs low, lock down and keep a low profile," waiting for the world to return to normal.
Yle News' All Points North podcast will discuss the plight of solo entrepreneurs like Tony Webb on Thursday, 9 April. Tom Bateman will join the discussion.