When restrictions on everyday life are eased, much depends on people's self-control. Will they continue to stay home and avoid others?
A survey conducted for Yle suggests that 88 percent of respondents have limited contact with friends and relatives because of coronavirus.
Almost all of those people said they would continue to limit contacts in some way even after restrictions eased.
Story continues after graphic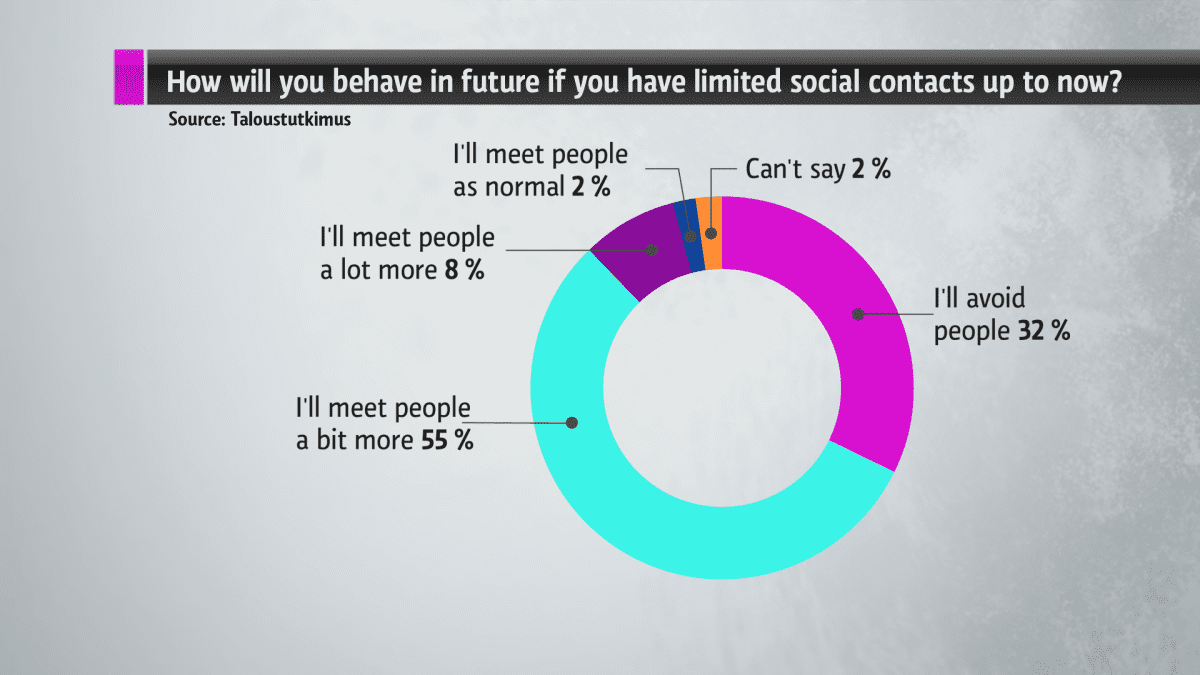 Some 63 percent of respondents said they would meet people somewhat more or considerably more than before, but just two percent said they would return to their pre-coronavirus social life.
The survey suggested that many people in Finland will be cautious when they resume social contacts with loved ones, maintaining physical distance.
On the other hand, about 12 percent of respondents said they had not changed their ways at all during the pandemic.
Steps towards normality
The government announced last Monday that it would re-open different parts of society in stages.
Finland's strategy has been described by ministers as 'test, trace, isolate and treat', and part of that is to re-open facilities and services that were shut down when the epidemic threatened to get out of control.
First came libraries, with daycare centres and schools to follow from Thursday. From 1 June restaurants will open their doors and the limit on gatherings will rise to 50 people.
Museums, hobby facilities, theatres and other indoor public spaces will also open up.
We unpacked Finland's loosening of restrictions in our All Points North podcast. You can listen to the full podcast via this embedded player, Yle Areena, Spotify, Apple Podcasts or your usual podcast player using the RSS feed. Be sure to subscribe to the show wherever you get your podcasts.
Story continues after audio.
Sports leagues can start up with special permission from the start of June. Events for more than 500 people are banned up until the end of July, but it seems like persuading people to attend them might be a challenge.
Yle's survey suggests people in Finland split into three distinct groups of roughly equal size on the question: Those who would not attend large events anyway (29 percent of respondents), those who did before but won't now (30 percent), and those who did before and would like to as soon as it's allowed (35 percent).
The government has emphasised that all loosening of restrictions depends on the virus remaining under control, and said that restrictions could be reimposed if that is not the case.
The survey was conducted by Taloustutkimus for Yle. They interviewed 2,143 people aged over 15 between 8 May and 11 May, with interviews conducted online. The sample was weighted to reflect the age, gender and geographical balance of the population in Finland. The margin of error is +/- 2%.