Libraries have opened their doors, schoolchildren have returned to their classrooms and restrictions on cross-border travel have been eased.
The Finnish government now has plans to gradually lift more of the restrictions imposed to limit the spread of the novel coronavirus. Many people are eagerly awaiting, for example, for the start of June and the anticipated reopening of bars and restaurants.
Even as restrictions are lifted, preparations are also under way to deal with the possibility of another, or even multiple waves of infections.
There are also projections indicating that if a second wave appears, it could be more severe than the current epidemic.
In Finland, the southern region of Uusimaa, which includes the capital has been the hardest hit by the virus. There have been just slightly fewer than 2,300 confirmed cases of infection in Helsinki. This is three times higher than even in the surrounding cities of Espoo and Vantaa.
Yle asked officials at the Helsinki and Uusimaa hospital district (HUS) and the City of Helsinki what preparations are being made to deal with a new wave of infections.
Late summer, early autumn
There is no definitive answer to the question of when a new wave could be seen.
According to Helsinki and Uusimaa hospital district (HUS) chief medical director Markku Mäkijärvi there are a number of projections, including modelling carried out by HUS and the Institute for Health and Welfare (THL) but forecasting a firm time frame is difficult.
"What we are preparing for is a wave in the late summer or early autumn. But no one actually knows if there will be more or less than one wave or if it will be be a steady flow of new patients," Mäkijärvi points out.
Mäkijärvi does consider a second wave to be probable because only a small fraction of Finns have been infected so far.
"As long as there is no vaccine or medication to block the virus, getting infected is the only alternative," he says.
HUS has put personnel through accelerated training, including several hundred now qualified in intensive care and patient ventilation. It has updated treatment guidelines as well as guidelines on the use of personal protective equipment.
Large stocks of protective equipment have been stockpiled for use by both patients and care staff.
An evaluation of hospital care facility capacity has been carried out. According to Mäkijärvi, HUS would be able to provide intensive care to 200-300 patients at the same time.
The first images of HUS's underground backup facility pilot were released last week.
"As the name indicates, it is a backup, meaning that the conditions are not of the same calibre as normally in a hospital. However, it would be functional and if needed, patients could be given treatment there," Mäkijärvi explains.
Story continues after photo.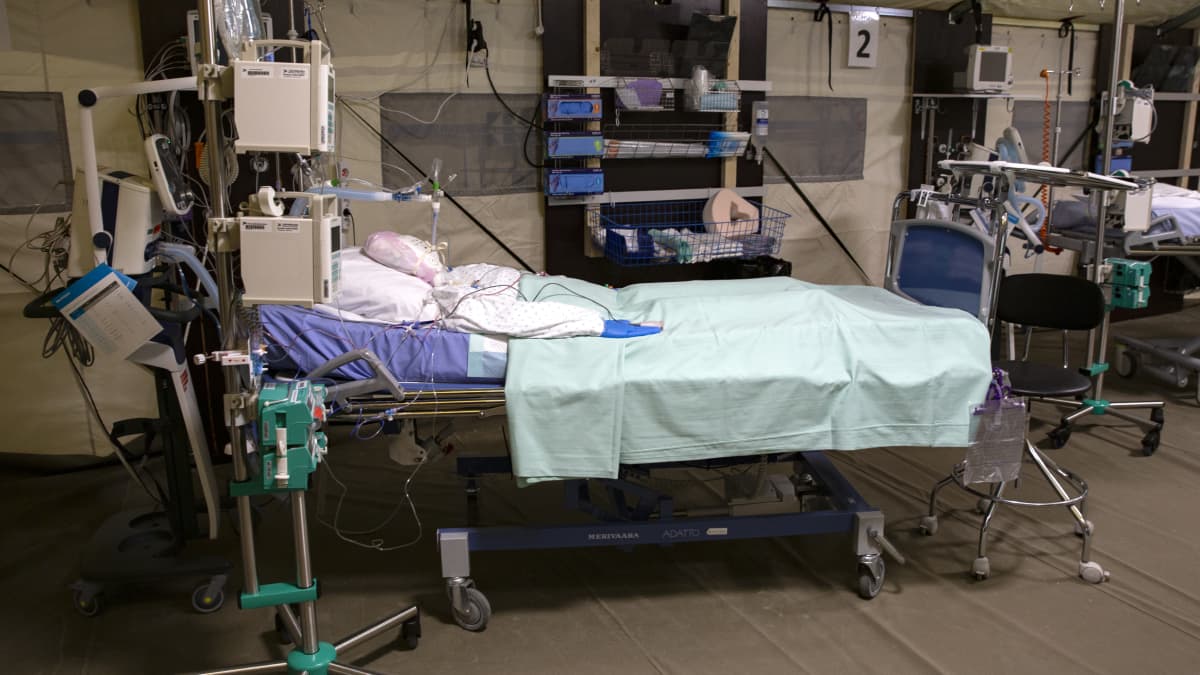 If required, the facilities and resources of other regional hospitals in the could be drafted in for the care of COVID patients. The Helsinki and Uusimaa hospital district includes 23 hospitals.
PPE and standby hospital
Helsinki city officials are also projecting the arrival of a possible second wave of infections in the late summer.
Helsinki has had two healthcare centres, the Laakso and Malmi hospitals, focused on the coronavirus. Like HUS, the City of Helsinki also has a backup facility.
"We are prepared to bring Herttoniemi Hospital into operation [as a coronavirus care unit] with a week or two run-up, so very quickly if the number of patients increases," says Juha Jolkkonen, who is the executive director for social services and health care sector for the capital.
During the first wave of infections, the city reassigned personnel to units dealing with Covid-19 treatment and containment. For example, a number of early child education employees, who are also trained as practical nurses, were shifted into healthcare services.
According to Jolkkonen, more personnel can be shifted into epidemic management at short notice if a second wave threatens.
"Initially we had seven people working in infection tracing. Now there are 130. This is a unit that we can temporarily downsize or expand," he provides as one example.
Most of the city's protective equipment is provided by HUS. However, it has now made acquisitions on it own to better ensure preparedness.
"We are currently filling out stocks and we will continue until we have at least a few weeks', or preferably a month's supply on hand before there is a second wave," says Jolkkonen.
Special attention to children and elderly
The largest number of people who have died from Covid-19 in Helsinki have been residents of eldercare facilities, 85 as of 12 May.
Jolkkonen says that attention is now being focused especially on protective equipment in eldercare facilities. Surgical masks are being used by staff in all interaction with residents, even when they have no symptoms of the virus.
The impact of emergency measures on children has been a major talking point. The unusual circumstances of recent weeks in some cases have increased tensions within families and insecurity in families with a member who has substance abuse or psychological problems.
"During the period of remote teaching, we aimed for schools to be in contact with all pupils. And, if despite repeated attempts pupils or their families could not be contacted, child welfare services were brought in," relates Jolkkonen.
"Now that children are back in the classroom for a few weeks we can see if we successfully recognised problems during the period of remote teaching, or if more will have to be done," he adds.
What's been learned so far?
Helsinki and Uusimaa hospital district chief medical director Markku Mäkijärvi says that Finland is better prepared for a second wave of infections.
"Before the epidemic started there were things we knew only from information from abroad. Personal experience, in the final analysis, is the best teacher," says Mäkijärvi.
As examples, he points to the effective use of protective equipment in care settings, protocols for dismissing patients, and reorganization of operations at short notice.
Meanwhile, Jolkkonen says that for the City of Helsinki, one of the most important lessons was the importance of communication among the various authorities involved.
"Perspectives and concerns were not the same for all. This has been a clear lesson - we need to sharpen our common view and common understanding of the situation," stresses Jolkkonen.