The coronavirus crisis has had a significant impact on the finances of working people in Finland, according to a new report by Helsinki Graduate School of Economics (Helsinki GSE).
The economic research institute said that the sum of wages earned in April this year was five percent less than the same time last year, a development it described as a meaningful change. The analysis revealed that households lost the equivalent of 350 million euros in income in April alone.
It noted that in March, data from Statistics Finland indicated that the overall wage bill had increased by 2.2 percent compared to March 2019, and pointed out that emergency measures to combat the crisis began to bite from mid-March. Helsinki GSE said that the steep drop in earnings in April was especially due to a sharp rise in temporary layoffs.
"The fall in wages describes the shock experienced by households as well as a reduction in economic activity," Helsinki GSE academic director Professor Otto Toivanen said.
The institution's analysis is based on data pulled from the Finnish Tax Administration's Income Register, which gathers information about salaries, benefits and pensions paid to individuals.
Earnings fell as a large number of furloughed workers turned to unemployment benefits or a basic allowance rather than salaries to pay for necessities, the report said. According to the Ministry of Economic Affairs and Employment (MEAE), by the end of May more than 155,000 workers in Finland had been temporarily laid off.
Helsinki, Vaasa, Kouvola hit hardest
The economic researchers also looked at how different large cities were affected by the loss of earnings. They found that wage earners were hardest hit in Kouvola in southeast Finland, where households saw earned income drop by 8.3 percent.
Story continues after graphic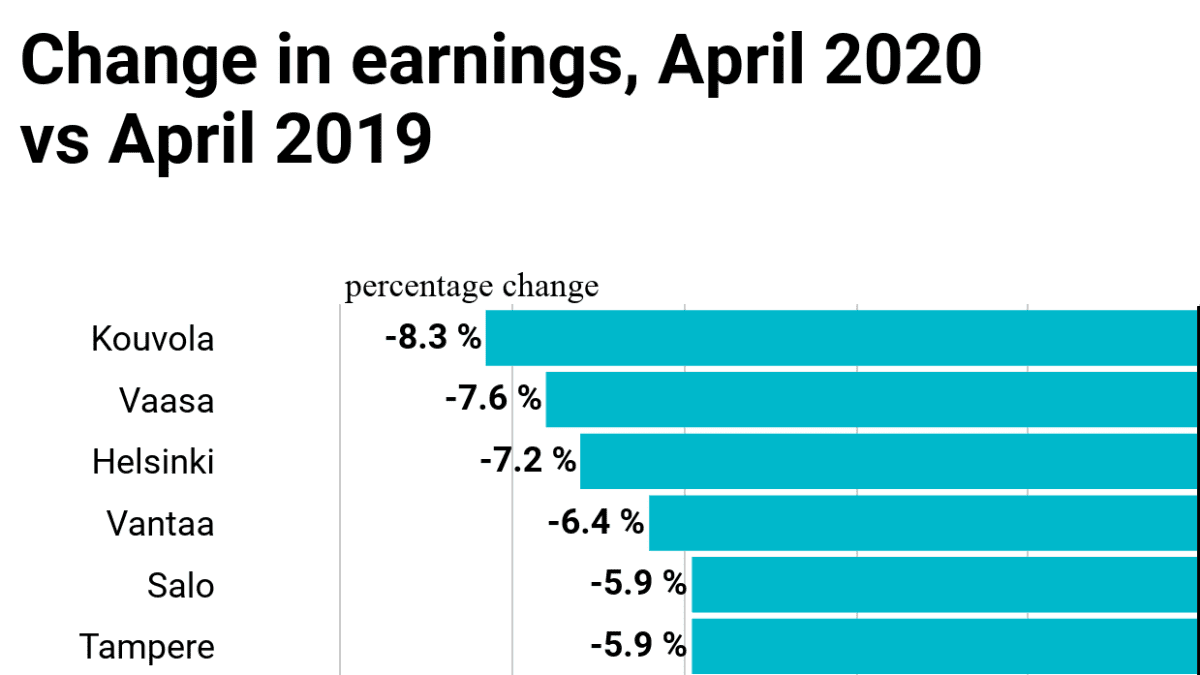 Meanwhile, workers in Vaasa on the west coast and in Helsinki saw their earnings dry up by 7.6 and 7.2 percent respectively, compared to one year earlier.
"The situation was due to the economic structure, but it was very difficult in these three cities," Toivanen said.
He noted that Helsinki has many firms operating hotels, restaurants and other service businesses. The service sector was one of the most-ravaged by the crisis.
On the other end of the spectrum, earnings fell most moderately in Jyväskylä, where households only saw their pay packets reduced by 0.5 percent.
Turku University, Statistics Finland, and the state-run VATT Institute for Economic Research collaborated with Helsinki GSE on the research and analysis.