The whole spring has been quiet, but on Midsummer Eve there are more people about than on a usual weekday. Tourists, however, are nowhere to be found in Helsinki's Market Square.
The stalls selling tourist souvenirs are also much fewer than usual: tents offering coffee and berries are a clear majority.
Florist Mervi Kaalinen has decorated her stall with traditional Midsummer birch branches. She says that there will soon be Finnish berries on sale, and they usually sell well — especially to Chinese tourists.
"This summer they won't be coming," says Kaalinen.
On the afternoon of Midsummer Eve the square is in any case pretty busy. The queues were especially long for cruises round the Helsinki archipelago.
Story continues after photo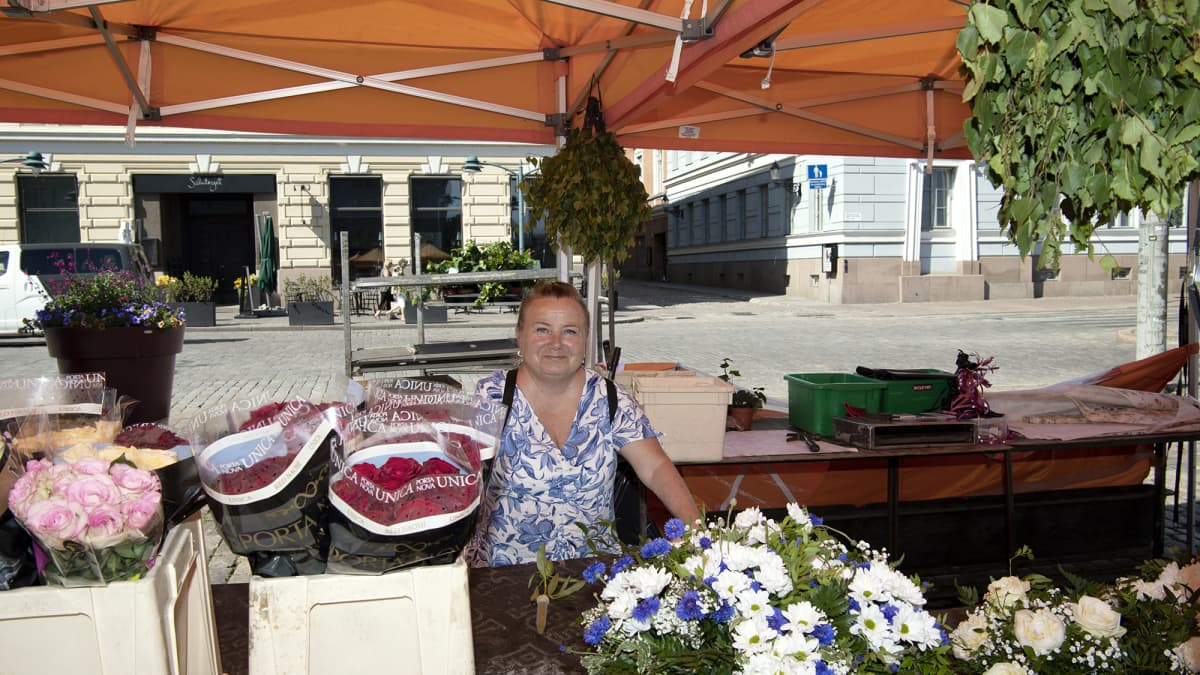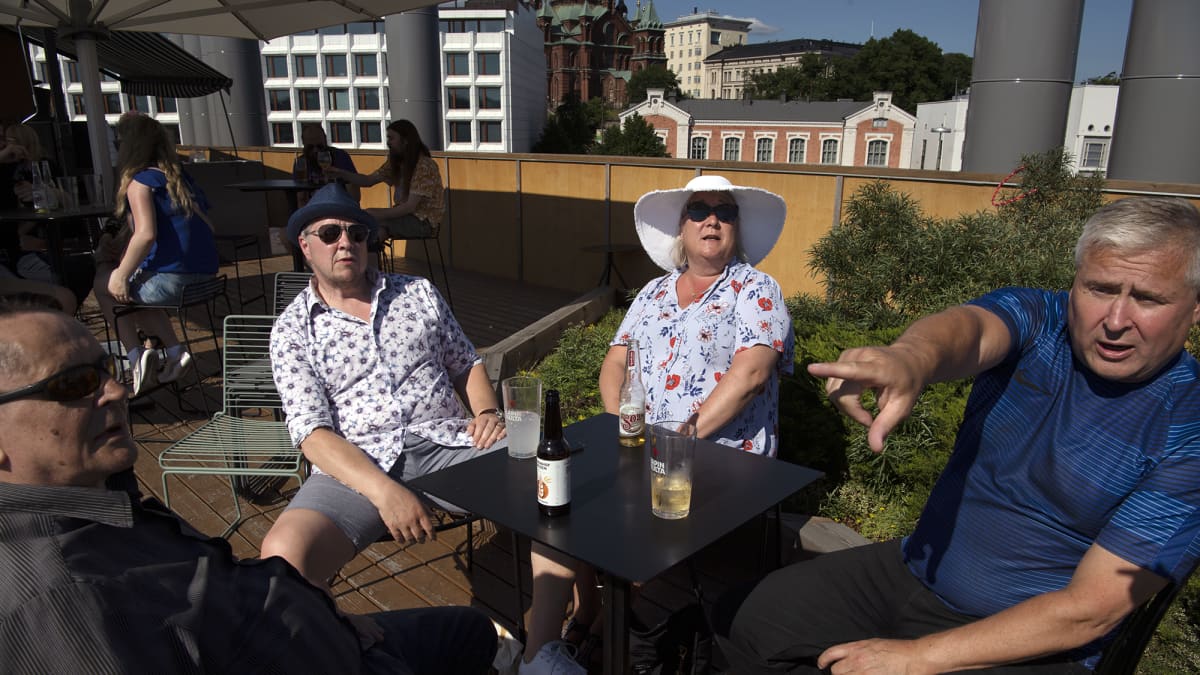 At the roof terrace of Allas Sea Pool, right on the harbour, Simo Brusila, Harri Heiskanen, Eeva Kukula and Eeki Nikulainen have just finished their boat trip.
Kukila and Nikulainen got to know Brusila and Heiskanen on the cruise, and moved on together to the terrace to continue their Midsummer evening.
Kukila said she was spending her Midsummer in the city for the first time.
"I was surprised that there are so many people in the city," said Kukila. "It used to be that tourists always came to an empty Helsinki and wondered where everyone had disappeared to."
"We took the train for the first time since the coronavirus outbreak started," chimed in Nikulainen. "This makes a nice change."
Brusila and Heiskanen say they are regulars at the Allas terrace. After a long spell of remote working, they were keen to come to town and see other people.
Story continues after photos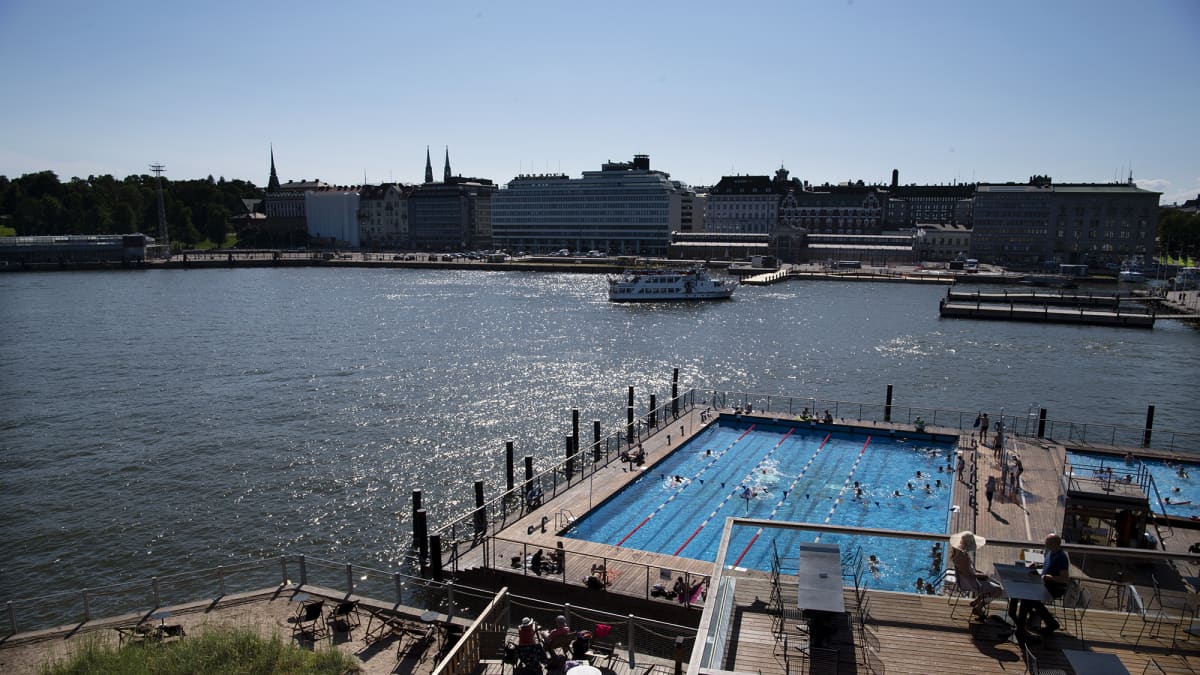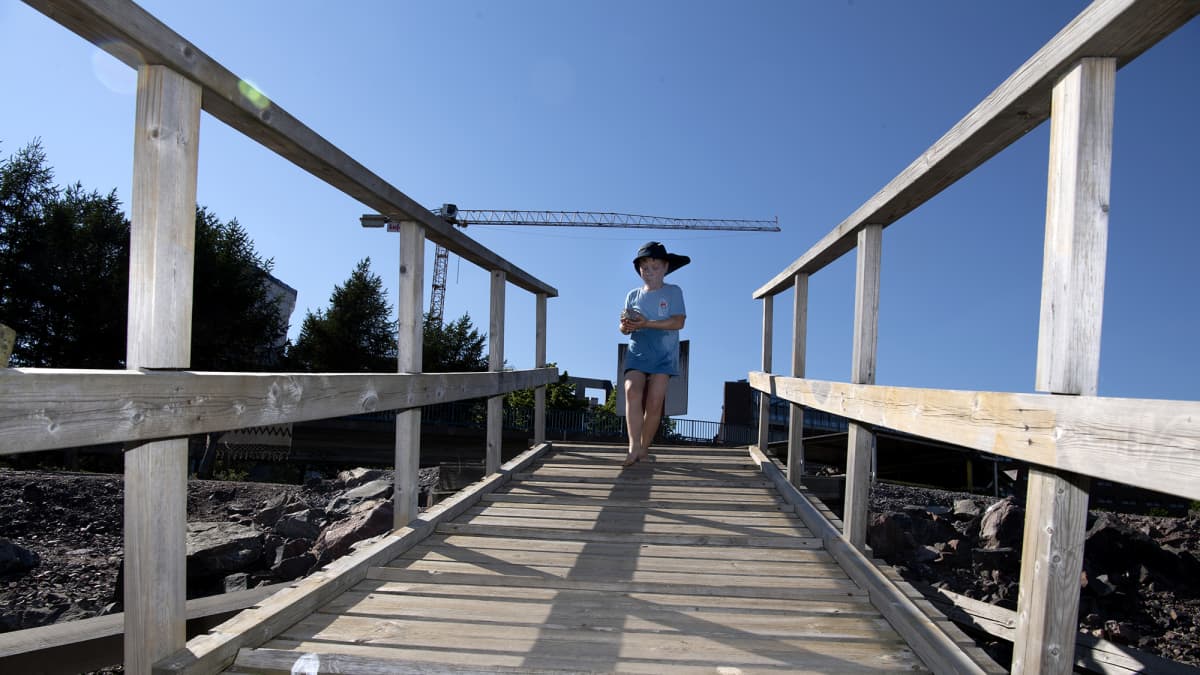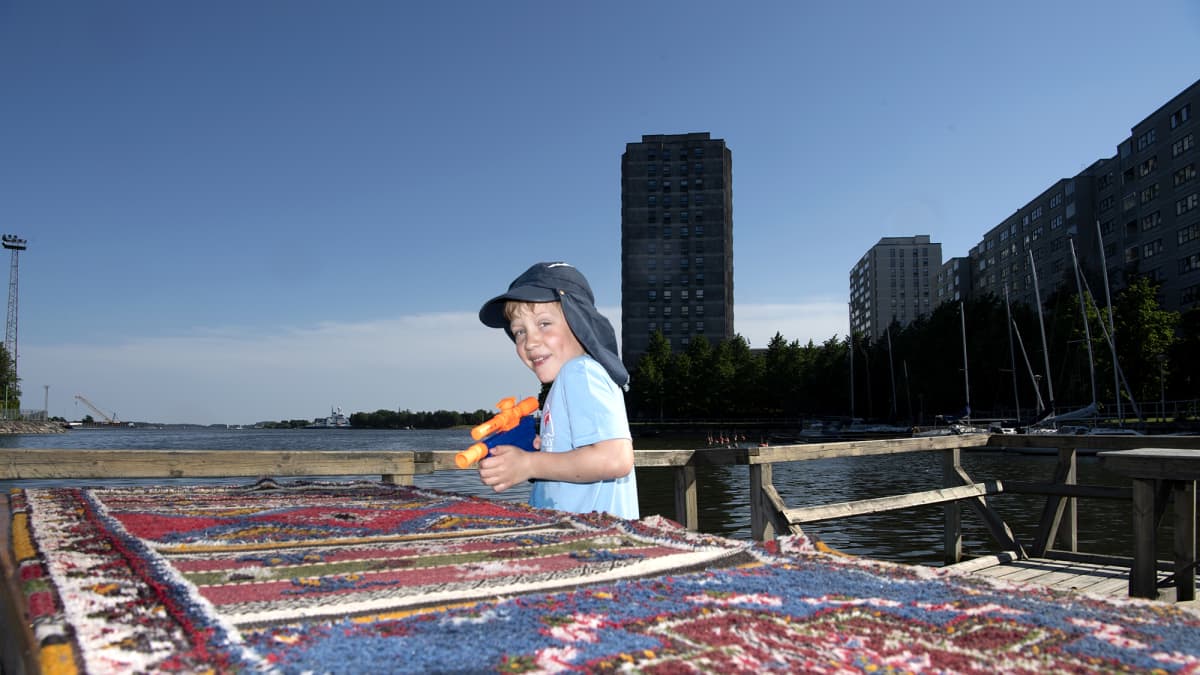 Mölkky, swimming and Midsummer magic
Music booms out on the Leblon restaurant terrace to the east of the city centre. There's an outdoor gym on-site and beats to go with the weather.
"Today I'm playing tropical sounds," says DJ Magic Sam, also known as Sami Mannerheimo. "I can't remember it ever being this hot at Midsummer."
Story continues after photo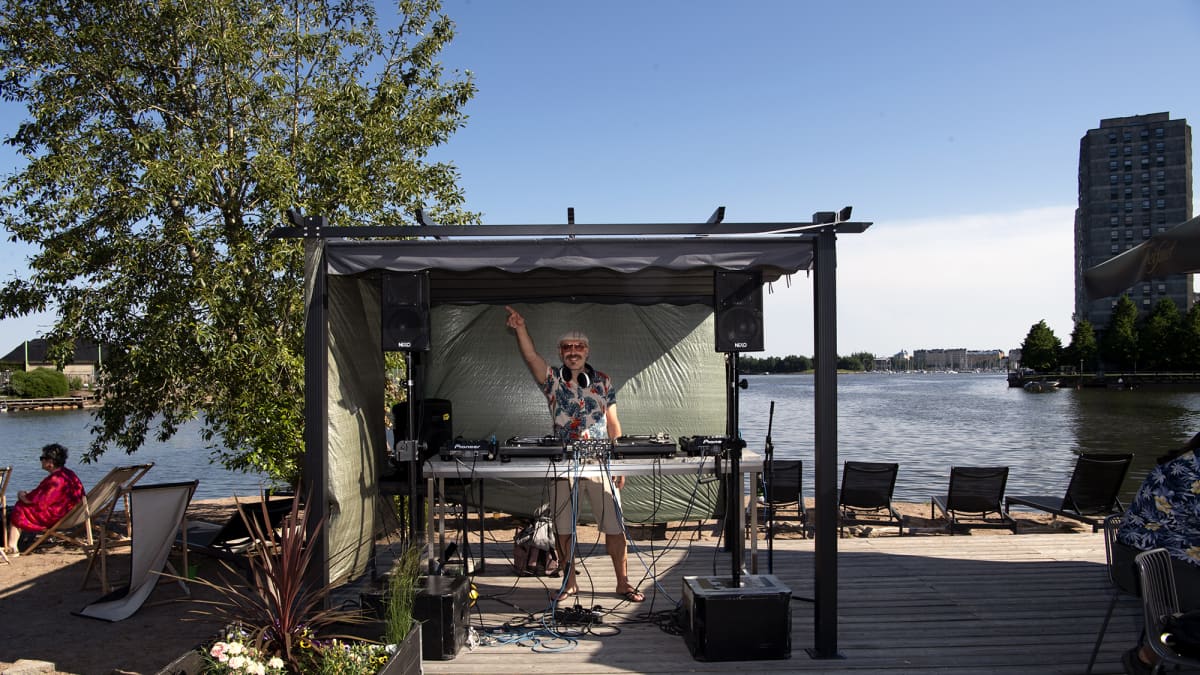 The terrace is still half-empty. The DJ says that although bars close early because of the coronavirus restrictions, people have not yet learnt to arrive a little earlier. They tend to turn up around 8pm or 9pm, and bars have to close soon after that.
People are passing the restaurant on foot, bikes and electric scooters. City bikes are also heading towards Mustikkamaa, a popular island just south-east of the city centre where the shores are starting to fill with people enjoying the Midsummer weather.
Story continues after photo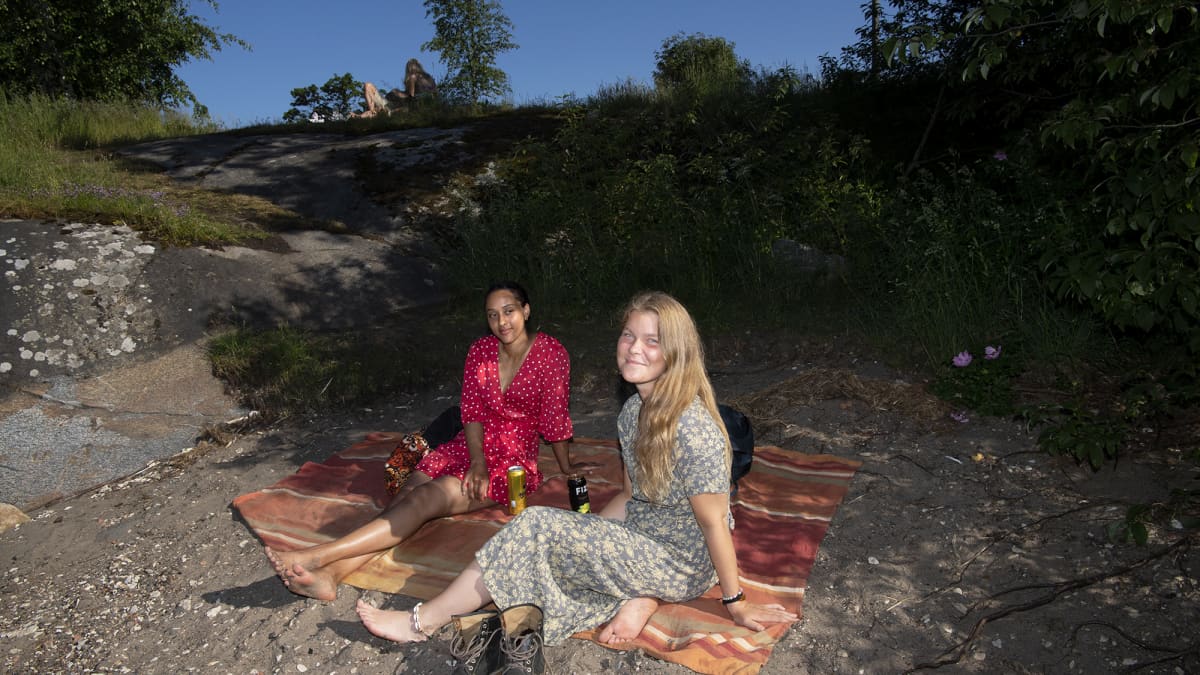 Ayaan Koivisto and Magdelena Koponen have come here to swim. Neither has any fixed Midsummer traditions. Sometimes they go to a cottage in the countryside, sometimes they stay in the city.
"It would have been nice to see a Midsummer bonfire," said Koivisto.
Koponen says that she sometimes makes floral garlands to celebrate the summer. The pair are planning to head to Helsinki's 'guerilla sauna' at Sompasaari, known as Sompasauna.
The mölkky game has begun. Johanna Mähönen, Katja Novitsky, Mitch Gibbs and Matt Scanlan have gathered to throw lumps of wood at other lumps of wood, supporting each other as they test their skills.
The men are from Britain and they have both lived in Finland for eighteen months. They have not been able to travel to their home country in the spring because of the coronavirus restrictions, and their original Midsummer plans were also derailed.
None of the quartet has a summer cottage to go to, and they were unable to rent anything much.
Story continues after photo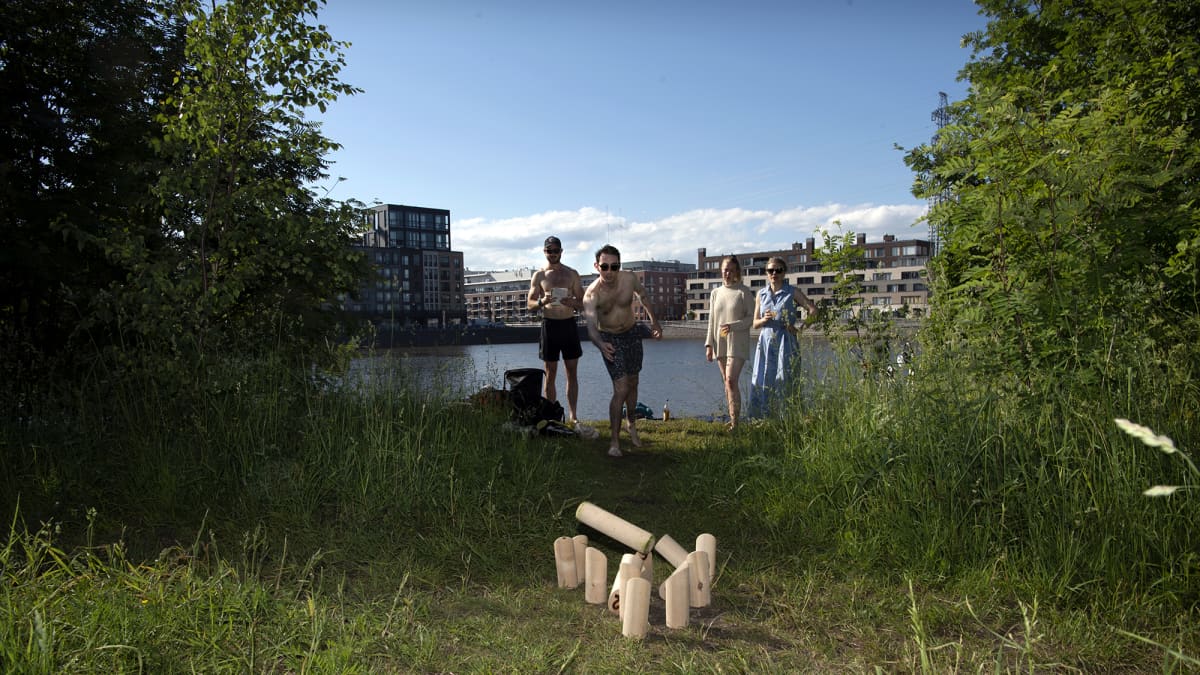 "We've been in a kind of limbo all spring," says Gibbs, who says he knows a bit about Midsummer traditions of going to the cottage and having a sauna.
"The Midsummer pole is more of a Swedish thing," says Scanlan.
Novitsky says they will have to teach the men 'Midsummer magic', the multitude of ways Finnish women are supposed to have their future husbands revealed to them at Midsummer.
Sauna heats up
Sompasauna is thronged with swimmers and sauna-goers. The free, unofficial sauna is located near the new neighbourhood of Kalasatama. The original shack of a sauna has now been replaced with three small saunas, and the 'illegal' sauna has become something of a renowned centre of urban culture. It's open to everyone and free of charge, and maintained by the Sompasaunaseura association. Soon, however, it will have to make way for new blocks of flats.
Story continues after photos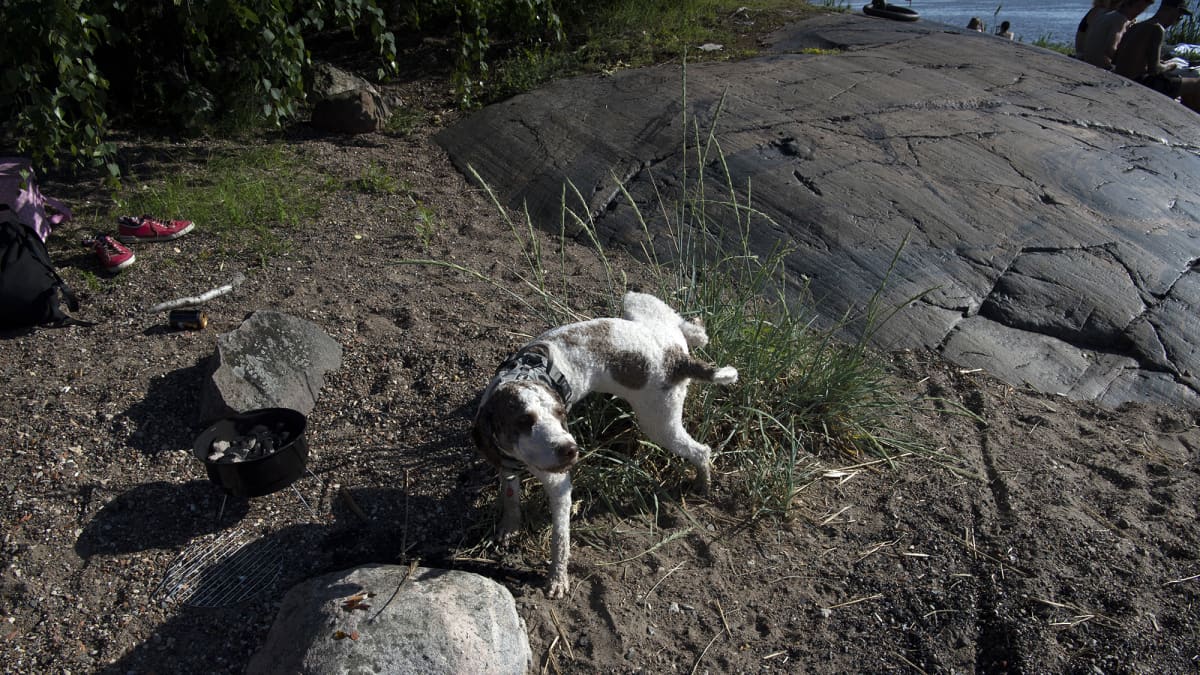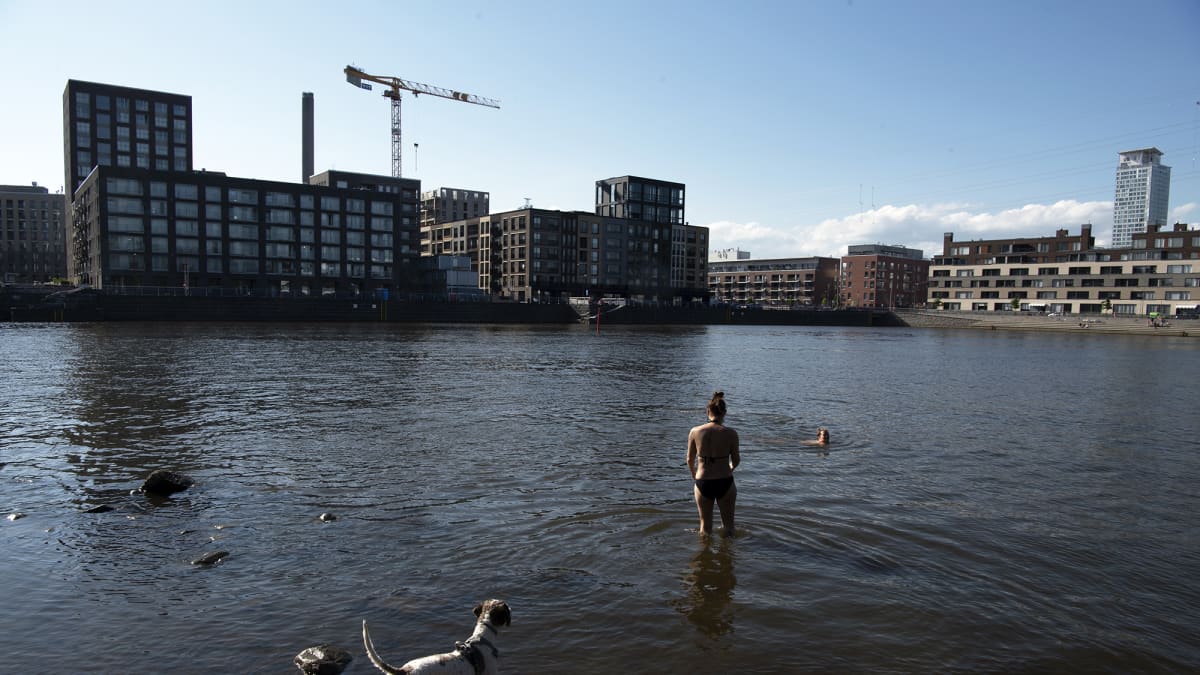 Milla Nurmi, Eeva Jylhä-Ollila, Sofia Erman, Karoliina Hiittu, Sanni Jussila and Siiri Westerberg have come to the sauna for a swim.
Some of the group just moved to Helsinki, some have travelled in from Hämeenlinna.
During the pandemic they have not had much chance to relax, but Midsummer gave them the chance to enjoy summer in the city.
Story continues after photos