Coronavirus-related government restrictions on public events in Finland of more than 500 people were relaxed, starting Wednesday, 1 July.
The change affects sporting events such as football matches, but will also apply to festivals, summer events and other cultural occasions.
However, despite the lifting of restrictions, outdoor public events will not be quite the same as before as they will only be permitted to be held if they meet the following three conditions:
The area much have several terrace blocks or demarcated areas for the public, between which clear zones of protection can be established.
The audience attending the event must be accommodated in their own seating or in separate areas for up to 500 people, each of which must have its own access route, services (such as catering and toilets) and event staff.
The audience's safety must be ensured by following the instructions given by the National Institute for Health and Welfare (THL) and the Ministry of Education and Culture on safety distances and hygiene. THL's guide states, for example, that at public events the audience numbers must be limited to such an extent that there are at least 1-2 metres between people.
What restrictions and recommendations still apply?
Although restrictions on public life have been gradually lifting over the past few weeks, there are a number of restrictions and recommendations still in force in Finland that affect the lives of citizens.
The change to public events, which came into force on Wednesday, does not apply to events held indoors for 500 people and more - as they will only be allowed with safe distancing measures being taken, from the beginning of August.
Story continues after photo.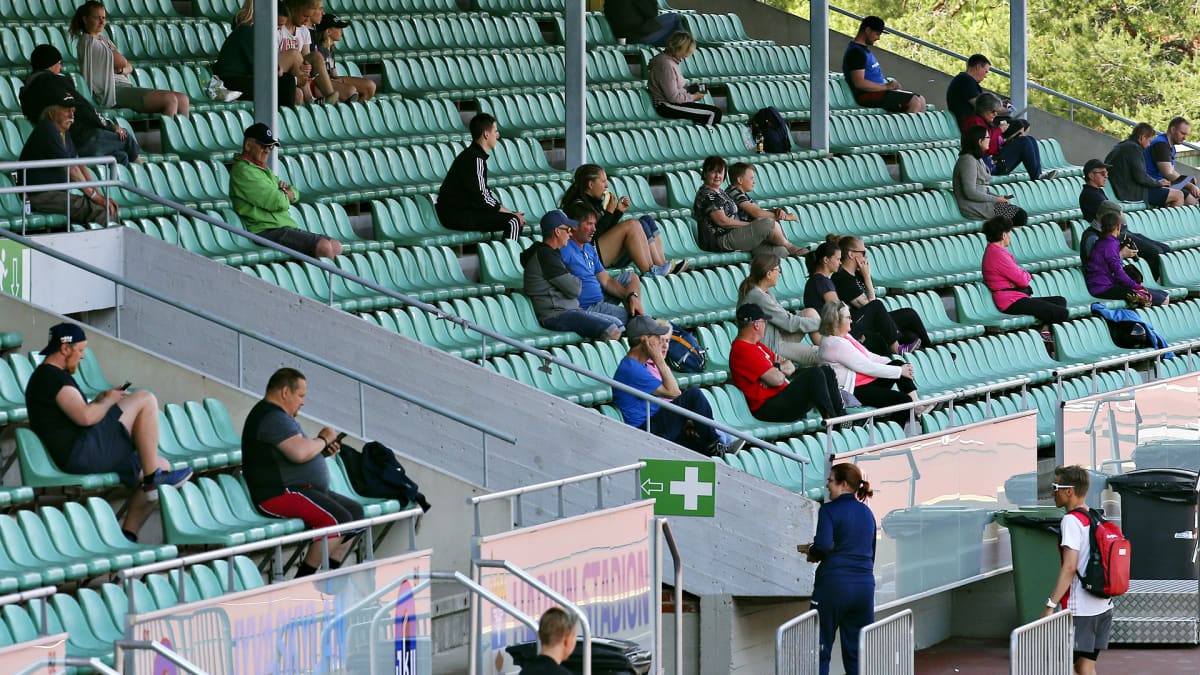 At present, indoor events for up to 500 people are permitted in accordance with safety distancing and hygiene guidelines.
All restrictions on public events of more than 500 people -- both indoor and outdoor -- will be lifted completely in early October if the coronavirus situation does not worsen.
The government's recommendation on telecommuting is still valid, but it will end in early August.
Travel and border traffic
The government still recommends avoiding unnecessary travel abroad with the exception of Norway, Denmark, Iceland, Estonia, Latvia and Lithuania, as internal border controls have been lifted with these countries.
From 13 July, travel restrictions will also be lifted between Finland and the Schengen region countries of Germany, Italy, Austria, Greece, Switzerland, Slovakia, Slovenia, Hungary and Liechtenstein, as well as non-Schengen Croatia, Cyprus and Ireland - if the infection ratios within each country meet the Finnish government's guidelines.
Travel restrictions between Finland and other Schengen countries will remain in place. These countries are the Netherlands, Belgium, Spain, Luxembourg, Malta, Portugal, Poland, France, Sweden and the Czech Republic.
The government will assess current travel restrictions and the overall situation of internal border control by 10 July.
Restrictions on border traffic at Finland's external borders will continue until 14 July. At the external borders, return traffic to Finland, transit traffic at Helsinki Airport and other essential traffic are allowed.
Voluntary two-week quarantine is recommended for everyone who comes to Finland, with the exception of people arriving from Norway, Denmark, Iceland and the Baltic countries.