Finland will open its borders with 17 European countries on Monday, as well as relaxing travel restrictions with 11 non-European countries.
As of Monday 13 July, it will be possible to travel between Finland and 12 Schengen area countries: Austria, Belgium, Germany, Greece, Hungary, Italy, Liechtenstein, Malta, the Netherlands, Slovakia, Slovenia and Switzerland.
In addition, travel restrictions will be lifted between Finland and the non-Schengen area countries of Andorra, Cyprus, Republic of Ireland, San Marino and the Vatican.
Travel between Finland and Norway, Denmark, Iceland, Estonia, Latvia and Lithuania has been permitted since restrictions were lifted on 15 June.
Story continues after graphic.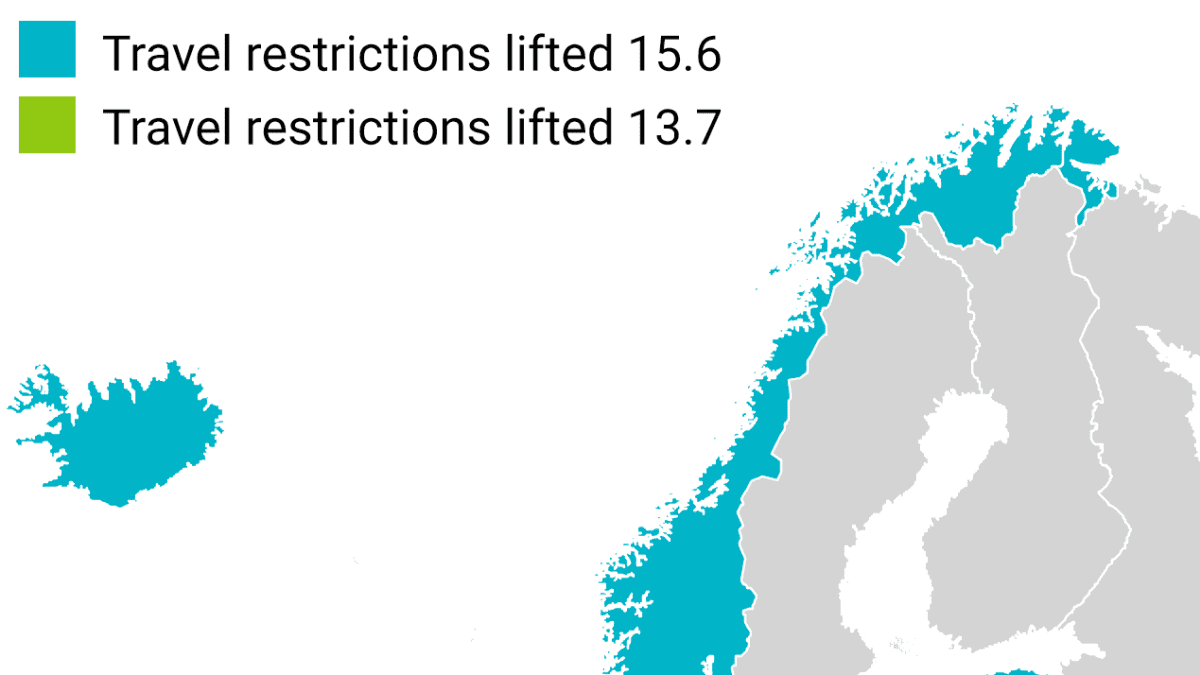 The restrictions on travel remain in force for the other Schengen countries as well as for Bulgaria, Croatia, Romania, the United Kingdom and Monaco. However, work-related and other essential travel between Finland and these countries is permitted.
Swedish border remains closed
Finland's border with Sweden will remain closed, despite much discussion on the subject, as the coronavirus infection rate remains significantly higher than the Finnish government's threshold of eight confirmed cases per 100,000 head of population over a two week period.
"I think many people understand when the situation in Sweden is what it is," Finnish Border Guard First Lieutenant Jari Rantala told Yle from the border crossing point between Tornio and Haparanda.
According to Rantala, during the spring an average of fifty people per day were prevented from crossing into Finland from Sweden because they did not have a sufficient reason for making the trip.
From Monday, family ties and the arrangement of large assets, such as property transactions, will also be accepted as necessary reasons for crossing the border.
Travel between Finland and 11 non-European countries also permitted
Finland is also easing travel restrictions to Algeria, Australia, Georgia, Japan, New Zealand, Rwanda, South Korea, Thailand, Tunisia, Uruguay and China.
People can now travel to these countries from Finland without the need to self-quarantine on their return. However, the destination countries may have their own restrictions on the entry of people from Finland.
Reciprocally, work-related and other necessary travel are allowed from these countries, all of which can also be found on the European Commission's so-called green list. The Commission also recommends opening up recreational travel to the countries on the list, but the final decision on this rests with the member states themselves.
From the green list countries, Finland is not yet lifting recreational travel restrictions to Canada, Morocco, Serbia or Montenegro due to the excessive number of infections in these countries.
In addition, Finland will allow the entry of seasonal workers, including berry pickers, if certain conditions are met.
The Ministry of Foreign Affairs recommends that people continue to avoid unnecessary travel to countries for which restrictions have not been lifted. The government will reassess the current travel restrictions in two weeks.