The coronavirus crisis has cut employment by more than 50,000 among young people, according to fresh data.
New figures from Statistics Finland indicate that in June this year there were 31,000 fewer 15 to 24-year-olds in jobs than in June last year. The corresponding figure for people in the 25 to 34-year-old age group was 24,000.
The figures reflect data from Statistics Finland's labour force survey rather than actual unemployment benefit claimants registered with the local employment offices and compiled by the Ministry of Economic Affairs and Employment.
It is not the first time a global shock has affected young people in the workforce, said Statistics Finland's Pertti Taskinen.
"How weak is the long-term position of young people in the labour market? You don't need an elephant's memory to recall that after the 2010 financial crisis the [situation in] early summer looked as bad as this year," he noted.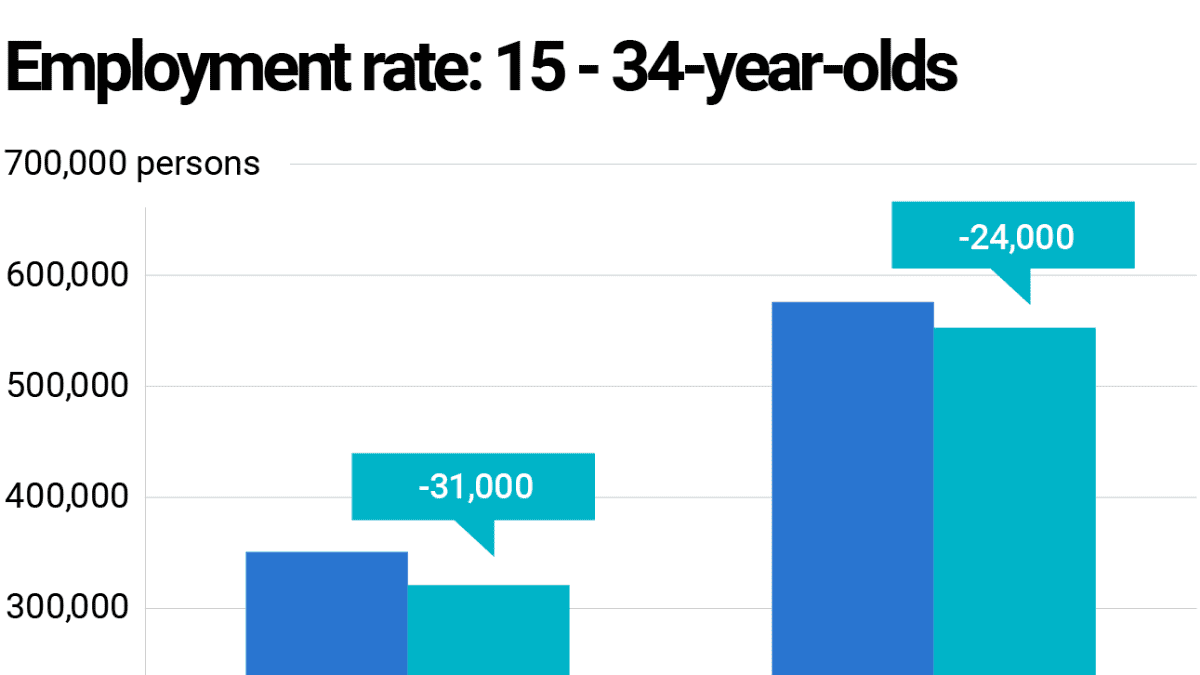 Careers hang in the balance
Researcher and lecturer Sanna Aaltonen of the University of Eastern Finland said that economic fluctuations are reflected most readily in employment prospects for young people.
"They have the worst impact on young people who are the last to be hired or are just accumulating their skills. They have more to prove in the labour market," she added.
Although it is clear that the coronavirus shock has affected young people in the job market, it is perhaps too early to say how hard the hammer has fallen.
"It is so especially for those making the transition from education to work and are looking for a city to live in and getting housing. The uncertainty is reflected in every life choice," Aaltonen said.
She speculated that the exceptional circumstances will exacerbate inequality in Finland. "The economy will have a bigger impact as there will be fewer jobs available."
The pandemic has seen employers pull back summer vacancies, while others have furloughed or retrenched staff as business slowed down.
"Of course you need to remember that the unemployed are a separate group and people have different buffers and resources to survive unemployment," she noted.
Similar situation in the 90s
The university researcher said that it is important to consider what other alternatives there are for young people who cannot find work.
"Some will pursue further studies but it would probably be good to consider what can be done and how to react at the municipal level," she said.
Finland is all too familiar with how a major shock can affect budding professional careers. During the recession of the 1990s, many people never got a proper start in the job market. The high levels of unemployment that resulted made it especially difficult for new graduates to find their footing in a first job.
One quarter of young people who graduated from universities and vocational colleges in 1992 were still unemployed one year later. Five years later, just over 10 percent still had no jobs and seven percent remained out of work even 10 years after graduating.
According to Aaltonen, even before the coronavirus crisis, it had become increasingly difficult and slow for young people to find work. However since then it has become even more challenging.
"Youth researchers speak of the narrowing of the channel between education and the transition to work as well as education inflation. Getting a position in the job market is more difficult than for previous generations," she said.
There are fields where it is easier to get work that corresponds to training, but that is not the case for 2020 graduates.
Potential rise in marginalisation
Finnish Youth Research Network specialist Anu Gretschel also said that jobless young people represent a huge problem.
She stressed that even getting a summer job could be a major step in the building a career for many young people.
"I wouldn't say that a summer job is less valuable than getting into the labour market. It may be a big deal and could determine whether or not young people fall into a cycle that takes them into or outside of society and communities," she added.
Gretschel's research focuses on young people who do not have study places or jobs. She described as problematic the fact that society is divided into two camps. For many young people belonging to society means being educated and having a job, while others remain on the fringes.
She said if larger numbers of young adults remain jobless because of the coronavirus crisis, increasing numbers will see themselves as not belonging to society. She said that these problems also existed before the crisis.
"This will cause individual tragedies and I hope to see action taken. Many thought they would get jobs or education but they did not," she pointed out.
"There may be a long period ahead where the situation will be bad. If young people lose hope, we will have a problem," she added.
Call for concrete action
Gretschel noted that many young people also have large student loans -- especially those who have dropped out several times -- and have no idea how to repay them.
She said that she is looking to the government for concrete action to open up the job market to young people.
"I have seen [Employment Minister] Tuula Haatainen promise that young people would not be left alone. I have not seen sufficient concrete evidence of what the government intends to do for youth employment."
"Someone is probably calculating what this means in euros as well. The loss of hope also means the loss of human life. Some people won't be able to carry on. That will mean living in poverty and its side effects. Some young people will feel marginalised because of poverty," she noted.
Gretschel said that the message coming from young adults is that they should be more involved in the planning of support services and other programmes aimed at their age group.
"Young people are not passive customers, they should be involved in making sense of this new situation too."