Months of coronavirus-related border restrictions have kept Russian visitors from heading to Finland to buy their own supplies of the Havarti-like Oltermanni cheese. However, Russian appetites for Finnish cheese are now being satisfied by people who smuggle the products over the border for them.
Last week Yle reported that a Prisma supermarket in Lappeenranta--not far from the Russian border--had started limiting sales of popular Finnish cheese brands to 11 kg per household, due to customers hoarding the products.
Finnish cheese has been quite popular in Russia for some time now, but they way consumers are getting their hands on it has changed.
In an effort to get a look at the underbelly of the illicit cheese market, Yle reached out to 17 people who advertised their wares on the Russian classified ad website Avito.ru. However, few were willing to reveal much in formal interviews, so Yle's reporters posed as potential buyers instead.
It turned out that some of the indie cheesemongers were charging customers as much as 20 euros per kilo for products that cost as little as five euros per kilo in Finland.
At the same time, some of the online dealers were ordinary consumers selling their wares stored in their own refrigerators, while others appeared to have more sophisticated methods of keeping up supply.
"Cheese best before 12/2020. Hurry! There will be no more deliveries," one Avito user's advert read.
Story continues after photo.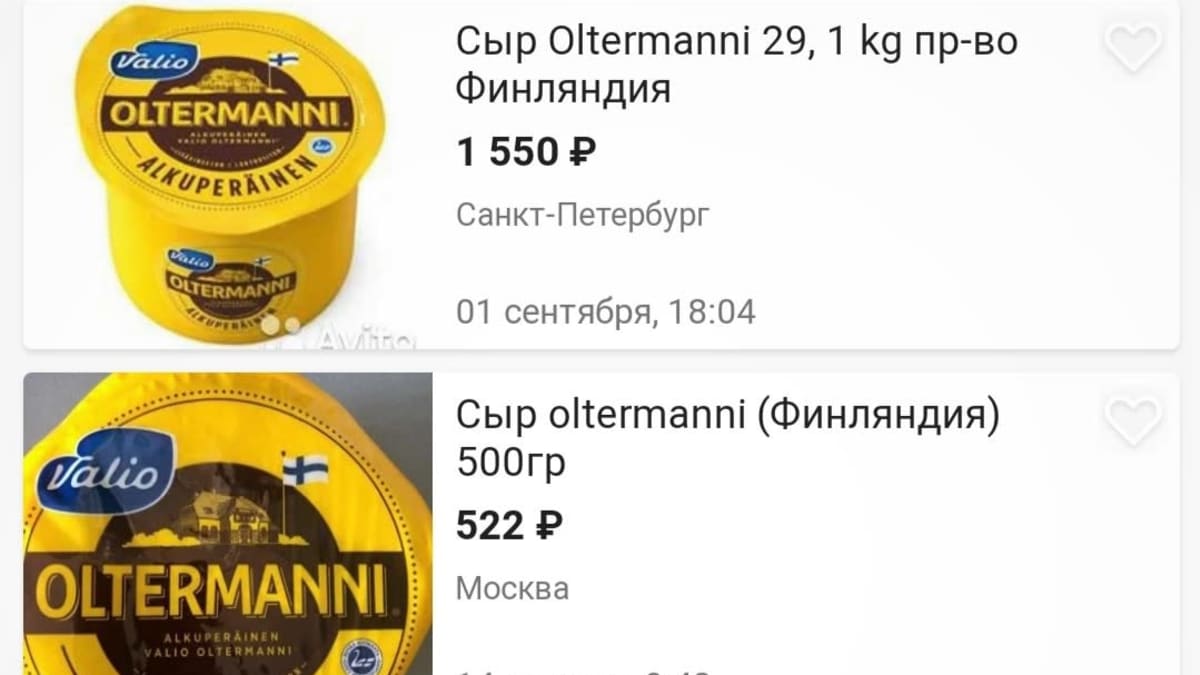 More cheese on the way
"I would like to buy one kilogramme of Oltermanni cheese. Could you please bring me a fresh one?" the Yle reporter asked one seller.
'Andrei' in St. Petersburg promised weekly deliveries but said he was unable to offer Oltermanni in any other size than 250 gramme packages, each priced at about four euros. The dealer assured his new customer that more cheese was on the way.
"Yes, we can deliver in five days," he explained.
Story continues after photo.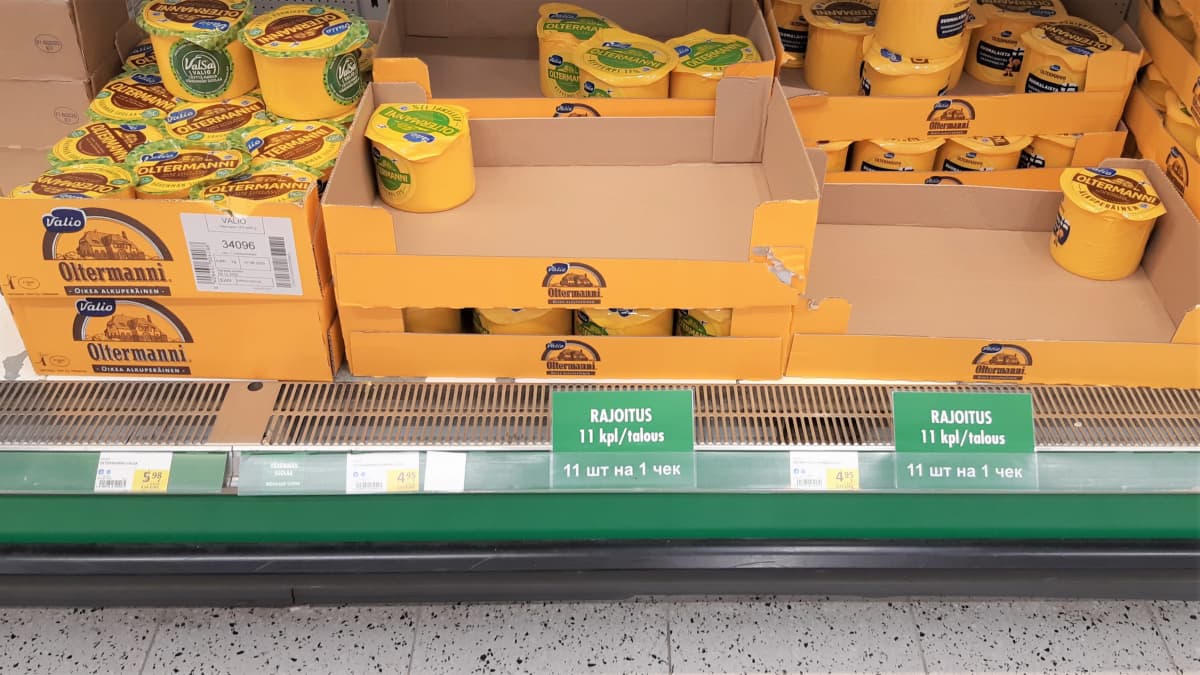 Hidden in lorries
Another Yle reporter, posing as a different cheese buyer, asked Andrei how the Finnish dairy product was reaching Russia despite coronavirus border restrictions, asking whether it was being delivered by lorry.
"Yes, by lorries," 'Andrei' replied.
Finnish Customs' senior customs officer in Lappeenranta, Petri Kukkonen, confirmed that the cheese deliveries are most likely being hidden in lorries. Even though there's barely any cross-border passenger traffic these days, lorry traffic continues unabated.
In addition to lorry drivers, only dual citizens and Finnish nationals are allowed entry into Finland, according to Kukkonen.
"Now, the only way to smuggle stuff is to take it by truck. Excluding, of course, those few exceptions regarding passenger traffic," he explained.
Individuals crossing into Russia are legally permitted to bring in a maximum of five kilogrammes of cheese.
But the popularity of Finnish food products in Russia is not a very new development. The phenomenon was particularly noticed in 2014 when the EU imposed economic sanctions on Russia, bringing imports from the bloc to a halt.
At the time, a trade expert predicted that the sanctions might lead to increased visits by Russians in search of Finnish delicacies.
But why Finnish cheese?
The few underground cheese retailers who spoke with Yle said that Finnish cheese is popular because of its good taste and affordable price.
Story continues after photo.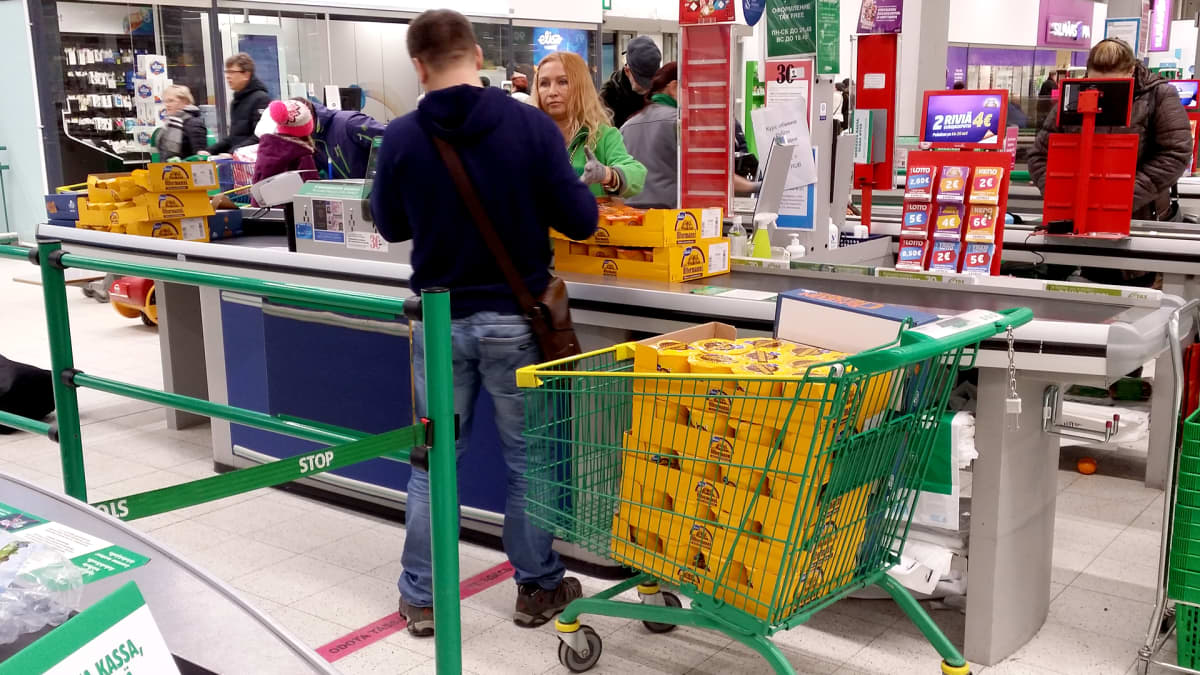 "Finnish cheese is very tasty and cheap, but Russian cheese does not taste good. I don't want to add it to food," one seller said.
Another Avito cheese entrepreneur from Petrozavodsk, more than 400km northeast of St. Petersburg, also said the Russian demand for Finnish cheese is about the flavour, as Russia does not have a broad variety of domestic cheeses.
The entrepreneur said that there are no mouldy or cheddar cheese products made in Russia and that most Russian cheeses taste the same, regardless of the manufacturer.
Finnish products have a good reputation for being well-made and many firms in Finland did brisk business selling their wares in Russia before EU sanctions were implemented.
Valio, the dairy firm which produces many varieties of cheeses, including Oltermanni, announced in 2014 plans to cut staff by the hundreds because of the sanctions.
Valio's sales and marketing director, Elli Siltala, said that before the sanctions, Oltermanni had a huge market share and many Russian fans. These days, she said most of the Valio products officially sold in Russia are produced locally at the company's facility in Moscow, the company's only production plant in Russia.
However, Siltala said that the demand for Valio products in Russia was not high enough to warrant expanding production in the country, as the firm has prioritised its investments and assets in Finland.
Purchase limits to stay
Customers have approached Lappeenranta's Prisma supermarket about the possibility of purchasing cheese products by the shipping pallet, so what's behind the decision to limit sales?
The Prisma outlet's business director, Risto Punkkinen, said it's not worth the trouble.
"It's not worth it to sell such a low-margin and work-intensive product to cheese re-sellers when they don't buy anything else. It doesn't support other sales," he explained.
He said that selling large volumes of cheese requires constant restocking of store shelves, and that serving those customers often takes more time than Finnish ones, as cash transactions involving filling out tax-free forms are completely different from normal purchases.
"It often involves the customer paying with cash, checking passports, printing receipts and sealing up the purchases [in tax-free bags]. They take significantly more time compared to regular debit card transactions," Punkkinen said.