The coronavirus crisis has led many Finnish citizens living abroad to return to Finland, while during the same period fewer Finnish citizens have chosen to emigrate.
This reverses the trend of the past ten years, which has seen more Finnish citizens emigrating than returning, and a negative net migration figure every year for the past decade. The net migration rate is the difference between the number of immigrants and the number of emigrants in a year.
The clearest difference was in 2016, when about 11,700 Finnish citizens emigrated and only about 7,600 returned, leaving net migration at almost 4,100 people.
This year, however, the situation is the opposite, with 1,800 more Finnish citizens returning than leaving during the first half of 2020.
The 2020 figure cannot be directly compared with recent years yet however, as emigration and return migration figures can vary significantly depending on the season.
Story continues after graphic.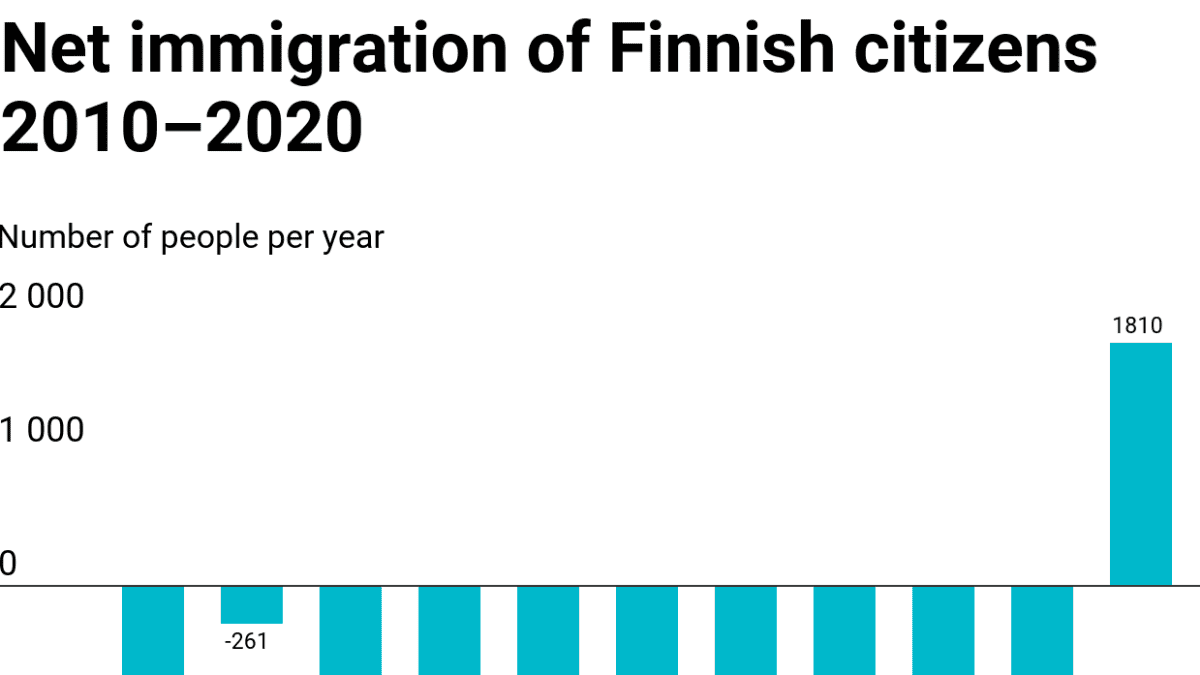 This year's positive net migration figure is mainly due to the fact that fewer Finnish citizens, about 3,600, moved abroad from January to July compared to the same period last year, when over 4,900 people emigrated.
"Many people who may have considered moving abroad have now been left to just monitor the ongoing situation. The decision to move may have been postponed or it may not be carried out at all," the Migration Institute of Finland's Research Director Elli Heikkilä told Yle via email.
Slower economic growth is also a factor, according to Miika Tervonen, a researcher at the institute, who said that a large proportion of migrants are highly educated adults whose movements are very cyclical.
For example, after the financial crisis of 2008, emigration slowed down and Finland's net migration figure was positive in 2009, with 498 more Finnish citizens returning than leaving.
If the current trend continues, that net figure will be significantly higher this year.
Tervonen added that travel restrictions can also make emigration more difficult, especially if they are prolonged.
Coronavirus crisis influencing decision to return
Emma Winiecki and her family had planned to settle in the Denver, Colorado area of the United States after moving home a number of times in recent years, but she told Yle that the coronavirus crisis changed everything.
Winiecki moved back to Finland with her children a month ago, and her American husband will join them in a couple of weeks.
"If the situation worsens and restrictions are tightened, at least we will have my parents and my sister here in Finland. In the United States, we were pretty much on our own," Winiecki said.
"The chaos of the political situation in American society has manifested itself in a whole new way during this pandemic. Finland, on the other hand, has seemed a much safer and more stable country from abroad."
Story continues after graphic.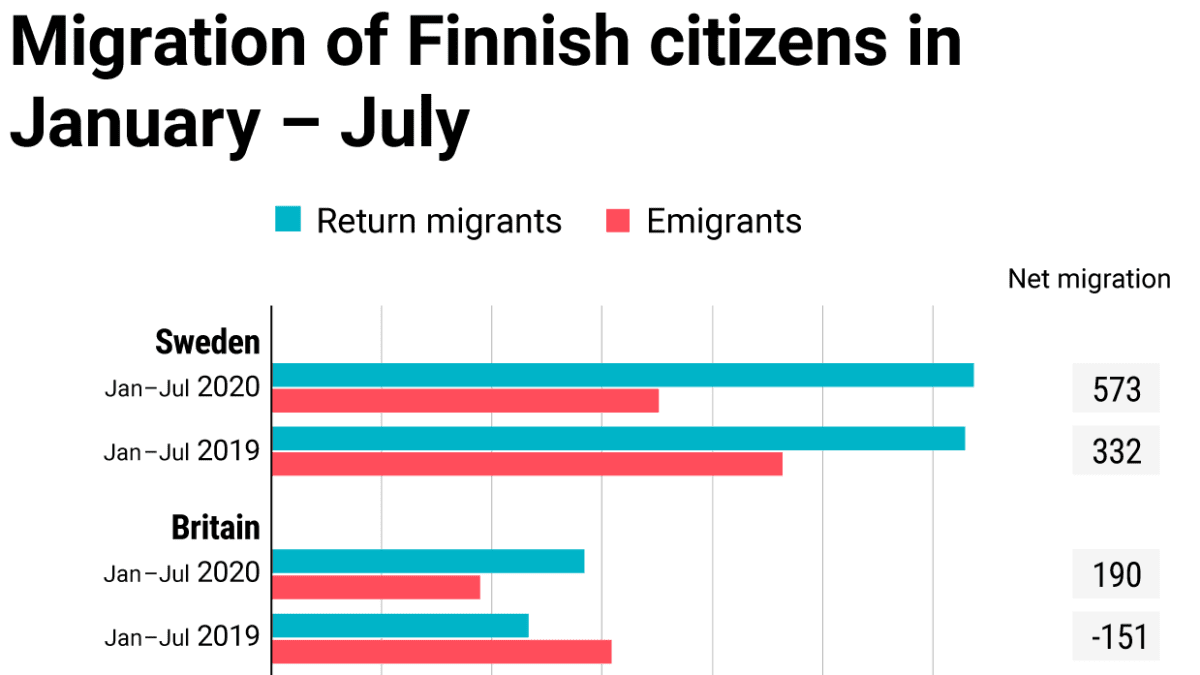 Winiecki added that her family is in a privileged position because as citizens of two countries, they have options. She also knows other dual citizens of Finland and the United States who have decided to move back to Finland.
"We are in a country where the situation is as bad as it possibly can be, but we have the opportunity to return to a country where the situation is the best in the world," she said.
Researchers at the Migration Institute of Finland agree that the coronavirus crisis has highlighted the better aspects of Finnish society.
"Finland has functional health care, clean nature and high-quality education," said Tina Strandberg, Executive Director of the main expatriate organisation, the Finland Society. "Our research shows that there is an increased willingness to return during the crisis."
Strandberg cites as an example the significantly increased traffic to the society's website, with 2,243 hits on the day before travel restrictions were introduced on 18 March, which is more than ten times the highest daily figure in March last year.
15:00 Corrected Strandberg's affiliation.