Since the Brexit vote in June 2016, about 800 British citizens have acquired Finnish citizenship and a further 2,800 have registered as residents in Finland, according to the latest data from Statistics Finland.
In total, about 5,000 British citizens currently live in Finland. Their status will change at the turn of the year when the transition period for the UK to leave the EU expires.
Since the beginning of October, British people in Finland have been able to apply for a right of residence (siirryt toiseen palveluun) under the withdrawal agreement, which secures their residence, employment and social security in Finland for life.
"The most common reasons for moving [to Finland] are work and family. Many highly educated people, especially men, have come to Finland from the United Kingdom to work in specialised positions," migration researcher Saara Koikkalainen from the University of Eastern Finland told Yle.
As the graph below shows, Finnish citizenship has been granted to more British people since the Brexit vote than in the previous 20 years combined.
Story continues after graph.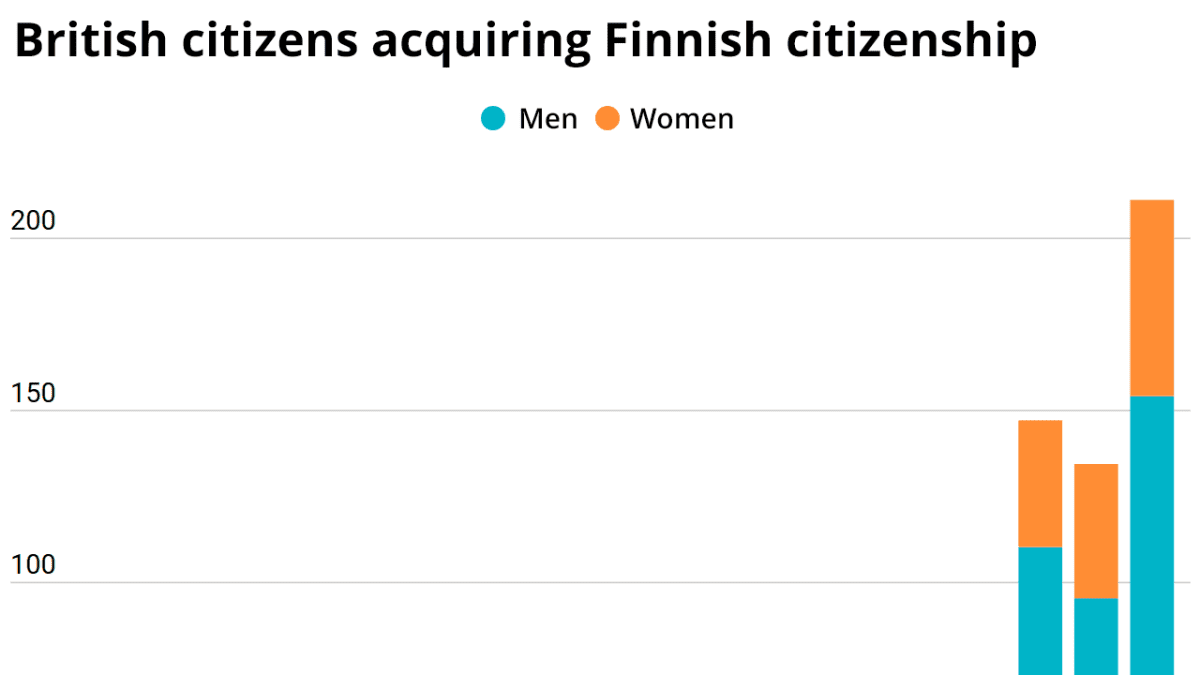 Language obstacles to citizenship
Joel Willans, creator of the meme channels 'Very Finnish Problems' and 'Very Brexit Problems', told Yle that the decision of UK voters to leave the EU has affected his life in many different ways, both big and small.
"At the airport, I'm in a different queue than the rest of my family," Willans cited as one example.
Willans is now working towards applying for Finnish citizenship, so that he can vote in Finland and also travel and live in other EU countries, as was the case before the Brexit vote. One obstacle is the necessity to pass a Finnish language test, but according to Willans the Brexit vote has given him the required "motivation" to learn the language.
Researcher Koikkalainen has collected data on hundreds of British people living in Europe, and told Yle that language difficulties are a recurring issue.
"This can often be an obstacle in the process of applying for Finnish citizenship, as it has not been necessary to learn the language when working in English," Koikkalainen said, a finding which is supported by Willans's own experience.
"In Helsinki, you get more polite service in British English than in bad Finnish," he said.
Voting for Brexit
Entrepreneur Steven Buckingham currently only holds British citizenship, but his mother is Finnish and he has lived in Finland for the past 15 years.
He voted in favour of the UK leaving the EU in June 2016.
"I think that people are different in different places," Buckingham told Yle. "I understand both cultures somewhat, and I know that a Finn thinks differently about many things compared to an English person. Whichever place I am in, I defend its uniqueness."
Story continues after photo.
Although Buckingham does not have Finnish citizenship, he is not worried about the effect on his residency status.
"When I moved here, I consciously decided to switch to the Finnish system," he said. "However, I understand that it may be easier for me to adapt to the Finnish system than for other British people, because it is already familiar to me."
Even though Willans believes Britain will become a "poorer and more closed place" as a result of Brexit, he adds that it is also time to look to the future.
"Brexit is still a complete disaster, but it has continued for so long that we have to move on at this stage," he said.