E-bikes are taking up a bigger chunk of the market in Finland, and industry insiders say they expect that trend to continue.
The first electric bikes started appearing in Finland more than a decade ago, but their popularity has only recently begun to grow in earnest.
According to figures from the Fashion and Sports Commerce Association, fewer than 9,000 e-bikes were sold in Finland in 2018 and nearly 16,000 were bought in 2019.
Sales of the battery-powered devices will rise to an estimated 31,000 in 2020, according to Vellu Taskila, executive director of the Finnish Cyclists' Federation NGO.
"This year, the popularity of bicycles in general has been much higher than usual, which is likely due to the corona situation. Ordinary bikes still clearly outsell electric bikes," Taskila told news service STT.
On average, electric bikes cost around 2,000-3,000 euros apiece--prices that will discourage some potential buyers from purchasing one, he said.
Story continues after photo.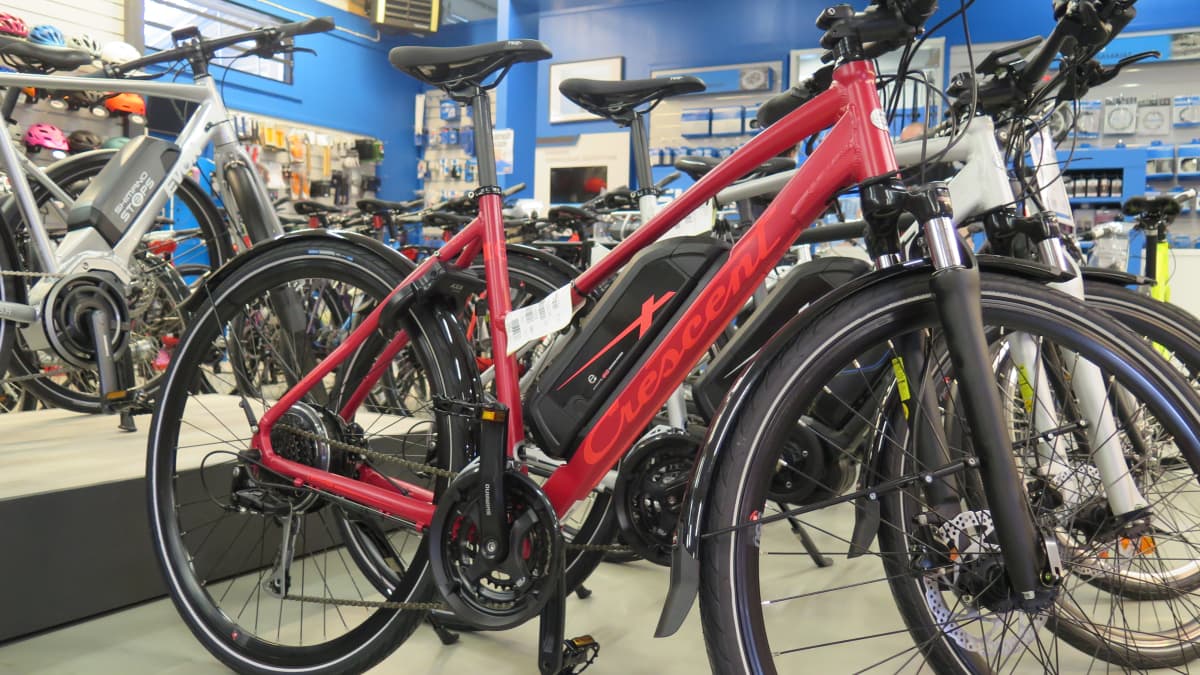 However, if sales volumes of e-bikes continue to grow, average prices will likely begin to drop, a trend which may prompt further sales growth.
Meanwhile, as more e-bikes are purchased, the used electric bicycle market will also expand in coming years, Taskila noted.
According to the Centre for Health Promotion Research (UKK Institute), an electric bike generally refers to a bicycle that is electric-assisted with a motor of up to 250 watts. The electric motor only assists the rider when the pedals are in motion, and the degree of the motor's assistance can be adjusted.
Other bikes with more powerful motors and speed throttles are legally considered mopeds in Finland.
2021 tax deductions await
During the government's budget debates in the autumn, it was decided that people who purchase bicycles for work commutes would be able to deduct up to 1,200 euros on their annual income taxes.
Employers will be able to deduct the cost of the bike from workers' salaries or offer the compensation in the form of an increase in pay, without extra costs.
"I think the tax break will make biking to work more common," Taskila said.
Meanwhile, Petri Mantovani, the liaison manager at Svea, a firm that offers leasing financing for electric bicycles, said the tax break will lead e-bike leasing agreements to increase exponentially.
At the moment, there are hundreds of electric bike leasing agreements already in place in Finland, Mantovani said.
"The entire industry will change significantly. We estimate that thousands of e-bike leases will be signed next year and tens of thousands the following year," he explained.
Two-year leases
Mantovani said that a large number of companies of all sizes had already reached out to Svea, and that their interests seemed to be specifically centred around electric bicycle leasing deals.
He said that he expects that stores will run out of stock of the most popular e-bike models.
Work-related bike leasing agreements usually include coverage for theft insurance, as well as maintenance and equipment costs. The lease deals last for two to four years, and for e-bikes there's usually a price ceiling of up to 2,000 to 3,500 euros.
At the end of the lease term, the employer or employee then has the opportunity to purchase the bicycle outright, Mantovani explained.