The sudden appearance of the coronavirus in the spring of 2020 created massive demand for hand sanitation products and face masks in Finland.
Like many businesses last March, the Tampere-based company Poikain Parhaat, a firm specialising in natural food products, saw sales stall as the pandemic worsened.
At the same time, there were growing worries in Finland about the availability of hand disinfectant and face masks.
Also like many other companies, Poikain Parhaat was about to lay off staff. At that time, the company's CEO Nikolas Jokisalo decided that regular production would be put on hold and the company would focus for the next few months only on the production of hand disinfectant.
Within a few weeks, its production lines were bottling disinfectant rather that its usual mulled wine and soft drinks.
"It was the right decision. We were able to keep people working and even hire more people who lost their jobs. At our peak, we were producing disinfectant in three shifts," Jokisalo says.
Story continues after the photo.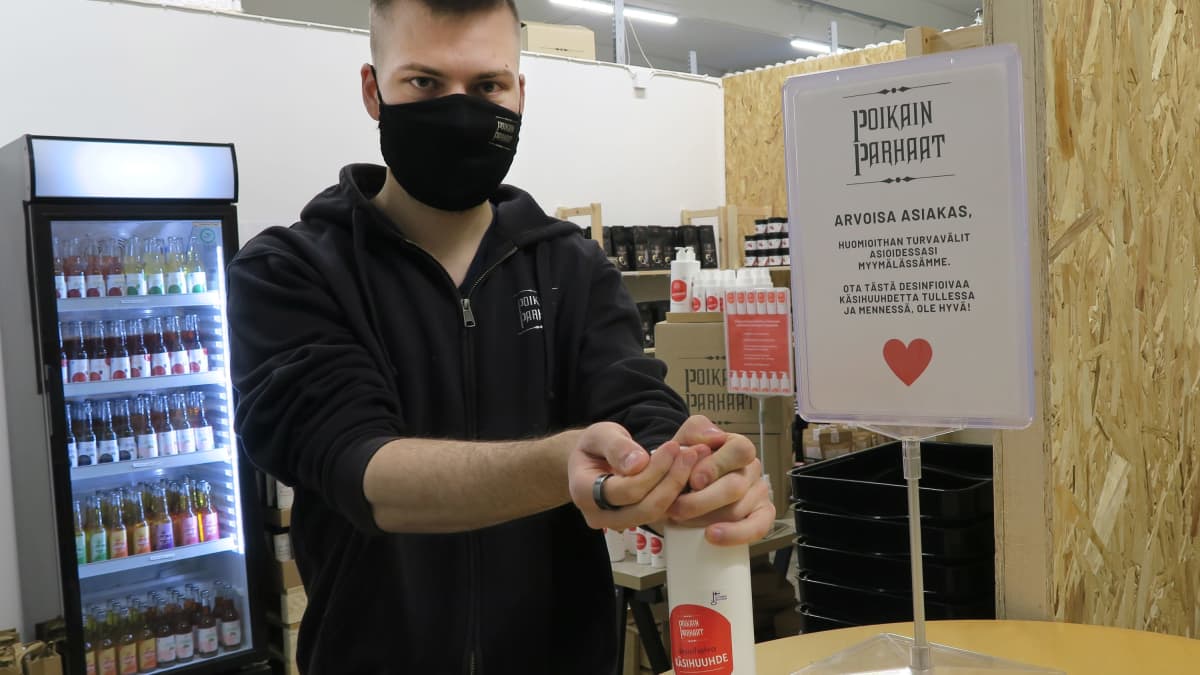 Bigger companies also noted the rapidly growing need for disinfectant. For example, Kiilto Clean Oy, a long-time producer of hand disinfectant quickly expanded output last spring. According to CEO Kari Laakso, the decision was important both financially for the company, and to ensure the availability of the product for the domestic market.
"Although our year was financially good, the situation would certainly have been more challenging without investments in disinfectant production," he told Yle.
Massive sales
The demand for hand disinfectant was reflected in a huge spike in 2020 sales figures for supermarket chains and pharmacies.
Yle asked Finland's largest supermarket chains and the Yliopiston Apteekki pharmacy chain how much hand disinfectant and how many disposable face masks were sold in their outlets last year.
The S-Group, Lidl and Yliopiston Apteekki all provided sales figures. Kesko and Tokmanni did not.
On the basis of the information made available, it can be estimated that well over 6 million bottles of hand disinfectant were sold by retail chains alone in 2020. This is in a country with a population of 5.5 million.
This volume of hand disinfectant would roughly more than half fill an Olympic-size swimming pool.
The sales volume of disposable masks was also high. About 1.5 million mask packs, or about 50 million individual masks, were snapped up by consumers in the S-Group's supermarkets alone. Some 6 million masks were sold in Lidl's stores.
Given that a lot of face masks were ordered online from abroad, especially in the early stages of the pandemic, it can be estimated that the actual number of individual masks sold was well over one hundred million.
Waste is not a problem, but litter is
In Finland, face masks end up, according to recommendations, mostly in mixed waste and eventually in the incinerators of power plants. In many in the world, the environmental problems caused by disposable masks have been much worse.
The biggest issue with disposable masks in Finland is that they don't always ended up in the right place. Reports of littering in various parts of the country have been common.
In city centres especially, public rubbish bins have been filled to the brim in places and face masks have been left on the streets, says Jáchym Judl, a researcher at the Finnish Environment Institute.
"Face mask litter is a problem, although its scale is difficult to assess. Problems arise if the plastic mask ends up in the natural environment, as they break down fairly quickly into microplastic," Judl points out.
Story continues after the photo.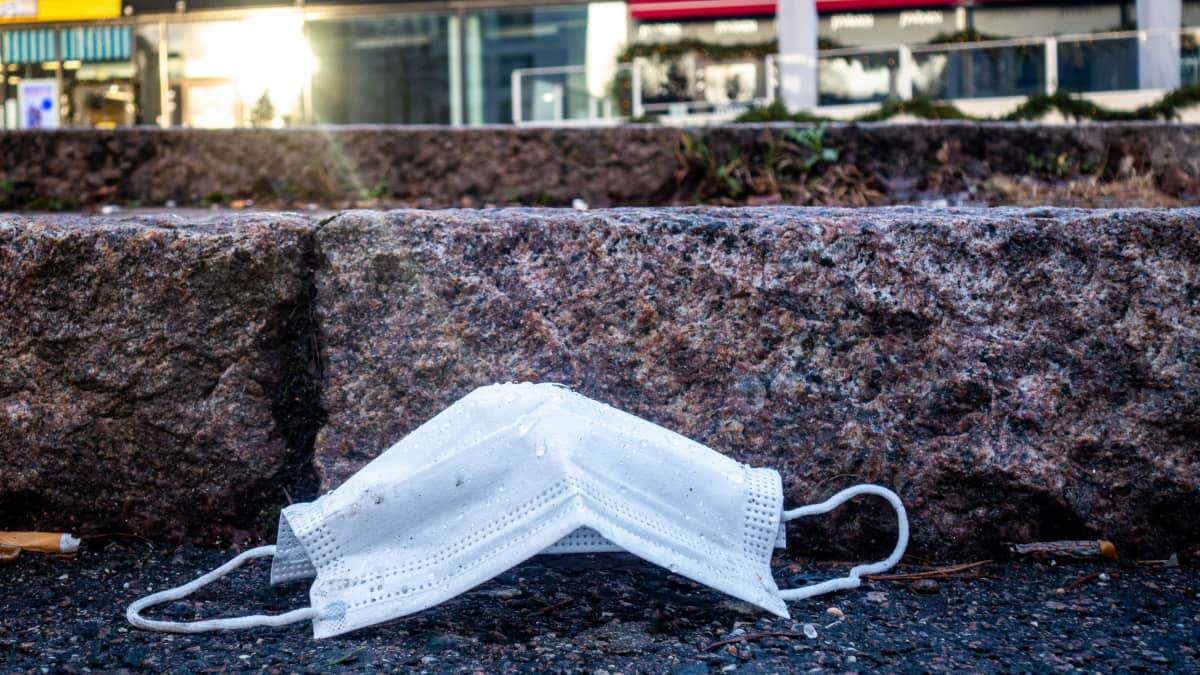 Judl adds that it is worthwhile remembering that disposable masks can also be washed and reused.
"The most sustainable solution in terms of carbon footprint would seem to be that the domestically made disposable mask is washed and reused ten times," Jáchym Judl notes .
Many Finns use cotton face masks, but in an environmental sense, their use is not entirely without problems. A cotton mask needs be used and washed 60 times in order to achieve as small a carbon footprint as washing and reusing a disposable mask, according to Judl.
"The difference increases even more if we look at the water footprint. A lot of water is used to produce cotton, so a cotton mask should be used a whopping 2,500 times to leave a smaller water footprint."
A bottle can be hazardous waste
An empty hand disinfectant bottle, on the other hand, is usually plastic and should be recycled.
The good news is that more and more plastic packaging will end up in plastic recycling. In 2019, some 42 per cent of plastic packaging was recycled, and the level of recycled packaging has been on the rise.
The remainder of packaging plastic is thrown away as mixed waste, so still about half of the hand disinfectant bottles sold end up in energy-producing incinerators along with with face masks.
Hand disinfectant bottles are almost invariably recyclable plastic, as long as they are empty.
However, if a bottle still contains disinfectant which is flammable, it is classified as hazardous waste due to the risk of ignition.
Disinfectant bottles are properly recycled by rinsing and depositing it in a plastic waste collection container without a cap. This allows any residue to evaporate.