The city of Jyväskylä in Central Finland reported a record number of 106 coronavirus infections on Wednesday, the majority of which are being linked to a city centre bar.
Authorities said 80 of the new cases have been traced to Heidi's Bier Bar, which had been due to hold a student event last week. The event was cancelled but an estimated 150 people still turned up.
If the event had not been cancelled, it would have been considered a public event -- which are currently restricted to no more than ten people in the Central Finland region.
The mass exposure has led to more than 1,000 people being placed in quarantine in the city, authorities added.
Story continues after the photo.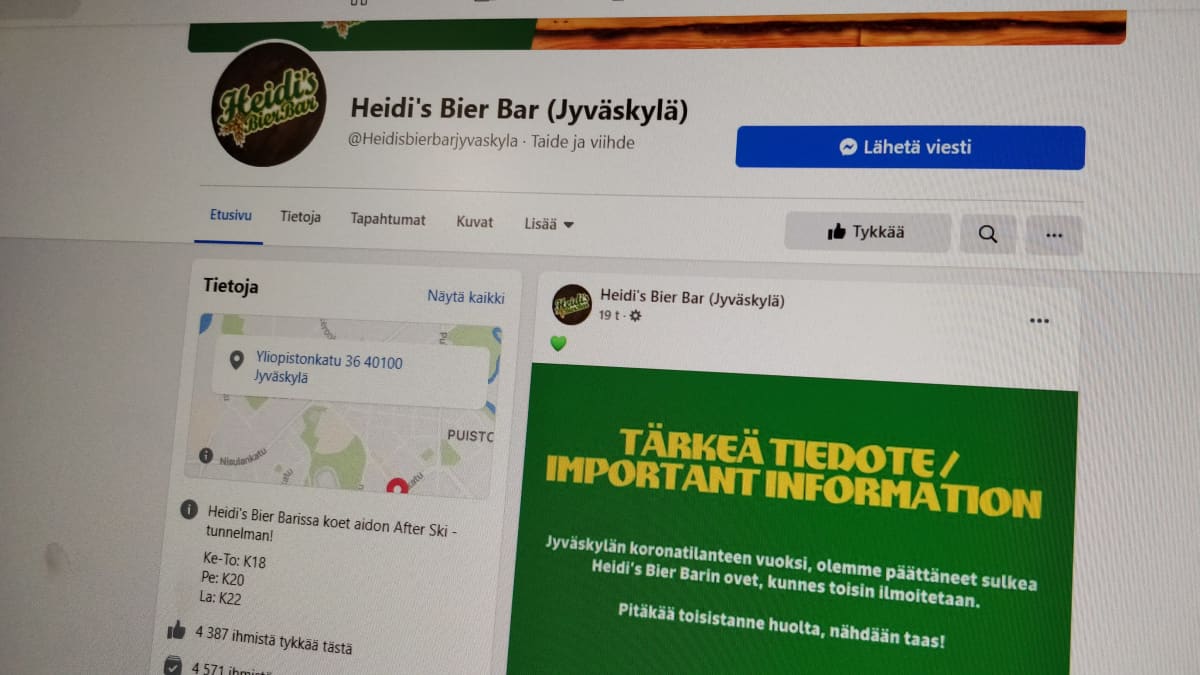 "I have been contacted by worried citizens who have called for the university and the student union to take responsibility. However, it must be remembered that these are independent adults, spending their free time," Petri Laaksonen, chair of the University of Jyväskylä's student union board, told Yle.
On Wednesday, Heidi's Bier Bar announced on Facebook that it would close its doors until further notice to help prevent any further spread of coronavirus in the city.
Authorities left with limited options
The City of Jyväskylä's Emergency Management Team will meet on Friday to decide on possible new measures aimed at bringing the escalating situation under control.
However, according to the city's infectious disease doctor Ilkka Käsmä, authorities do not have very many options to further tighten coronavirus restrictions.
"We could shut down the hobbies of people under the age of 18, but that would seem pretty unfair when the chains of infection are coming from bars. I don't think we're going to do that. The measures must go to the root causes," Käsmä said.
All Points North has the latest on Covid this week. You can listen using the embedded player here or via Yle Areena, Spotify, Apple Podcasts or your usual podcast player using the RSS feed.
Article continues after audio.
He added that the operations of private businesses are protected by the Constitution, which the city is not allowed to intervene in under the current Infectious Diseases Act. For example, privately-owned gyms in the city can remain open.
"The city's own gyms are already closed," Käsmä said.
The city also reminded all students that even though the university has now switched to distance learning, people should not return to their hometowns in different parts of Finland.
"Young people are often the ones who carry the disease asymptomatically, and therefore we do not yet have an accurate picture of how extensive the problem actually is. Adding to the equation is the fact that the origin of the infections is not known, so now it is time to stay put, avoid contacts and wait for the situation to become clearer," Käsmä emphasised.