Authorities were bracing for possible large gatherings on Sunday evening, when the Finnish ice hockey team plays in the men's International Ice Hockey Federation (IIHF) World Championship final in Latvia.
The Lions face off against Canada at the Arena Riga at 8.15 pm. The two teams also met in the 2019 final, when Finland captured its third world championship. The first was in 1995.
On Saturday Finland defeated Germany 2-1 in one semi-final, while Canada downed the United States 4-2 in the other. On Sunday afternoon the US won bronze with a 6-1 win over Germany.
The Havis Amanda statue and fountain on Helsinki's Market Square is a traditional place for Finns to gather for celebrations of major international victories.
On Sunday, city officials cordoned off the statue and placed guards on duty to protect it from possible celebrations.
Experts say the 115-year-old bronze statue is fragile and can no longer withstand being climbed on.
Article continues after photo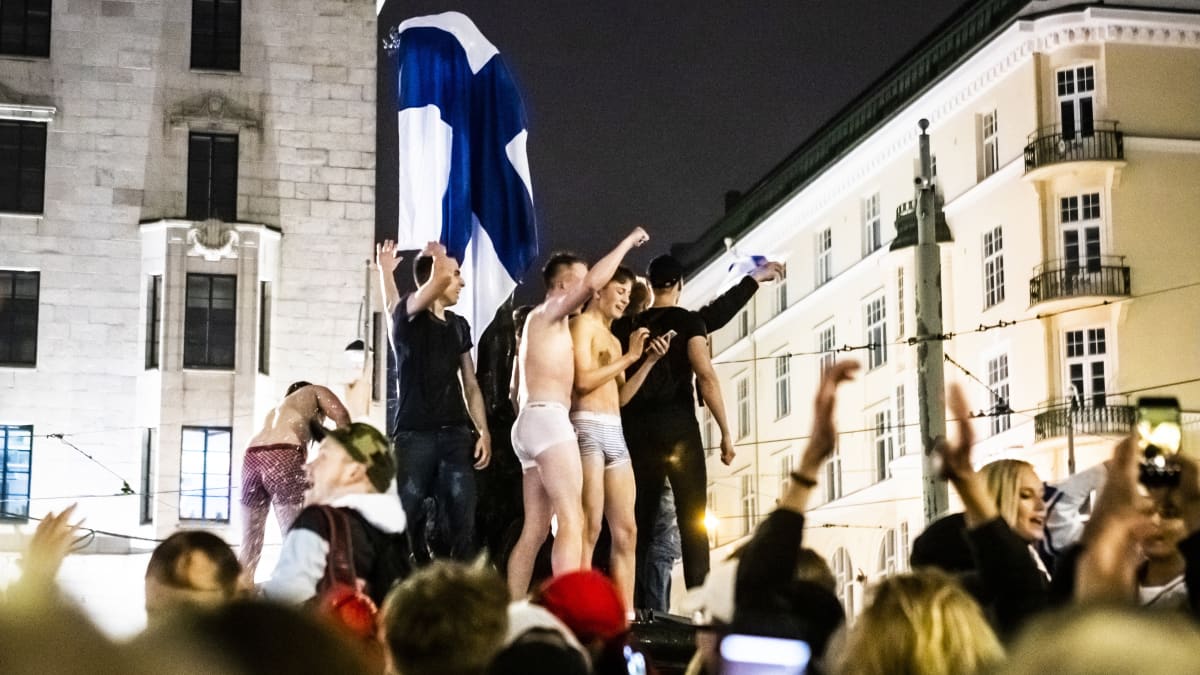 Maija Tanninen-Mattila, director of the Helsinki Art Museum, told Yle that the issue is not only protecting the work of art, but also ensuring the safety of celebrants.
The statue was created in Paris in 1906 by Finnish sculptor Ville Vallgren. It has been in its current location, surrounded by a round pool, since 1908.
HUS chief: Maintain at least 1m distance
Asko Järvinen, chief physician of infectious diseases at the Helsinki-Uusimaa hospital district (HUS), called for restraint in any possible celebrations.
"Of course, I hope that the match goes well and that afterwards there will be moderation in the festivities," Järvinen said.
According to Järvinen, such mass celebrations pose a real risk of spreading the coronavirus.
"If a large mass of people starts moving around, there would probably be infected individuals among them. If we're not lucky, they may infect many others if they are in close contact and voices are raised – even if they are outdoors," he said.
Järvinen called on fans to celebrate in their own groups, while keeping safety distances.
"If you can't maintain social distancing of two metres, then a metre at least," said Järvinen.
Järvinen points out that in such large gatherings, it is difficult to trace possible infection chains since most of those attending do not know each other.
As recent examples of Covid-19 clusters triggered by mass gatherings, Järvinen points to celebrations of May Day and the Rauma Lukko ice hockey team's Finnish championship.
Gatherings of more than 50 people without special arrangements are forbidden in the HUS region due to the risk of infection.