The importance of traditional election posters in Finnish elections has not diminished, despite this year's municipal vote being dubbed the "social media election".
Many candidates still believe in the power of putting up posters and signboards of themselves, and political parties have invested more heavily in the medium this time around.
"There are more election ads than ever before," the Social Democratic Party's (SDP) election manager in the city of Lahti, Hessu Moilanen, told Yle. "In some areas, there are so many election ads that they are indistinguishable. The visibility brought by the advertisements is a plus, especially as you can't meet people because of the coronavirus pandemic."
Candidates often pay for outdoor advertising themselves, and even install them during their own spare time, reinforcing the importance candidates give to the medium.
This is despite the fact that advertising campaigns on social media can be purchased for as little as 10 euros, and the platforms are the best place to reach younger people.
The All Points North podcast asked why it's important to vote in local elections. You can listen to the full podcast using the embedded player here or via Yle Areena, Spotify, Apple Podcasts or your usual podcast player using the RSS feed.
Article continues after audio.
"If you only invest in social media, you will not reach a lot of voters," said the National Coalition Party's (NCP) national municipal election manager Antti Ahonen. "Basically, social media is used by almost everyone, but not regularly. Because of the algorithms, election ads often go to those who are already active. It also feels sometimes like social media blocks certain adverts."
Parties also report struggling to stand out among the noise of social media advertising. According to Juha Hiltunen, chair of the Left Alliance in the Häme region, social media is the only option for several candidates, as street or newspaper advertising costs significantly more.
"Ads are good for people who are not sure who to vote for. But this also depends a lot on the size of the municipality. For example Riihimäki is such a small area that I don't see the benefit of an individual candidate running an [outdoor] advert, meaning I wouldn't put my small budget into it," Hiltunen said.
Election advertising law has "ambiguities"
The placement of election advertising is governed by law, and compliance with the rules is monitored by regional economic development agencies, known as ELY Centres. For example, election advertisements must not endanger traffic or be placed too close to a polling station.
However, there are some ambiguities in the law.
"The law does not specify what the polling station's 'immediate proximity' actually means. One candidate had an advertisement in the window of their own shop, which was hundreds of metres away from the polling station. Yet it could still be seen from there, and this was pointed out," Ahonen said.
Story continues after the photo.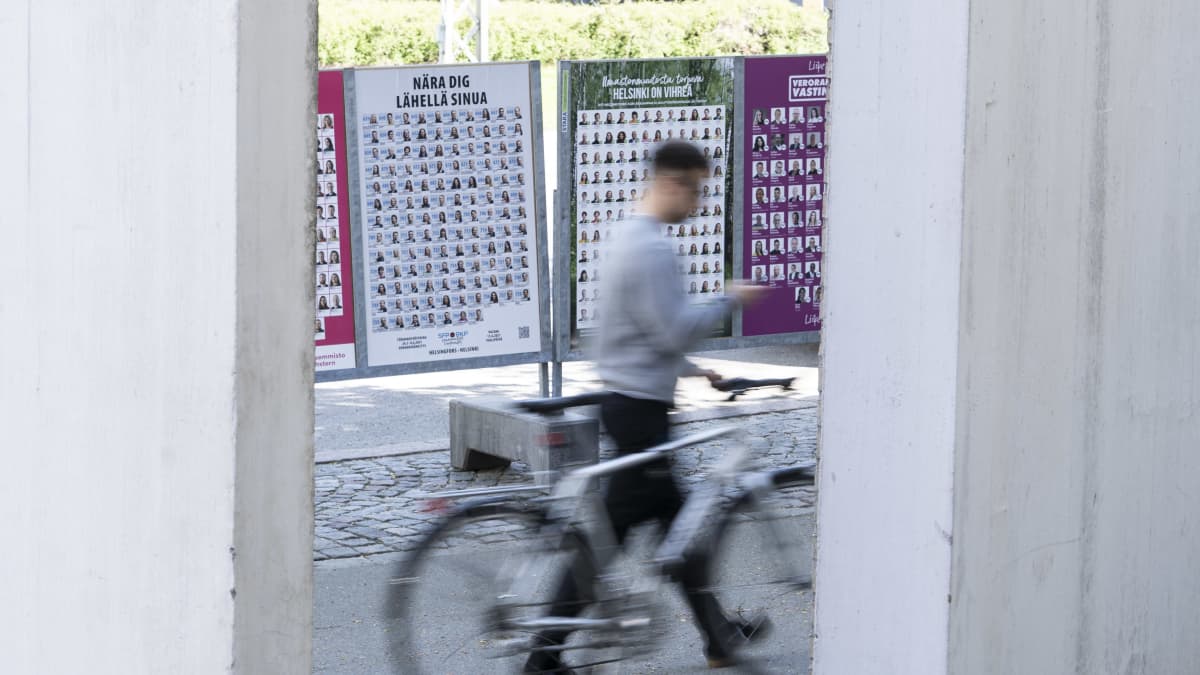 In addition to obeying the law, candidates must also take public opinion into account. Annoying adverts are sometimes removed to ensure that they do not turn voters against the candidate.
"The choice of election advertising locations requires a keen eye. Personally, for example, I wouldn't put it along an outdoor trail. I think people going for a run would find it annoying," said Marko Mikkola, the Finns Party's election manager in the municipality of Hollola.
The vandalising of election advertisements has been a recurring issue during this municipal election campaign, as posters have been defaced or destroyed all over Finland. In the town of Akaa, for example, the SDP municipal organisation has filed criminal reports over the destruction of posters showing Prime Minister Sanna Marin.
"Fortunately, all the parties have condemned this behaviour. Vandalism is an insult to democracy," emphasised Ahonen of the NCP.
Find out which candidate you agree with most - try Yle's Election Compass here.