The outdoor advertising company JCDecaux and the City of Helsinki's Transport Department have decided to remove Finns Party election advertisements which suggested that immigrants receive favourable treatment in the granting of rental housing in Helsinki.
The advert contains a picture of an apartment building's residents list, as would appear in the stairwell of a building, which reads "Skipped the queue" instead of most of the names. The text below the image says that immigration policy affects access to housing for ordinary, employed urban dwellers.
The advert provoked a good deal of debate on social media over the weekend and, among other things, was considered by some to be racist and anti-immigrant.
Klaus Kuhanen, CEO of JCDecaux, told news agency STT that the agreement between the company and the city prohibits advertising that arouse public disapproval, does not comply with ethical rules and is misleading.
Kuhanen added that the removal of the adverts from the streets of the capital had already started.
The Finns Party's Helsinki chair, Johannes Nieminen, said the decision to remove the posters was an exceptional one, as it was made without consulting the party.
Nieminen said he believed the decision was a restriction on political freedom of speech.
"In our view, there was nothing wrong with the ads. They have been deliberately misunderstood by some people," he said, adding that the adverts were intended to spark a debate about how fairly housing is distributed in Helsinki.
Story continues after the photo.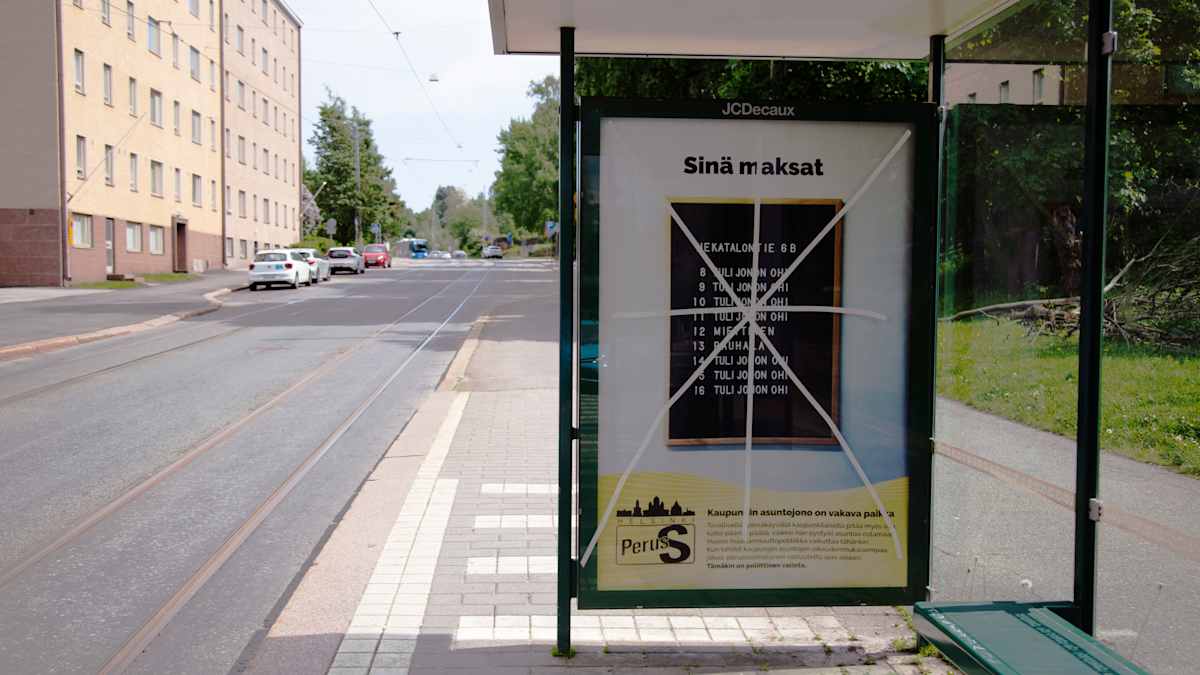 "There are a large number of people in the most urgent category, and on some basis they are selected from within the most urgent category. That process is by no means open. So it means that there may be people in that category for a long time without getting an apartment," he said.
Immigration is clearly a factor, Nieminen added.
"Population growth is based quite strongly on immigration. As a result, they and the native population compete for the same housing. We think we need to be able to discuss this," he said.
City housing applicants 'not in queues'
Mari Randell, from the city's urban environment department, said that access to city housing in Helsinki was not based on queues, therefore one person cannot lose their place in line to another.
She said that each selection of housing applicants are based on vacancies and how urgently the housing is needed.
When seeking city housing, applicants determine in which area they are seeking to live, what kind of housing they are applying for and at which level of rent.
Randell emphasised that an applicant's ethnicity or Finnish nationality was not a deciding factor at any stage of the process.
However, Randell said she understood that some applicants feel the application process was not transparent.
"The criteria are completely clear, but customers can't know when it will be their turn. We can't say that he or she will get an apartment in five months because there is no queue," Randell explained.
Edited at 17:35 on 7 June, 2021, adding comments from Mari Randell.