The warm, summer weather that has blanketed most of Finland for more than a week will continue for at least 10 more days, according to Yle meteorologist Joonas Koskela.
Temperatures will dip briefly on Thursday, but the higher temperatures seen in recent days are expected to resume on the weekend.
Koskela said that on Wednesday, the heat will be concentrated in eastern and southern Finland. Cooler air will flow from the north on Wednesday, but the period of lower temperatures may be fleeting and it's possible that things could begin to heat up again later on during Thursday.
After that, the warm temperatures will continue for the next week, Koskela explained.
Story continues after weather map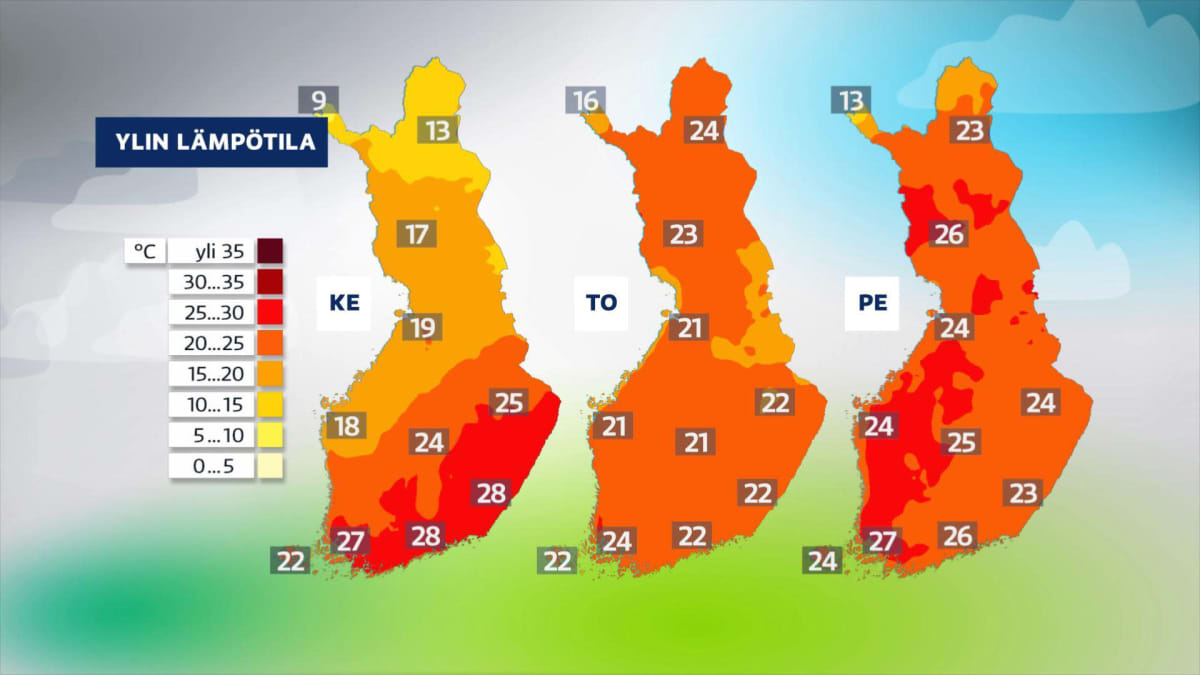 All of that heat increases the chances of local showers and thunderstorms, particularly at the beginning of next week.
"The forecast is uncertain in terms of rain and thunderstorms, but after Saturday, most areas will be hot, and will be in the 30 degree range at their highest," he said.
Climate change behind the heat
Temperatures could break the 30-degree mark in Ostrobothnia and even some southern areas on Sunday.
Koskela said that the ongoing heatwave was exceptional for Finland.
Finland isn't alone in experiencing above-average temperatures, as the entire northern hemisphere is hot. Parts of northwestern North America are being hit by an unprecedented heat wave.
An all-time heat record was broken in Canada's westernmost province of British Columbia on Monday afternoon, following a recording of 47.9 degrees Celsius in the city of Lytton.
Similar but less intense heat was recorded in the US state of Oregon, where the temperature reached 44.4 degrees on Sunday.
Koskela said the reason for the broad heatwave was due to global climate change.
He noted that Finland's waterways were also warm, with water temperatures of Uusimaa's lake Lohjanjärvi and Heinola reaching 24 degrees. The temperature of seawater in some areas has reached 20 degrees.
However, during warm weather spells, the chances of cyanobacterial blue-green algae blooms become more common.
According to the Finnish Environment Institute Syke, an increasing number of blue-green algae blooms have been observed at sea and on lakes, particularly in southern and Central Finland.