Finland's government has clarified the terms of an entry model approved by Parliament last week.
The model allows anyone who has proof of being fully vaccinated or having recovered from Covid within the previous six months to travel to Finland without the need to undergo a Covid test.
The new regulations also allow passengers from countries considered to be 'low-risk' to enter the country without providing any such proof or undergoing a Covid test, but there was disagreement between government members over whether this threshold should be set at 10 infections or 25 infections per 100,000 inhabitants over the preceding two-week period in the passenger's country of origin.
Speaking at a press conference on Tuesday evening, Head of Department at the Ministry of Social Affairs and Health Taneli Puumalainen confirmed the list of countries where the incidence of Covid-19 or the prevalence of virus variants does not pose a particular risk.
The list of countries are Australia, Hong Kong, Iceland, Israel, China, Macao, Malta, Poland, San Marino, Singapore, New Zealand and the Vatican. Travellers arriving into Finland from the Norwegian municipalities of Storfjord, Kåfjord, Nordreisa, Kautokeino, Karasjok, Tana, Nesseby and Sør-Varanger are also included in the list.
Puumalaien added that the government decree will be amended if the epidemiological situation changes in any of the listed countries or regions.
Article continues after the graphic.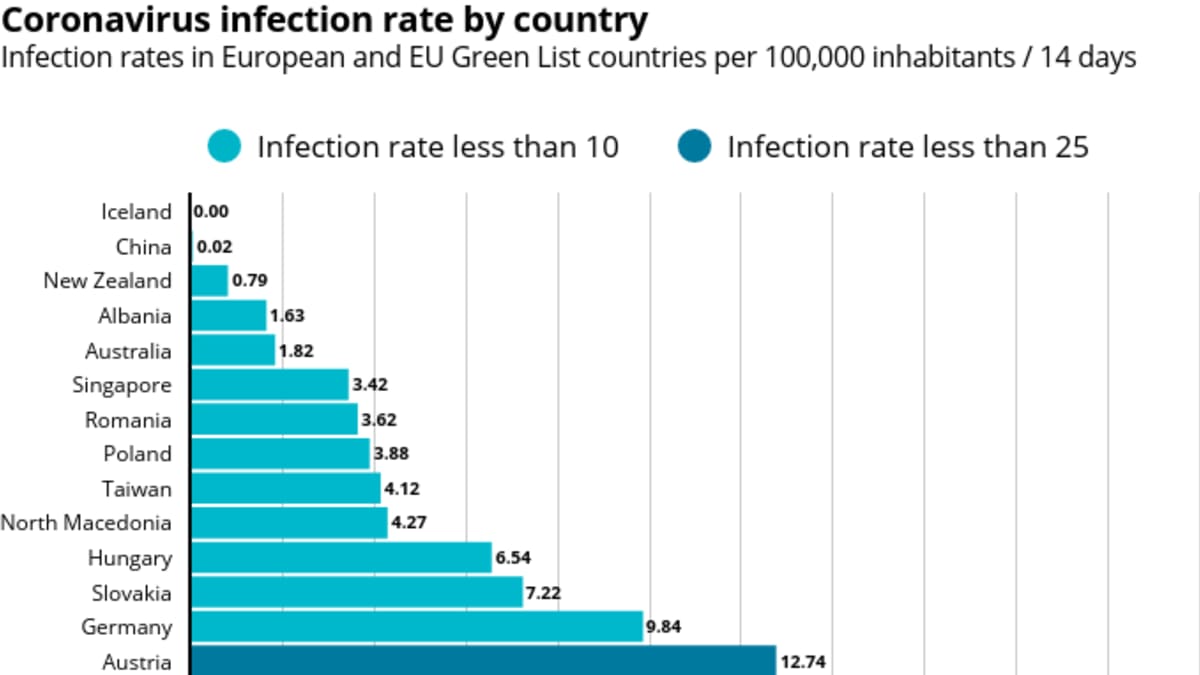 Speaking at the same press conference, HUS Chief Medical Officer Markku Mäkijärvi said efforts are being made to slow down the potential spread of the virus, especially from countries considered to be high-risk.
"All the previous three coronavirus waves have come across the border, probably the next one will too. If we can slow it [the next wave] down and at the same time protect citizens with vaccinations, it is very justified from a health point of view," he said.
"On the other hand, it must be remembered that increasing the coverage of vaccination protection will make it possible to open up travel. So it is also a question of making travel possible," Puumalainen said.
The entry model comes into effect from Monday 12 July.