Blue-green algae on beaches, intestinal bacteria in lakes, coronavirus exposures in swimming pools and a record year for drownings—how safe is it to take a dip in Helsinki this summer? Yle spoke to four experts about safely escaping the heat.
The warm air has increased the levels of cyanobacteria in the sea, intestinal bacterial strains have been detected in freshwaters while the ongoing pandemic has meant that swimming pools could harbour coronavirus infection chains.
Expert: Blue-green algae of "no harm" to intact skin
Helsinki has 25 public beaches. The city has said it strives to measure the amounts of blue-green algal blooms present in the city's beach waters on a daily basis, as the situation can change quickly. Residents can follow up on the situation via the Outdoor Exercise Map and check reports posted on beach notice boards.
At the moment, most beaches in the capital have reported little to no blue-green algae. But the city has already noted the presence of some cyanobacteria in eastern Helsinki's Mustikkamaa and Laajasalo beaches. The popular Hietaranta beach near the city centre (often referred to as 'Hietsu') also reported plenty of cyanobacteria on Tuesday.
There are several different species of cyanobacteria, the most dangerous of which can cause symptoms of poisoning. Cyanobacteria can be particularly harmful if swallowed, but external exposure typically does not cause problems to healthy skin.
"If there are no open wounds or rashes, then the skin should keep the toxins out of the body," Jari Hänninen, Assistant Professor at the Biodiversity Unit at the University of Turku, said.
In general, the risk of developing poisoning symptoms is only present in denser algal deposits. Most species do not contain toxins, but the species are mixed in algae mass, which means toxic species may also be present.
"General precautionary principles should be followed with cyanobacteria. If there is a lot of blue-green algae in the water, you should avoid swimming and using the water for washing or in the sauna," Hänninen said.
A small amount of cyanobacteria will appear in the water as green-coloured flakes or foam. Abundant amounts of blue-green algae are present when the colour of the whole body of water is green. Narrow strips of algae that look like thick paint can also drift onto the beach.
Hänninen also gave a practical tip for identifying cyanobacteria.
"An easy test is to take a water sample of seawater where the presence of blue-green algae is suspected. Leave the jar to stand for a short time. The algae usually rises to the surface."
No swimming on four beaches
The city has issued a no-swim recommendation for beaches in Pakila, Pikkukoski, Tapaninvainio and Marjaniemi. Elevated intestinal bacteria levels, which can cause stomach bugs, have occasionally been observed in water samples taken from these shores in previous years.
EU rules can call for the closure of a beach or the issuing of warnings if samples of poor water quality are collected from the beach.
The city of Helsinki has opted not to close the beaches, but strongly recommends avoiding swimming in these places. If the water quality is found to be poor in two consecutive samples, the recommendation will stay in force until next summer, in compliance with an EU directive.
No poor results have been obtained from Marjaniemi beach this summer in terms of water quality, but last summer the water quality was found to be poor in two samples. For this reason last year's recommendation also applies this summer.
Poor water quality has also been detected in samples collected from the beaches of Pakila and Tapaninvainio, so warnings for these beaches will still be in place next summer.
"As long as you don't swallow water, you can swim. And if the water is clean, it is recommended that you go for a swim. Just take a clean shower afterwards," said Jukka Lundgren, a team representative of the Helsinki Sports Services.
Story continues after photo.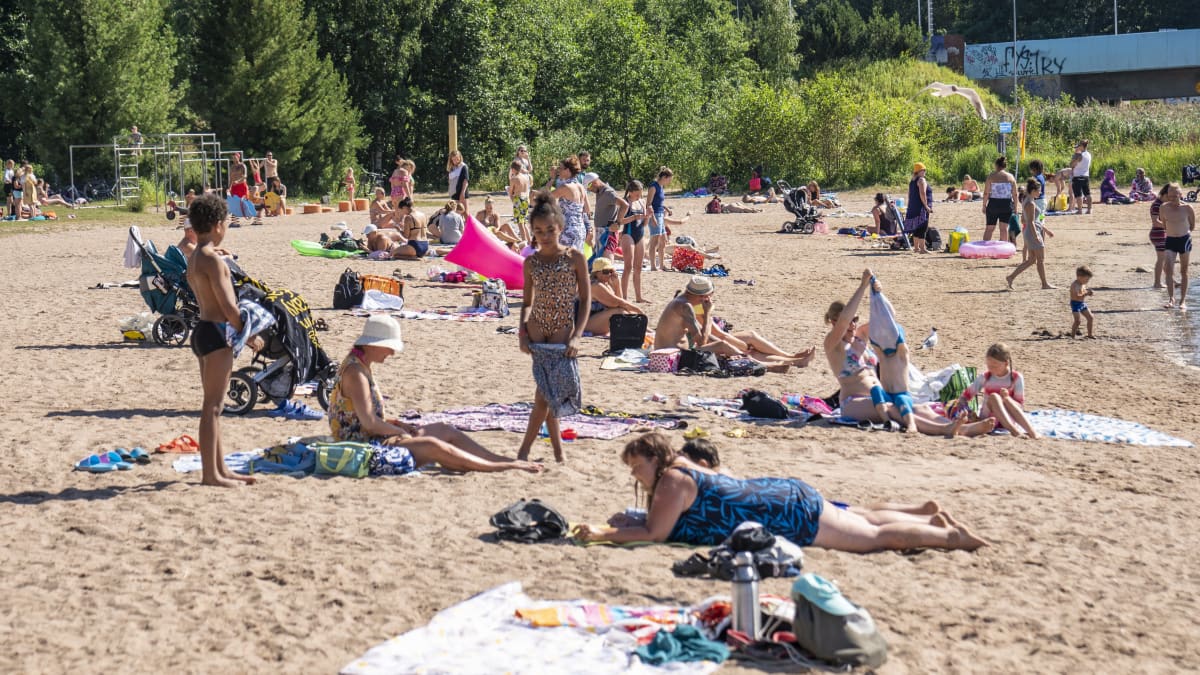 Pool Covid exposures
The City of Helsinki runs three outdoor pools: Helsinki Swimming Stadium, the Kumpula Outdoor Swimming Pool and the Pirkkola Outdoor Swimming Pool, also known as "Plot."
While no coronavirus infection chains have so far been traced to the swimming stadium in Töölö, the pool has been the site of at least four exposures in the last three weeks.
According to a city press release, the exposures occurred between late June and early July, as people who attended the stadium later tested positive for coronavirus. Restrictions are not being tightened despite the exposures.
"I would like to emphasise that these have all been exposures. We are not aware of any infections taking place in the outdoor swimming pools. That is the information we are currently acting upon," Tarja Loikkanen, Sports Director of the City of Helsinki, said.
The number of visitors at the swimming stadium can be monitored in real-time here.
No coronavirus infection or exposure chains are known to have occurred at the Kumpula outdoor swimming pool. The Pirkkola swimming pool, on the other hand, is under renovation all summer.
20-year peak in drownings
The hot summer has also witnessed a gloomy spike in drowning statistics.
According to the Finnish Swimming Teaching and Lifesaving Federation (FSL), 30 people drowned in Finland last month. That was the worst June total since 1999, when there were 45 drownings.
Nearly half of June's deaths, 13, occurred over the balmy Midsummer holiday weekend.
The Federation estimates that half of drownings each year occur under the influence of alcohol. Most drowning victims are male.
"There is a clear connection between heat and drowning. That's when people want to go near or in the water, and the risk of drowning increases," said Kristiina Heinonen, Executive Director of FSL.
She said around a third of drownings occur while swimming, one third are water traffic accidents and another third are caused by accidentally falling into water.
"It is often a matter of going swimming alone and not having another pair of eyes. It's always good to have someone else present, even if you're an adult," Heinonen said.