Many of Finland's papers on Monday report on the situation in Afghanistan after Taliban forces seized control of the capital Kabul on Sunday. Helsingin Sanomat closely followed the rapidly-changing developments overnight via a live blog and a series of accompanying articles.
HS writes that the Ministry for Foreign Affairs released a press statement just after midnight to announce that Finland's embassy in Kabul had been closed indefinitely and diplomatic staff were to be evacuated from the country.
Finnish citizens living in Afghanistan have also been advised to leave the country as soon as possible, but HS writes that preparations for evacuation are still ongoing, amid widely-reported scenes of chaos at Kabul International Airport.
The paper also reports that Finland's government decided on Sunday evening to increase the number of residence permits granted to people, and their families, who have recently been employed by Finland, Nato or the EU in Afghanistan. A total of 170 Afghans will now be granted asylum in Finland, up from the previous figure of 130.
"I could not have guessed on Friday evening that the situation would escalate so quickly. International assessments had talked about weeks or even months," Finland's Foreign Minister Pekka Haavisto (Green) said on Sunday afternoon.
40 climate protestors taken into police custody
Tampere-based Aamulehti writes that there is currently "no information" on the possible continuation of a protest in the city by Elokapina, the Finnish branch of the global environmental movement Extinction Rebellion, which led to 40 protesters being taken into police custody.
An estimated 100 demonstrators blocked the intersection of Hämeenpuisto and Satamakatu in the centre of Tampere from 2pm until about 8pm on Saturday, calling on Finnish authorities and the City of Tampere to take more action on climate change.
Review continues after the photo.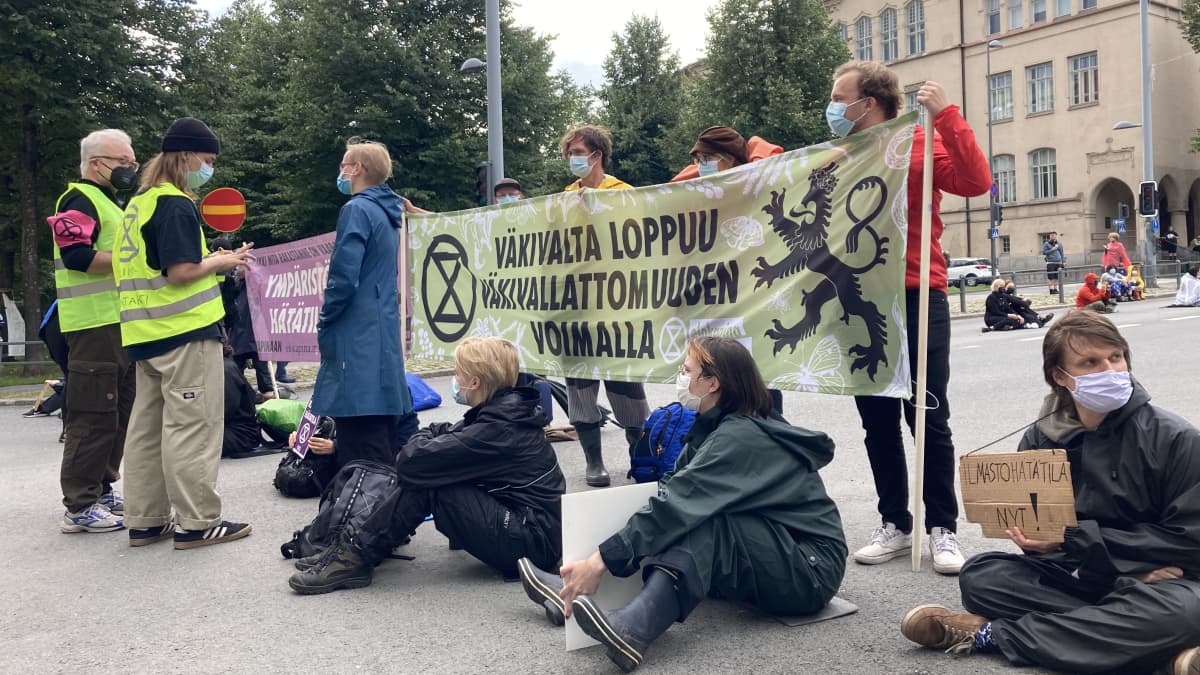 Chief Inspector Tero Halmela told the paper that the police have not been notified of any plans for a follow-up protest, but noted that the organisers of Saturday's demonstration did not inform the police in advance either.
"We will monitor the situation, and if something happens, the police will react to it. If the police are needed somewhere, we will go there," Halmela said.
IL: Summer "not over yet"
Although there are dark clouds and heavy rain on the horizon for this week, tabloid Iltalehti reports that the sun is due to make a comeback, with meteorologists predicting the mercury could breach the 25-degree mark again some time next week.
"Summer is not over yet," the tabloid boldly proclaims.
However, a low pressure front will bring heavy rain showers particularly in the south this week, with some areas getting up to 30 millimetres of rainfall.
"It is possible that a high pressure front will arrive in Scandinavia around the end of August. This could mean warmer weather than usual. It is also possible that the warmer than usual weather may continue into September," FMI meteorologist Jani Sorsa told IL.