The Finnish branch of the environmental group Extinction Rebellion, known as Elokapina, said it is expanding its series of protests calling on the government to declare a climate emergency in Finland.
On Saturday afternoon, members of the group dressed in red made a three-hour silent procession through central Helsinki.
Shortly after 6pm, police said they had begun detaining protesters who were blocking traffic on Mannerheimintie.
Around 9pm, they said that 142 people had been taken into custody. Elokapina claimed later that 160 protesters had been detained.
On Saturday the group also hosted a panel discussion featuring university professors and researchers in front of the Parliamentary Annex building.
From Sunday through Wednesday, members are to join a volunteer project to restore a drained bog in Jämsä, Central Finland, in hopes that it will serve as a carbon sink. Part of the area is being protected under the Forest Biodiversity Programme for Southern Finland (Metso) programme.
Elokapina has been demonstrating in front of the Parliament House since Wednesday, when they halted traffic for about an hour on the main thoroughfare, Mannerheimintie. Police detained more than 140 protesters.
Article continues after photo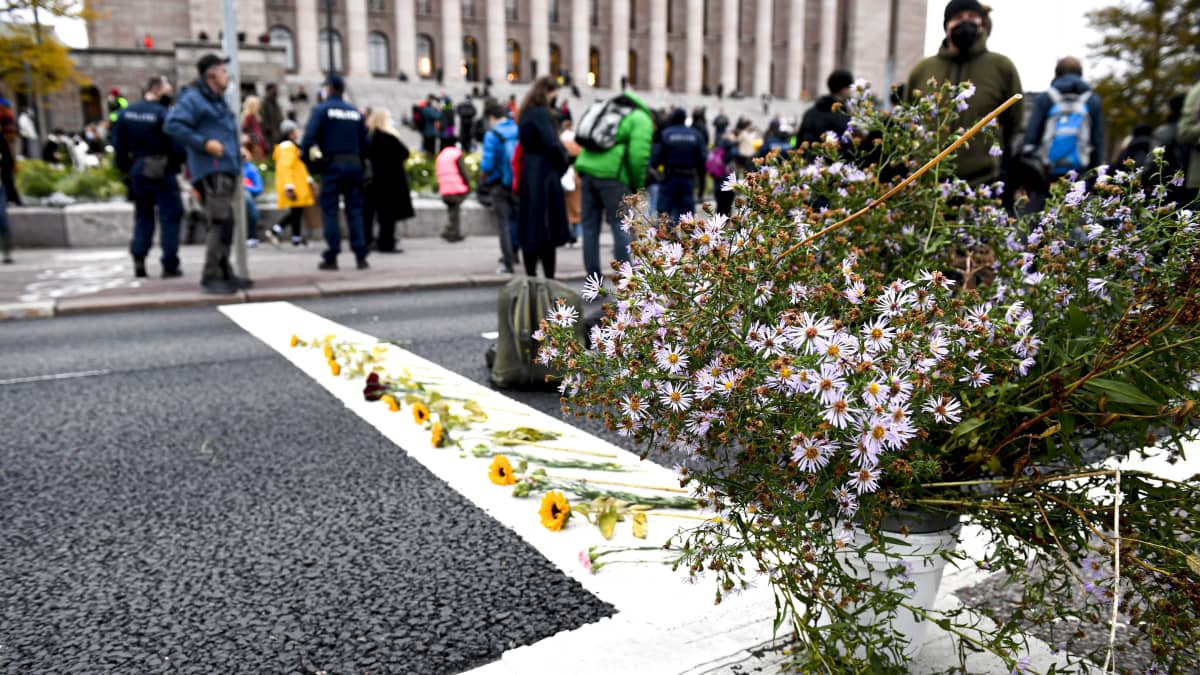 Car owners blow horns outside Parliament
On Saturday traffic in central Helsinki was also hampered by other events, with many streets closed for the Helsinki City Run half marathon.
Besides the climate action, there was a car owners' protest in front of Parliament House, where motorists gathered to honk their horns on Saturday.
According to Helsinki police, about 200 cars took part in the hour-long motorists' event, similar to one held in August.
The protest is backed by a Facebook group that opposes increases in the cost of driving cars. Protesters say that they "oppose all decisions that complicate the position of motorists" and that "motorists are already paying enough taxes". As of Friday, the government abolished purchase taxes on electric and plug-in hybrid cars.
Rowdy rally fans in Jyväskylä
Meanwhile police in Central Finland said they were kept busy late Friday and early Saturday night due to celebrations in Jyväskylä associated with the World Rally Championship race and the removal of coronavirus restrictions on of the restaurant and bar opening hours.
Police said they detained a number of people who were "intoxicated and behaving aggressively" in Jyväskylä.
Authorities said the ongoing Rally Finland in the Lakeland district was expected to lead to heavy traffic over the weekend, especially on Route 9 in the Jämsä region.
The three-day, 287-kilometre race is scheduled to end around 2:30pm on Sunday.
2.10 19.00: Updated with detentions.
3.10 12:00 Updated with numbers of detainees.