Helsingin Sanomat's main story on Wednesday morning concerns a difference of opinion between two of Finland's top pandemic specialists over how safe it currently is to travel to Estonia or the other Baltic nations.
Pasi Pohjola of the Ministry of Social Affairs and Health tells HS that Finnish authorities have been monitoring the rapidly deteriorating pandemic situation in Estonia "with concern".
"I think it is worth considering whether Estonia is now the best place to travel to. It is possible to bring infections across borders, even if the health safety measures at the border are working well," Pohjola said.
However, public health agency THL's Director of Health Security Mika Salminen believes fully-vaccinated people can make trips across the Baltic Sea.
"You shouldn't travel anywhere without being vaccinated. But you can trust in the vaccine. It doesn't really matter whether the vaccinated person is exposed to the virus in Finland or abroad," Salminen said, but added a note of caution that Covid restrictions may be soon returning to Finland's southern neighbour.
Covid cases are also rising in Finland, HS notes, especially among unvaccinated people. The infection rate among those who have yet to receive both doses is about 700 cases per 100,000 residents over the past two weeks, while the rate for the whole population is 137 cases
"It's unrealistic to think that infection rates would start to fall permanently. They will remain on average either at the same level or start to increase towards winter, because we still have a large section of the population that can be exposed to a coronavirus infection," Salminen told HS.
Finns Party MP's anti-immigrant speech
Tampere-based Aamulehti continues to follow the fallout from a controversial speech by city councillor and Finns Party MP Veikko Vallin during a council debate on the issue of asylum seekers on Monday evening.
Aamulehti had previously reported that many of the councillors present found Vallin's comments to be "offensive and racist" as the MP spoke about the harmful effects of immigration, listed crimes committed by foreigners and claimed that the largest rental apartments in Tampere are given to immigrants.
Council chair Ilmari Nurminen (SDP) told the paper that he had limited powers to intervene, adding that the rules on what can and can't be said in council sessions should be reviewed.
"I had three lawyers present, and I enquired if some crime had been committed here that I could interrupt his speech. And their official position was that I couldn't interrupt, that no obvious crime had taken place," Nurminen said.
City council lawyer Jouko Aarnio told Aamulehti that whether Vallin broke the law or not is a matter for the authorities.
"Whether the content of the speeches was perceived as offensive or inappropriate is a topic for discussion among team leaders about the rules of the game," Aarnio said.
Ireland clip Owls' wings
Tabloid Iltalehti describes how Finland's disappointing 2-1 defeat to the Republic of Ireland in the Women's World Cup qualifying group A at the Olympic Stadium in Helsinki has poured a "cold shower" over their qualification hopes.
Helsingin Sanomat meanwhile writes that the Helmarit's — or the Boreal Owls' — first competitive game back at the home of Finnish football after an absence of eight years drew an impressive crowd of over 5,000 spectators, which the paper says demonstrates the "development of girls' and women's football in Finland".
"The majority of the audience were clearly young girls, which is also a good sign for the [Finnish] Football Association. There are more and more new fans and players emerging in different parts of Finland," HS writes, adding that there are now 36,500 registered female players in the country, an all-time high.
The occasion also marked 50 years of organised women's football in Finland, but the Irish team were intent on being party poopers, not props.
Story continues after the photo.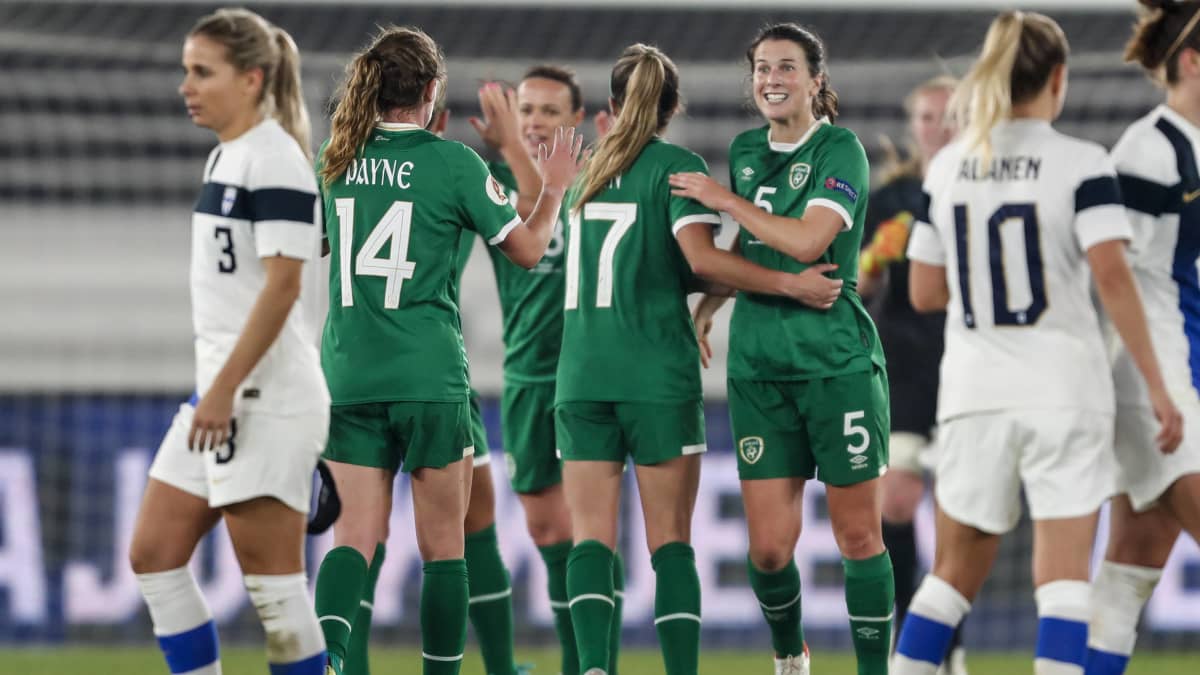 An early goal from Megan Connolly gave Ireland the lead, and although Adelina Engman equalised for Finland with an excellent half-volley finish, Ireland regained their advantage very soon after when Denise O'Sullivan stooped low to nod the ball home from two yards.
Finland pushed their opponents to the very end, but could not break down a resolute Irish defence. Despite the defeat, the Helmarit remain in second place in the group but now must prepare for their next game against neighbours, table-toppers and the second best team in the world, Sweden, on 25 November in Gothenburg.