A haunting exhibit by Japanese artist Chiharu Shiota called Tracing Boundaries is sure to spark the imaginations of visitors to the Museum of Modern Art in Espoo (EMMA) this autumn.
For some, the thin red threads that slither along the walls and ceiling of EMMA evoke an extraterrestrial organism that expands until it eventually invades the entire space.
Others envision a labyrinth of countless blood-pumping vessels, begging the question, what does the human body look like on the inside?
The exhibition can be interpreted in many different ways and, according to the artist herself, also stirs up images of horror and sci-fi, even if these were never Shiota's intention when creating the piece.
Story continues after photo.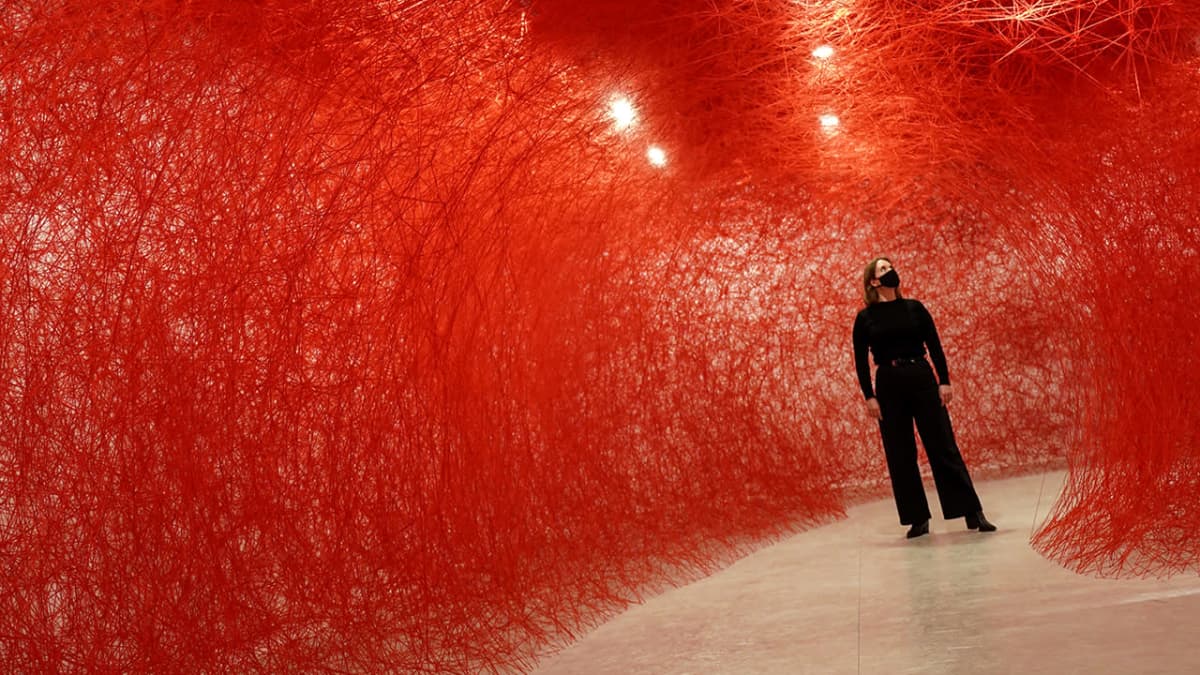 "This work is in no way intended to be intimidating. Some visitors, however, may sense a presence other than what is in front of them," she says.
Threads allow for three-dimensional sketching
The influential Japanese artist, currently based in Berlin, is known for her unique installations using acrylic yarn to create art of great proportions.
For the exhibition at EMMA, the artist used 350 kilometres of acrylic yarn. To put that into context: the distance between Helsinki and Kuopio is 336 kilometres, as the crow flies.
Shiota, who studied under celebrated contemporary artist Marina Abramović, among others, started in traditional painting but later switched to using different materials.
"I want to draw inside a three-dimensional space, and yarn has become the perfect tool for this. The idea of my work is for the weaving to become so expansive that it results in an installation that no longer looks like it was made out of yarn," Shiota tells Yle.
Story continues after photo.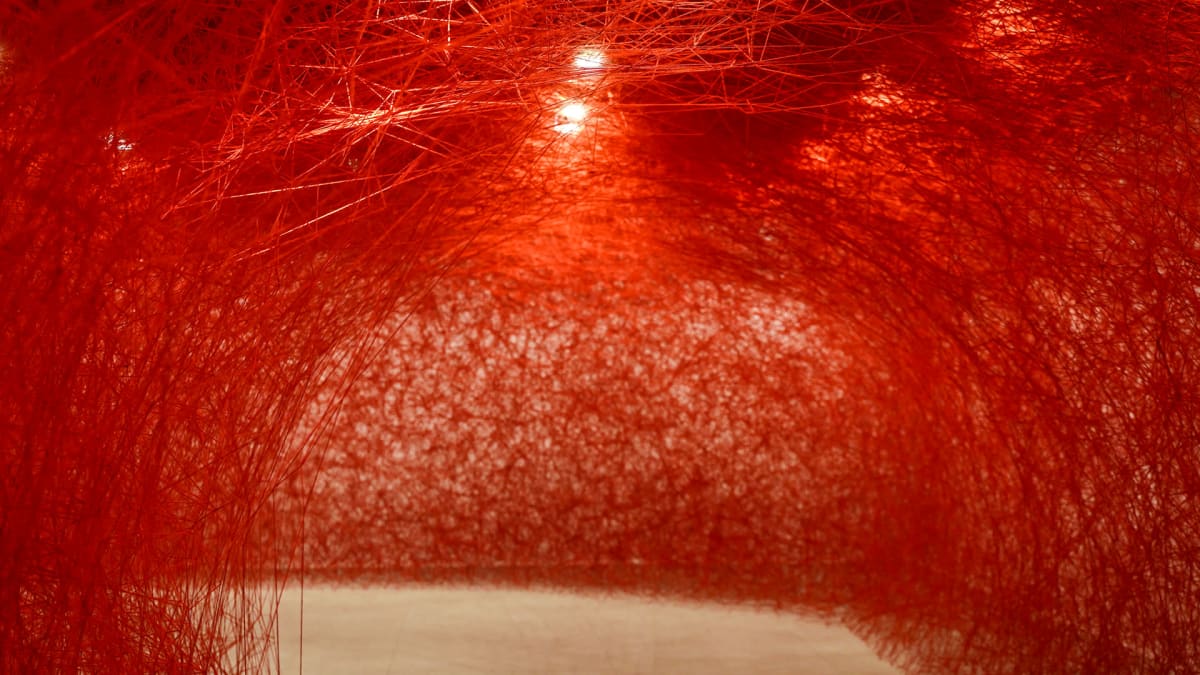 With her spectacular works, the artist wants to attract a larger audience to contemporary art, which is often perceived as harder to grasp.
"The initial reaction to my work is usually one of astonishment: How long did it take to build and how much yarn has been used? After the shock settles, I hope the visitor starts thinking about other significances to the work. I want people to have an epiphany: Contemporary art is interesting," she adds.
A challenging project
Constructing the Chiharu Shiota installation for the Espoo Museum of Modern Art EMMA was quite a challenge, according to EMMA museum curator Arja Miller.
"The whole project required careful planning. The museum has concrete floors, but for this installation the space had to be covered with a wooden floor in order to attach the yarn," Miller says.
Story continues after photo.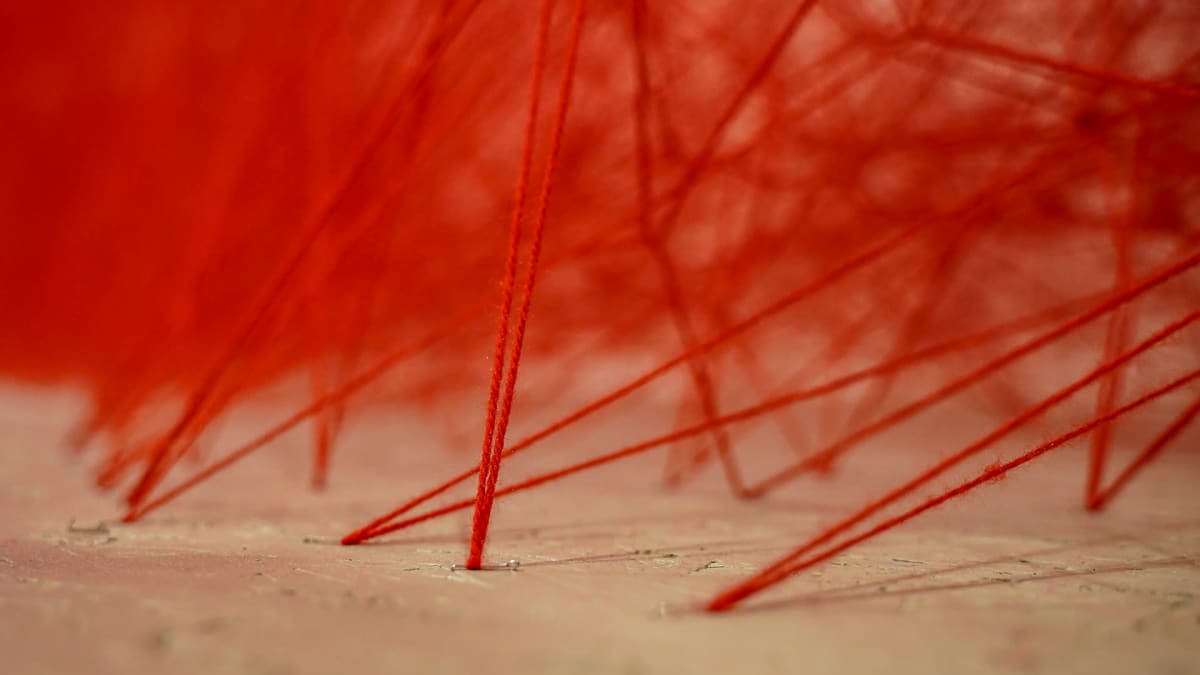 A total of thirteen people, the artist included, spent two weeks weaving the 350 kilometres of yarn.
"I personally find the installation meditative. Mami Kataoka, who curated Shiota's retrospective exhibition at the Mori Art Museum in Tokyo, compares her works to typhoons. There is a lot of turbulent energy in this piece, as well. The eye of the storm is in the middle, where there is perfect calm," Miller continues.
Story continues after photo.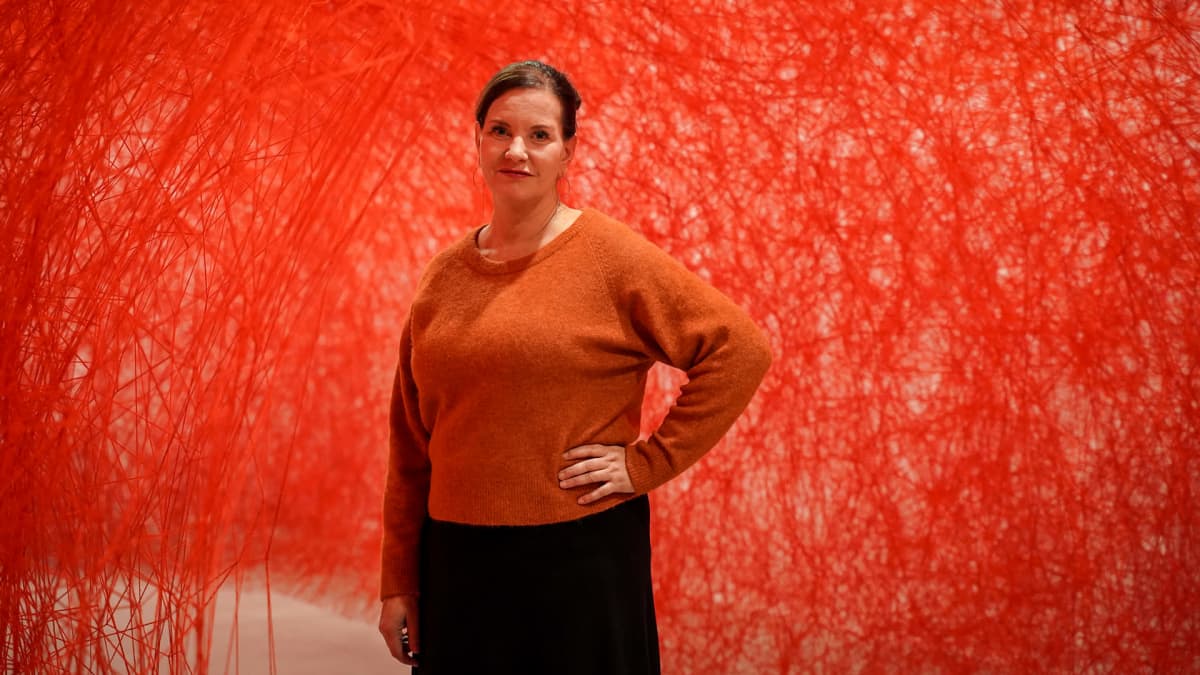 Shiota's installation is part of a series of works curated by EMMA and the Saastamoinen Foundation, which aims to provide interesting contemporary artists with a platform for their works.
"Shiota's work has hints of surrealism and performance art. In the context of this current exhibit, however, the link to installation art is imperative. She is one of the artists who knows how to process space and transform it into something completely different," Miller says.
Weaving hundreds of kilometres of yarn into an entity like the Tracing Boundaries installation is a meticulous endeavour. It is not hard to imagine that weeks of pedantic work could get on the nerves of an artist, especially if the process becomes monotonous. Indeed, the artist admits that the pain associated with creating a new work of art is inevitable.
"As I near the completion of each installation, I often think, 'Ok, that's enough.' But simultaneously I always feel that it is not quite finished. I go through the same pattern with every installation," she says.