The National Coalition Party won Finland's first-ever county council elections on Sunday evening, as they topped the polls in a first-ever county council election marked by low turnout.
The Social Democrats and Centre Party came joint second with shy of 20 percent of voter support, while the Finns Party lagged far behind, in fourth spot, with 11.1 percent of votes. The Left Alliance came fifth, the Greens sixth, the Swedish People's Party seventh and the Christian Democrats eighth in the election results. Movement Now finished ninth.
Turnout was 47.5 percent, down from 55.1 percent in last year's municipal elections. There is no previous county election figure to compare to, as these are the first county council elections.
On Sunday evening some 98.9 percent of the votes had been counted, so the results could still change. The official results will be certified on 26 January by local election committees.
Up to date results in English are available by region, municipality and nationally here.
Story continues after graphic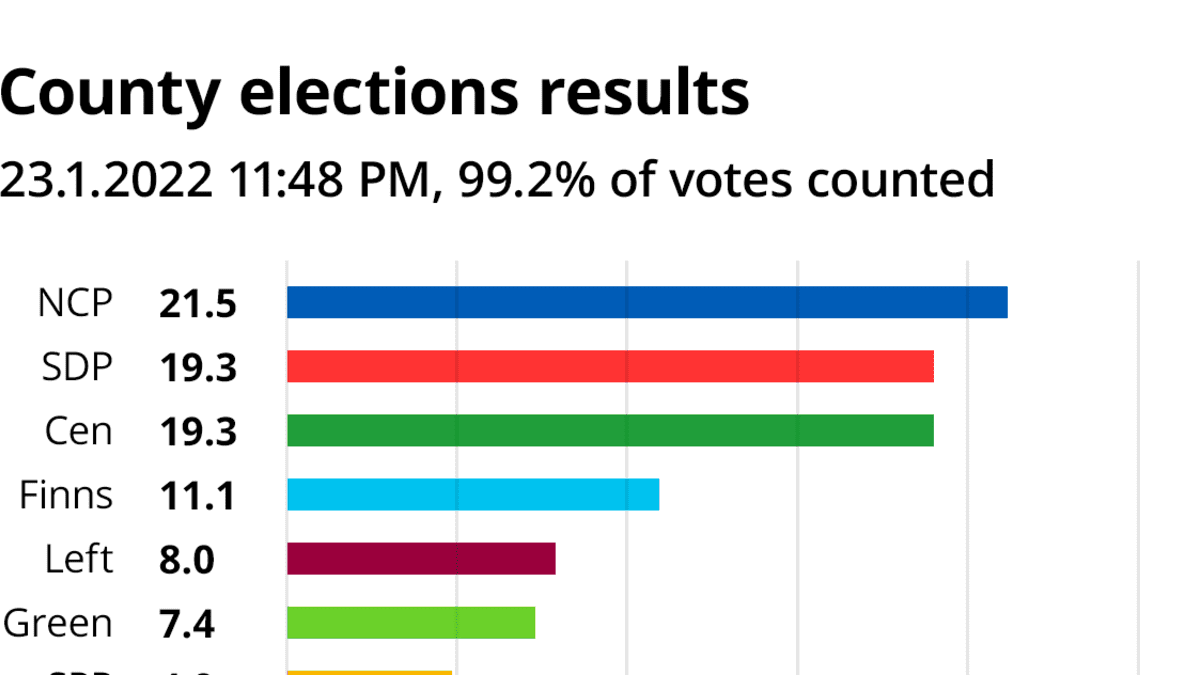 Return of the big three?
NCP leader Petteri Orpo said that it could be regarded as the best result in his party's history. Having criticised the reform creating these councils in strident terms, he said it was now time to take responsibility.
"The NCP has won Finland's first county council elections," said Orpo in his victory speech. "This is a marvelous thing."
SDP leader Sanna Marin said that the result marked a return to a 'big three' in Finnish politics, after a decade dominated by the rise of the populist Finns Party.
"In my opinion the forecast shows that this election was a return of the big three and the return of traditional politics," said Marin.
That return was made possible by two factors: the decline in support for the Finns Party, which was forecast to get just 11 percent, and the boost in votes for the Centre.
The Centre was set to be the largest party in nine of the 21 new regional assemblies, and leader Annika Saarikko was keen to claim it as a turn in the party's fortunes.
"Dare I say, it is looking like the Centre party's support has recovered from its slump, however at the same time, each election is unique," said Saarikko.
Turnout hits Finns Party
Finns Party leader Riikka Purra said that low turnout was the problem for her party, which was set for 11 percent support overall.
"The majority of voters did not see the reform as essential or vote-worthy," said Purra in her speech. "This is a real travesty for democracy. You would expect that all parties would be as worried about the low voter activity."
The Left Alliance leader Li Andersson said that she was very pleased with the results, given that Helsinki was not involved in the elections.
The Greens were less happy with their showing, of 7.1 percent. Party vice-chair Hanna Holopainen attended results night events as interim leader Iiris Suomela was quarantined after Covid exposure, and she did not hide her disappointment.
"Yes I am disappointed," said Holopainen. "And I most feel sorry for our eager candidates. We had a thousand skilled candidates that held these elections close to heart."
"We have a lot of Sote experts at the party, many candidates ran specifically because of the Sote focus of these elections … but perhaps as a party it would seem that we did not succeed in proving our expertise in these areas."
The Swedish People's Party looked set to clinch first place in Eastern Uusimaa and Ostrobothnia, an excellent result for the minority party. Leader Anna-Maja Henriksson said she was pleased with the result and hoped to use it to advocate for service across different languages.
Turnout concerns
Pundits had been concerned about low turnout in the elections, with just 26.3 percent of those entitled to vote (1,035,460 voters) casting their ballots in advance voting.
That compares to an advance voting turnout of 33 percent in last year's municipal elections.
"It's bleak for democracy that the majority did not vote," said Yle election expert Sami Borg of Tampere Unitversity.
"This was not a surprise. The most common prediction beforehand was that [turnout would] end up between those in European and municipal elections. In European elections the turnout has been 40-42 percent."
From next year the 21 new wellbeing services regions take control of healthcare, social and emergency services, covering the entire country besides Helsinki and the autonomous Åland Islands.
Åland's parliament will assume these powers, while Helsinki's city council will do the same for the capital.
The new system is the result of a decades-long process of reform that has been attempted by multiple Finnish administrations in an effort to streamline costs as the population ages and demand grows for these services.
It removes responsibility for these services from Finland's 310 municipalities and passes it to the new county councils, in the hope of savings in public expenditure. Some experts, however, have suggested that the new system is unlikely to produce significant savings as the new regions are too small.