Finland's largest-ever snow drawing was created this past weekend in Hattula, just over 100 km north of Helsinki.
The pattern has an average diameter of 220 metres. The centre of the work is a starfish, with other sea creatures are grouped around it.
Janne Pyykkö, who designed the drawing, said that there are 60,000 individual snowshoe tracks in the work. The authors walked a total of 80 km to create the lines in the pattern.
"So, of course, this could be the biggest in the world," he told Yle.
Pyykkö, an avid outdoorsman, offers instructions for making snow drawings on his blog (siirryt toiseen palveluun) (in Finnish).
Article continues after photo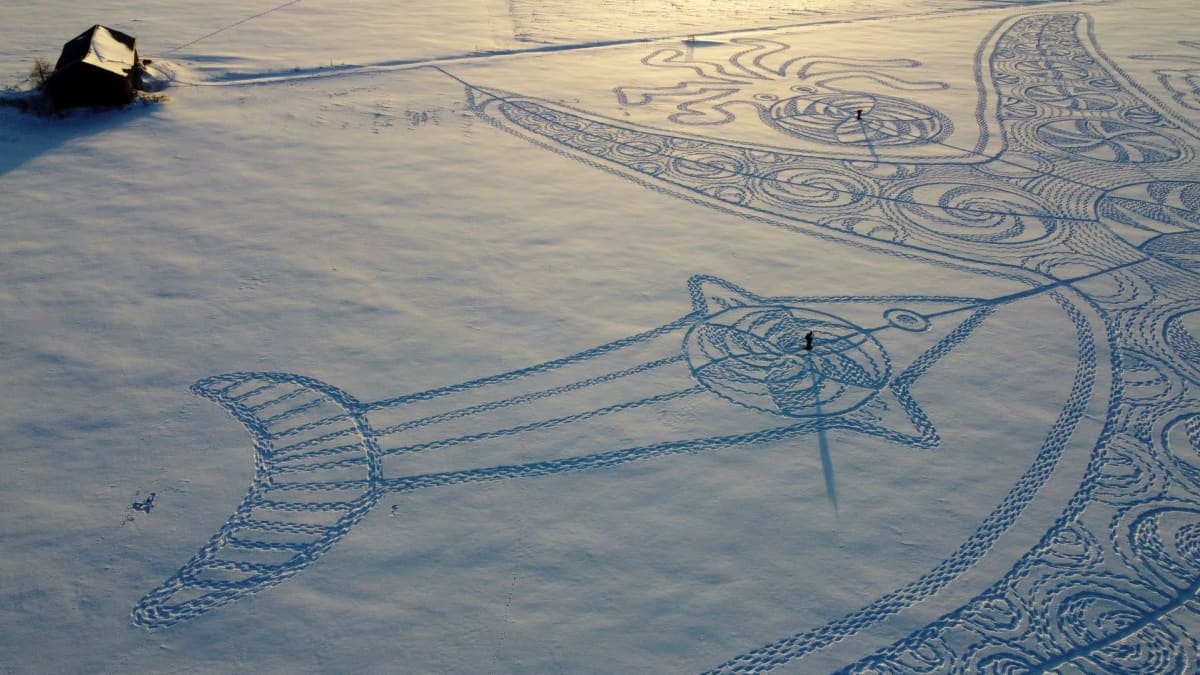 Pop-up art factory
Pyykkö planned out all stages of the work, and gave each participant five pages of instructions in advance.
He likened himself to the manager of a pop-up factory.
"Together, we set up the factory for a day. Our end product was Finland's biggest snow drawing," he said.
Before the work was created, it was rehearsed in sections and the whole image was attempted on the sea ice in Espoonlahti. However, the effort failed as the wind pushed the snow into the dunes.
"This time, the Häme region was the southernmost place where the snow was soft enough so the drawing could be made," said Pyykkö.
Article continues after photo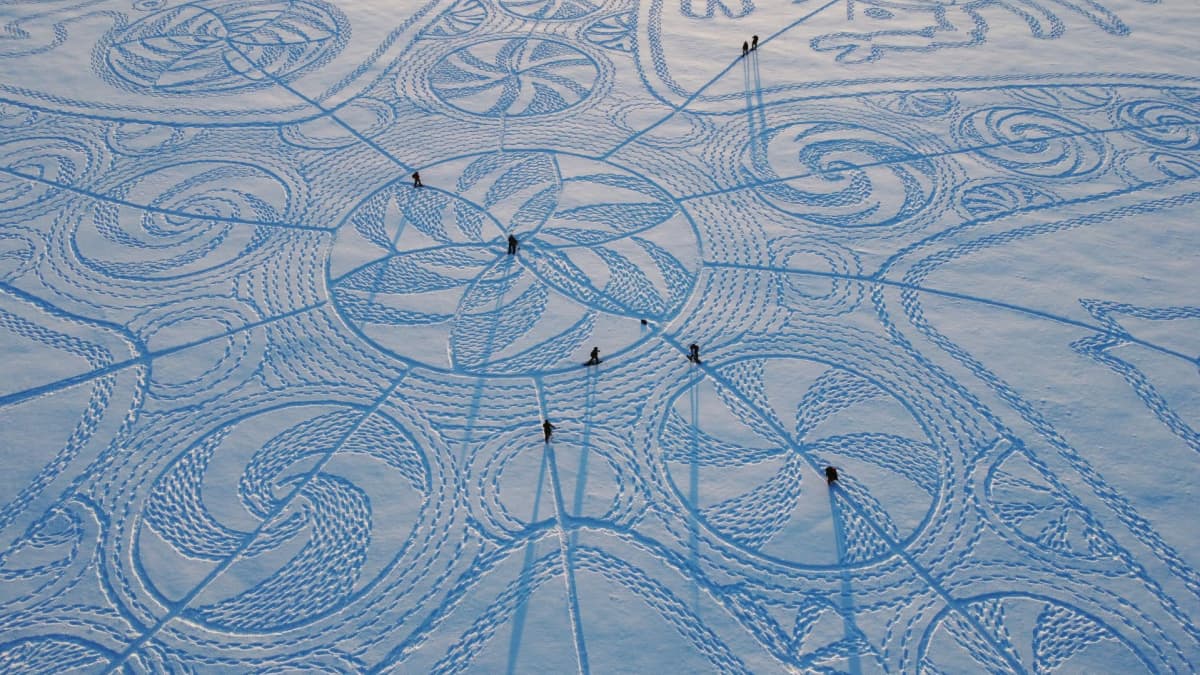 Thirteen snowshoers were involved, seven of whom were using snowshoes for the first time. Volunteers from Hämeenlinna, Espoo, Tampere and elsewhere spent almost eight hours creating the masterpiece in the field on Saturday.
"A bit like falling in love"
Johanna Korhonen from Hämeenlinna took part in another project with Pyykkö on a golf course in Espoo a year ago, which attracted international attention from the BBC (siirryt toiseen palveluun) and others.
This time Korhonen helped to find the eight-hectare field owned by the Hirvilammen luomu organic farm in Hattula that was chosen as the location for the art project.
Article continues after photo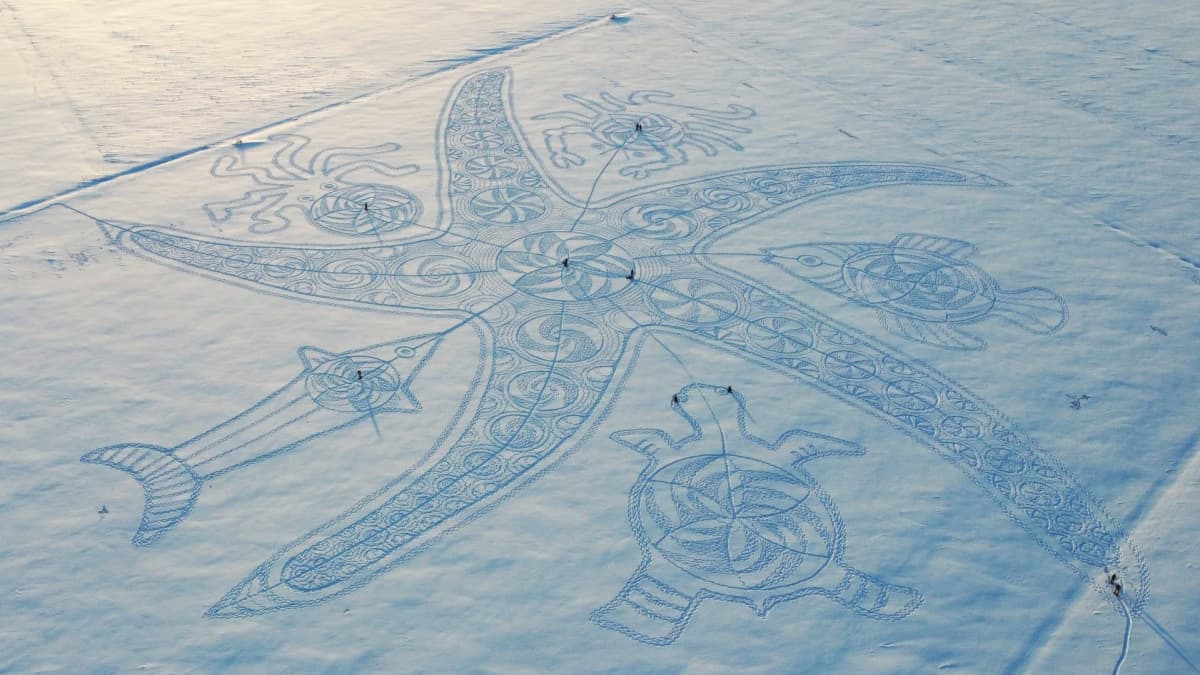 The patterns and their various parts were distributed to the authors in advance.
"Janne has a completely incomprehensible spatial and three-dimensional perception. His mathematical thinking is amazing," said Korhonen.
The work took weeks of preparation and planning, which Pyykkö says was stressful at times.
According to Korhonen, the enormous size of the work was hard to comprehend while doing it. Even though she was involved in practice sessions the previous week, she was stunned by the result.
"The moment you see the first picture taken by the drone is amazing," she said. "It's a bit like falling in love and not knowing how it will turn out. It's so mind-boggling."