Finland's political leaders have condemned Russia's overnight military action in Ukraine, which Ukraine's foreign minister Dmytro Kuleba described as a "full-scale invasion".
Many media outlets, including Reuters and the BBC, have reported that Russian forces fired missiles at several cities in Ukraine, including the capital Kyiv, and Russian troops have landed on the country's south coast.
President Sauli Niinistö tweeted on Thursday morning that he strongly condemns Russia's military action in Ukraine.
"Russia's acts target Ukraine, but at the same time they are an attack on the entire European security order. We feel deep compassion towards Ukraine and are seeking ways to increase our support to Ukraine," Niinistö wrote.
Prime Minister Sanna Marin (SDP) also took to Twitter to condemn Russia's actions, echoing Niinistö's commitment that Finland is looking at options to further support Ukraine.
"The attack is a grave breach of international law and threatens the life of numerous civilians. Finland expresses its solid support to Ukraine and Ukrainians and we are looking for ways to increase this support," Marin wrote.
Haavisto: "Blatant violation" of Ukraine's sovereignty
Finland's MPs had debated the Russia-Ukraine crisis during a plenary session of Parliament on Wednesday, with Foreign Minister Pekka Haavisto (Green) describing Russia's actions against Ukraine as a blatant violation of Ukraine's sovereignty.
Haavisto added during the extensive debate on foreign and security policy that Russia's military pressure on Ukraine is a threat to the security of all of Europe.
"We cannot accept the shifting of borders in Europe by military force or the threat of it," Haavisto said.
Finland, as part of the European Union, has been responding to Russia's actions in Ukraine through sanctions.
Deputy chair of Parliament's Foreign Affairs Committee Erkki Tuomioja (SDP) told Parliament it is possible that the warfare may spread into Europe.
However, Tuomioja emphasised the importance of diplomatic negotiations while also noting that that path may not be a fast one.
"After the use of force we have now witnessed [before Thursday's military action], returning to a path of development is neither easy nor quick. Preparations must continue for tensions and confrontations and the use of sanctions for a long time to come," said Tuomioja.
MPs discuss Nato membership
PMMarin told Parliament on Wednesday that the threat of a large-scale war is more real today than it has been for a long time, and Russia's actions will have long-lasting effects on Finland's relations with Russia.
"Should our national security demand it, we are prepared to apply for Nato membership," Marin said.
Although there is no immediate military threat to Finland, the situation is serious and difficult to predict, National Coalition Party (NCP) Deputy Chair Elina Valtonen said.
"We also do not want to avert our eyes from the gradual slide of Belarus into Russia's sphere of influence," Valtonen told Parliament.
She further pointed out that Nato membership would strengthen the future security of both Finland and its neighbouring areas, but added, however, "there is no shortcut to Nato. The path to membership will only be built with the support of our citizens and together with our partners."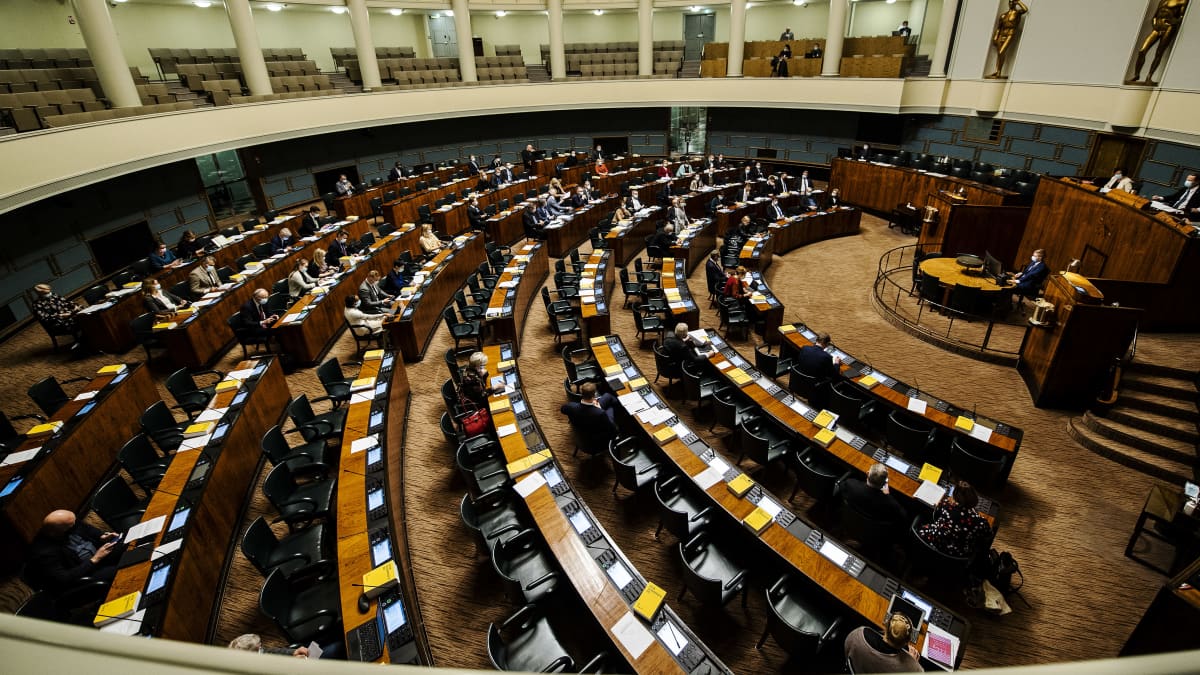 Movement Now chair Harry Harkimo said the time for Nato membership is not right now.
"It is all the more important that Finland maintains the position it has chosen and does not waiver," said Harkimo.
Several MPs, however, supported providing Ukraine with defence equipment.
Defence Minister: Ukraine situation "very serious"
Before Wednesday's parliamentary session, Defence Minister Antti Kaikkonen (Cen) told a press conference that the situation in Ukraine is now "very serious" and could deteriorate very quickly.
The Ministry of Defence had previously announced that Ukraine has requested additional assistance from Finland in terms of defence and emergency materials. Finland has also received requests from the Netherlands and Estonia to approve arms exports to Ukraine, related to armaments that originate from Finland.
Yle reported in December that Estonia would like to export cannons that Finland once acquired from East Germany to Ukraine. To do so, Estonia has to acquire permission from both Finland and Germany.
PM Marin said on Tuesday that Finland has also received a request from the Netherlands, the contents of which have not been made public.
According to Kaikkonen, the request from the Netherlands is a preliminary inquiry, on the basis of which no decisions have yet been made. If an official request is received, it will advance through the normal process, according to Kaikkonen.
"The Estonian matter is still on the table. We are still waiting on an answer from Germany and we cannot make a decision before that," Kaikkonen said.
Once Germany's position is clear, Finland will make its decision quickly, he added.