For the past seven years, economics student Yasin Omer has applied for asylum in Finland many times since fleeing war in Somalia — but to no avail.
Although he feels sympathy towards Ukrainian people currently fleeing their home country following Russia's invasion, he told Yle the situation has clashed with the way he has been treated.
"It feels really bad when social media and European media welcome Ukrainians. I have been an asylum seeker in Finland for seven years, and no one has welcomed me," he said, adding that it seems to him this is discrimination and that human rights are not the same for everyone.
"I'm from Africa. Ukrainians are probably welcomed because they are European and white," Omer said.
He also noted that some of his Somalian acquaintances in Finland have returned to the country and been killed there, meaning it would not be safe for him to return.
Psychologist: Good treatment helps trauma recovery
A psychologist who has a long career working with refugees in Finland told Yle it has long been an issue that not all asylum seekers are treated equally.
Ferdinand Garoff, a psychologist at the Deaconess Institute's Trauma Therapy Unit, said that he understands why some asylum seekers might be confused by the current situation, and hold the view that they have been treated unfairly as their asylum applications take so long to process.
"I think it's a justified opinion," Garoff said. "From a universal perspective, of course, everyone should be treated the same, regardless of cultural or ethnic background."
Ukrainians are being welcomed and treated well, Garoff noted, and that will help them recover from their ordeals.
"If an asylum seeker also faces discrimination and racism, it will make it more difficult for him or her to cope with their difficult experiences," he added.
More than 3,000 Ukrainians applied for asylum in Finland
There has also been confusion among the asylum seeking community as to why people coming from Ukraine can receive a residence permit so quickly on the basis of temporary protection (siirryt toiseen palveluun).
Antti Lehtinen, Director of the Asylum Unit at the Finnish Immigration Service Migri, told Yle that while he understands the confusion, he noted that the fact Ukrainian people can get a residence permit quickly will also benefit asylum seekers who are already in Finland.
The processing of asylum applications is already congested, and if asylum seekers from Ukraine were to be subject to the regular asylum procedure, processing times would be further extended, he said.
This could lead to Ukrainian asylum applications taking years to be processed.
"Asylum systems would be clogged all over Europe," Lehtinen said. "In a couple of weeks, more than twice as many asylum seekers from Ukraine have come to Europe as during the whole of 2015."
Lehtinen further noted that Ukraine is a European nation, so it is natural that those fleeing should be taken in by neighbouring countries.
Before the arrival of the Ukrainians escaping the war, Migri estimated that there were about 2,300 asylum seekers in Finland awaiting decisions.
The average processing time for an asylum application is 10 months, although Migri says it aims to handle all applications within six months.
By Saturday 12 March, an estimated 3,300 Ukrainian people applied for asylum in Finland following Russia's attack.
Nearly stuck in Kabul
Nesar Ferdaws, who fled from Afghanistan to Finland in 2014, said he also hopes that Ukrainian people will receive help quickly — but added it was important that authorities do not forget about other asylum seekers.
Ferdaws, who worked for the Interior Ministry in the Afghan capital Kabul, has twice held a residence permit to live in Finland, but is currently awaiting a decision on the latest application he filed in January 2020.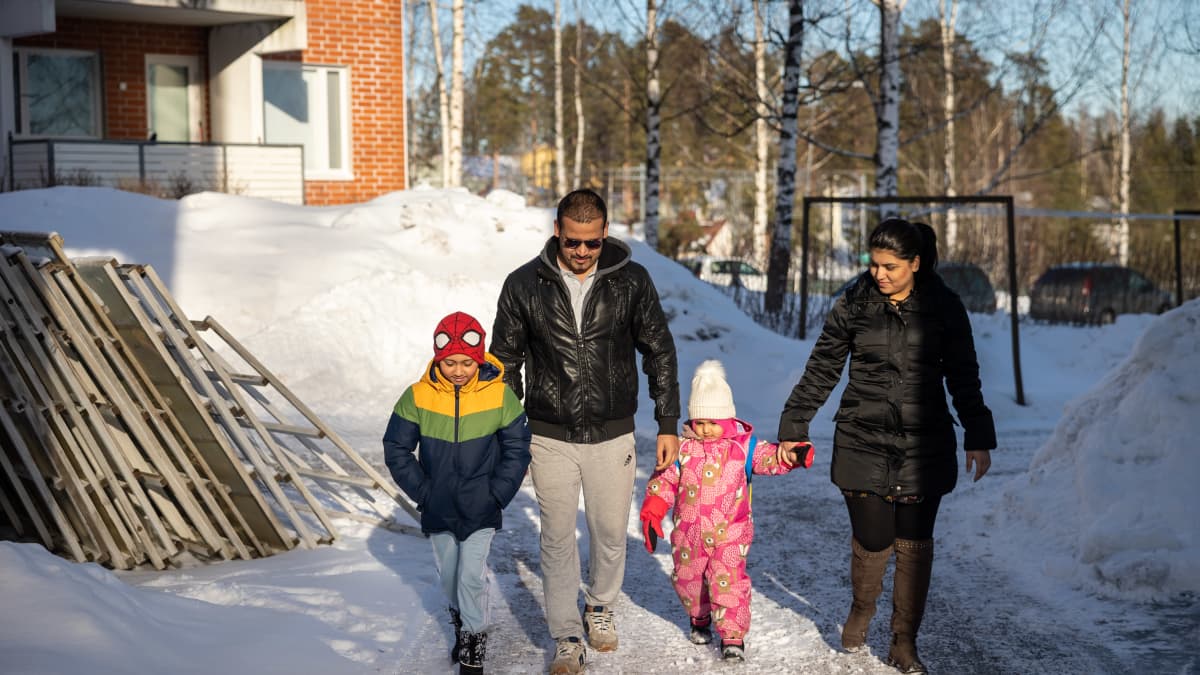 While Ferdaws was visiting Afghanistan with his family, his residence permit expired. He was not able to submit a new application because the Indian embassy where he should have visited to register had closed due to the Covid pandemic.
This was in August 2021. Then the Taliban came to power.
Ferdaws recalled how he was nearly stuck in Kabul, as the Finnish Foreign Ministry told his wife Sonya Ferdaws that Nesar did not have the right to accompany his wife and children to Finland without a residence permit.
"We went to the military airfield and my husband was left behind. Some soldiers asked us if the children were in any distress, because they were crying for their father and were so restless," Sonya Ferdaws said.
Eventually, an American evacuation plane picked up the entire family and brought them to Qatar, where Ferdaws obtained a temporary visa enabling him to enter Finland.
"War is war"
Ferdaws said he now hopes that the Ukrainians fleeing the war in their country will be quickly granted asylum in Finland, but said he wants those who have fled wars in other parts of the world to receive the same level of help too.
"I think all different nationalities should be treated in the same way. People are people, there are no differences," Ferdaws said.
He added it would be ideal if everyone's applications were processed quickly, because the situations in Ukraine and Afghanistan are similar.
"A battle is a battle and war is war," he said.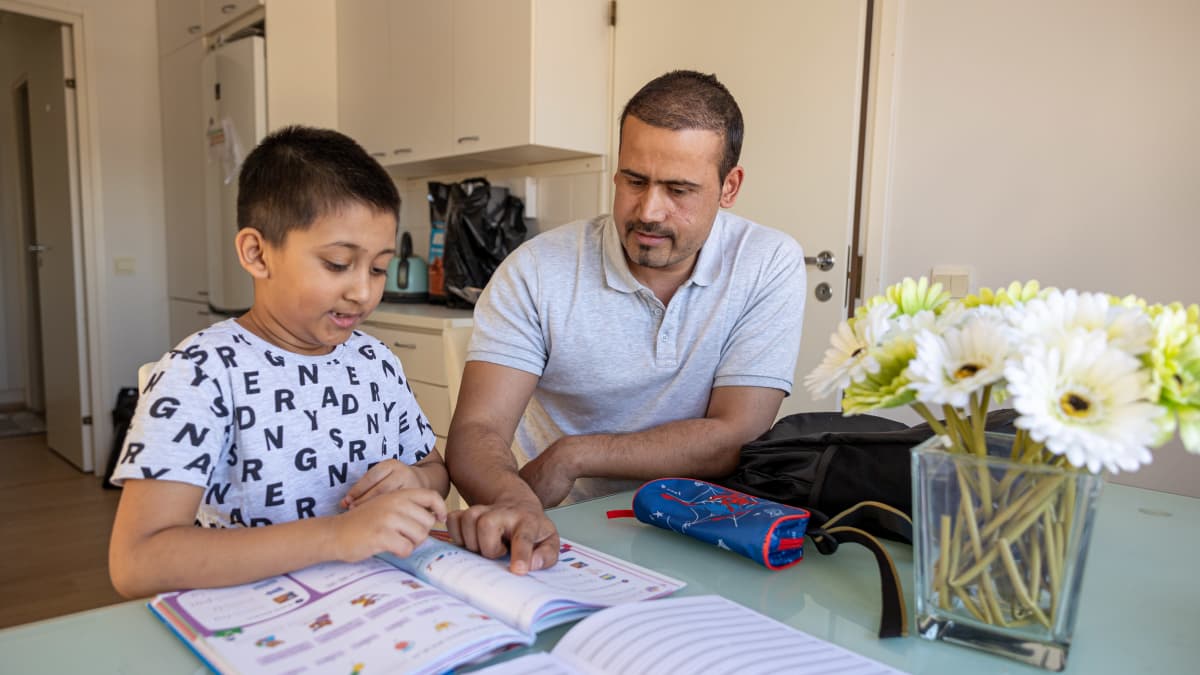 Sonya Ferdaws: Permits without checks?
His wife, Sonya Ferdaws, came to Finland from Afghanistan at the age of six, and told Yle that she has deep sympathy for the people of Ukraine.
However, she added that she wonders if it is safe to issue residence permits to so many people without their backgrounds being properly checked.
Although her husband has lived in Finland for many years and is raising a family in the country, his situation is continually investigated.
"Ukrainians are being received with open arms, which means that people are being discriminated against on the basis of where they come from," Sonya Ferdaws noted.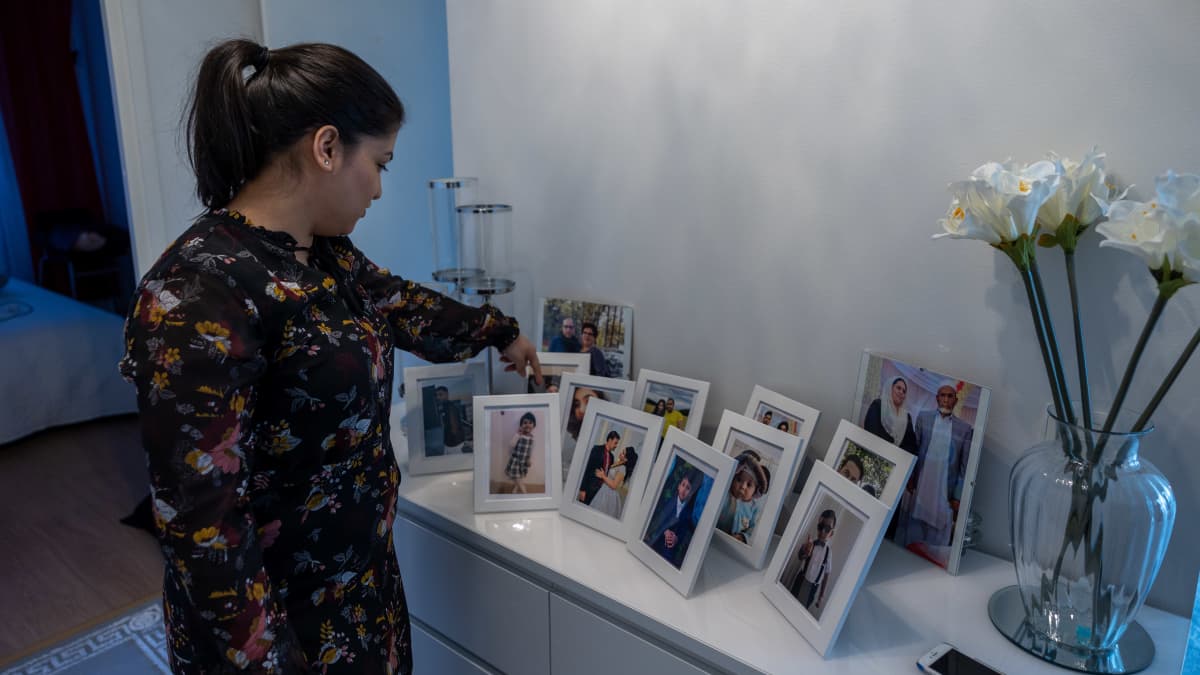 Migri: Identities will be verified
Migri's asylum unit director Lehtinen confirmed to Yle that the identities of all Ukrainians seeking protection will be verified, but their backgrounds may not be as thoroughly investigated as in the usual asylum procedure.
"The similarity between an application for asylum and an application for temporary protection is that both applications are made to the police or the border guard," he noted.
However, regardless of the application, an applicant's identity is verified — meaning name, date and place of birth — and the authenticity of their documents is also verified.
In addition, the applicant's history, background and overall situation are examined on a case-by-case basis through interviews and by other means. This stage of the process usually takes a long time and is not required for those who are fleeing Ukraine.
Lehtinen was not willing to comment on how safe the temporary protection process might be, but he said he believes that security considerations were taken into account when the EU's Interior Ministers agreed to introduce the temporary protection measure — which is due to remain in place until March 2023.
The European Commission is then expected — depending on the situation — to make a new decision whether to extend temporary protection, or if Ukrainians should apply for asylum through the normal procedure or return to their home country.
Yasin Omer: "Now Europeans know what war is"
The processing of Yasin Omer's latest asylum application has already been delayed five times, but Migri has promised to issue a decision next week.
"I don't think there will be a negative decision this time, because now Europeans know what war is," Omer said.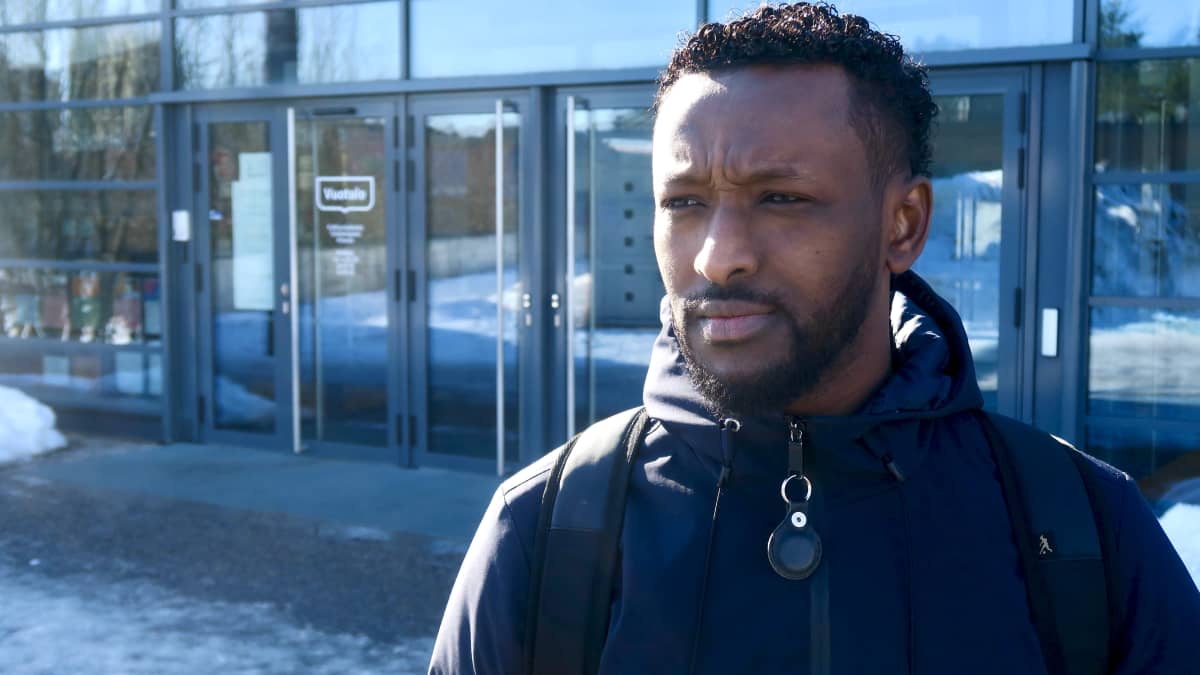 Psychologist Ferdinand Garoff said he also hopes that as a result of the war in Ukraine, asylum seekers receive better and more positive treatment in the future.
"This could be thought of in the way that the situation could have positive multiplier effects, that the general attitude towards refugees would become more positive," he said.
Nesar Ferdaws is also still awaiting a decision from Migri, which he describes as "frustrating" as he would like to look for work and also make plans for his future.
His wife, Sonya, said her dream is that one day the father of the family will obtain Finnish citizenship.
"We would like to live a normal and ordinary family life without obstacles and fears. Getting here was already a big and difficult process. We would like to be able to build our lives," she said.