Support for Finland joining Nato grows among Finnish MPs, along with increased willingness to reveal their opinions on the issue, according to a fresh Yle straw poll of parliamentarians.
A total of 112 Members of Parliament — more than half the chamber — responded to Yle's most recent survey on Finland's potential membership of Nato, demonstrating a growing trend among lawmakers to publicly state their position on the issue.
A majority of the respondents, 71, said they would support Finland applying to join the military alliance while six MPs said they were opposed to Nato membership.
Meanwhile, 35 of MPs who took the time to respond said they did not know their positions on Nato membership.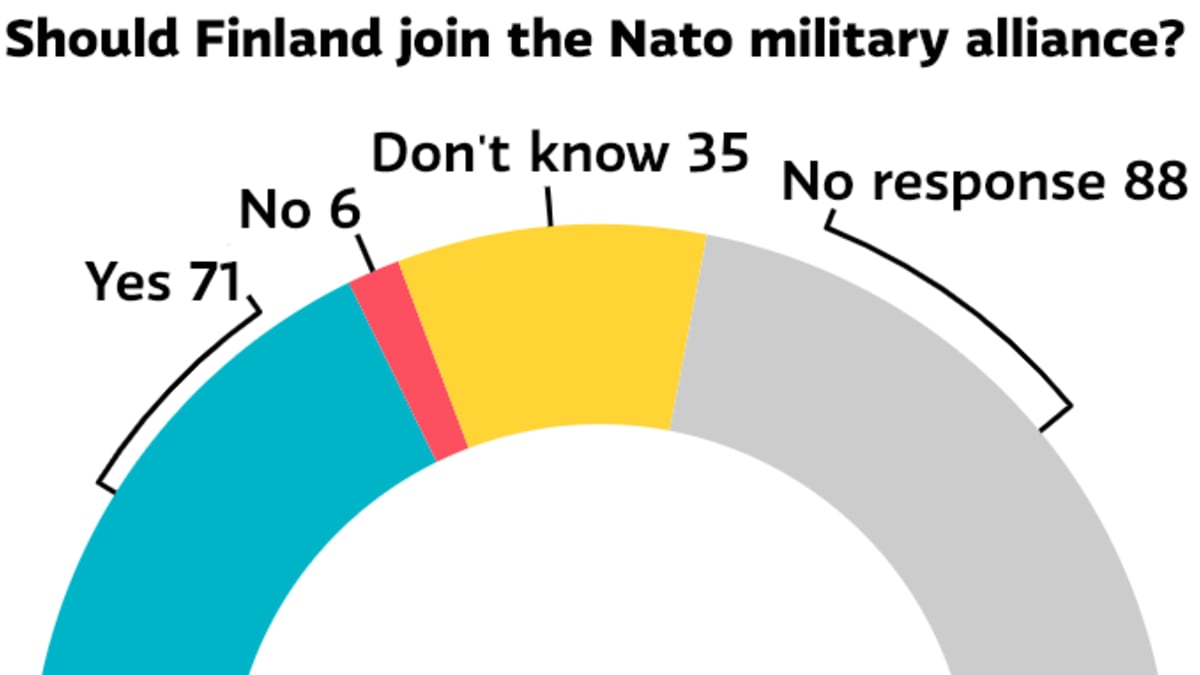 Among the parliamentary groups, the National Coalition Party (NCP) was most favourable to Nato. The party has long advocated for Finland to join the alliance, as has the Swedish People's Party.
NCP representative Pihla Keto-Huovinen told Yle she changed her mind about membership and now supports such a move, adding that her opinion has been particularly influenced by experts in national defence and security.
"My earlier feeling that [military] non-alignment should continue to be the cornerstone of our security policy changed in favour of joining Nato, after Russia invaded Ukraine and shook the entire foundational policy," Keto-Huovinen explained.
Anders Adlercreutz, chair of the SPP's parliamentary group, pointed out that Finland is already training with Nato nations and that Finland's Defence Forces (FDF) could be considered to be fully Nato-compatible.
"We are perceived as part of the West, but we do not have the protection offered by Article Five. Membership would be a big change psychologically, but small on a practical level. It would increase security and strengthen Nordic co-operation, especially if Sweden joined," Adlercreutz said.
Support grows among Greens, Finns Party, Centre MPs
There is increasing support for Nato membership particularly among lawmakers from the Greens, Centre and Finns parties, compared to a similar survey carried out by Yle less than a month ago.
However just one member of the Social Democratic Party parliamentarians has so far revealed her position on the matter. MP Suna Kymäläinen said she began supporting Finland joining Nato in 2015, after Russia's annexation of Crimea.
"However, it is important that no hasty solutions will be made now," Kymäläinen said, adding that the country's decisions on whether to join Nato would be up to the government, MPs and the president.
No other SDP parliamentarian who responded to the survey would share their views about the Nato decision, as the party has decided to wait for the government to issue a security report before announcing their positions.
About half of the Greens who took part in the survey said they supported Nato membership. MP Tiina Elo said that she previously thought that Finland's own defence capabilities as well as its reliance on EU defence would be adequate protection.
"The war in Ukraine has shown that when you're in a tight spot, there is a crucial difference between whether or not you are in Nato. In this situation, I see that membership would be the safest option for Finland," Elo said.
Nearly half of Finns Party MPs said they supported Nato membership, representing an increase of seven MPs, compared to last month's survey.
Finns Party MP and second deputy speaker, Juho Eerola, has set three conditions for membership, however. One of them stipulates that Sweden should apply to Nato at the same time as Finland while also receiving the same guarantees.
Out of the 112 MPs who responded, only six said that they were against Finland joining Nato. Four of those were from the Left Alliance, one from the Finns Party and the sixth was Ano Turtiainen, leader of the one-member Power Belongs to the People party.
Left Alliance MP Katja Hänninen is against joining the military alliance but emphasised that it is important to have open discussions about foreign and security policies.
Meanwhile, 20 MPs who took part in the previous survey did not respond to the most recent poll.
If it is assumed that those who supported Nato membership a month ago, but did not take part in the new poll, the number of MPs in favour of joining would rise from 71 to 82.
Additionally, for example, two prominent Finns Party members, party chair Riikka Purra and Jussi Halla-aho did not take part in the most recent survey, but have both publicly voiced their support for joining Nato.
The survey was carried out electronically, sent to MPs by email, with responses coming in during 23-31 March, 2022.