"I am Ukrainian. Our staff are Ukrainian" read a recent Facebook post from Blinit, a casual Russian-style eatery in Helsinki's Alppila district that has been serving up budget blinis and high-strength Russian beer for over a decade. The owner, Artemy Senko, took to social media to respond to the wave of abuse the restaurant has faced since the war broke out.
Although things have calmed down somewhat since Russia first invaded Ukraine, the restaurant and its staff have been subjected to physical threats, intimidating phone calls, and torrents of one-star reviews on Google.
During a quiet weekday lunch shift, Senko was keen to stress that the anger directed towards him from a "small minority of loud people" is misplaced.
"I am Ukrainian but grew up in Russia. My wife is part-Ukrainian. All our staff are either Ukrainian or have a lot of family there. We do not support that psychopath's invasion of Ukraine," Senko explained.
Senko, who describes himself as a "Finnish patriot", said that the business had never faced problems like this before the war broke out, and that it feels "insane" to have to explain his background and allegiance to the public as someone who "just wants to run a café".
The experiences of the Blinit staff are not isolated incidents. In response to increasing concerns over the harassment of Russian speakers, the City of Helsinki recentlyput out a statement announcing a "zero tolerance policy" towards discrimination and hostile attitudes.
Senko also expressed fears that such hostility could be "playing into Putin's hands", since Russia has historically justified military invasions in the name of protecting Russian speakers.
This sentiment has been echoed by political experts who haveraised alarm over recent pleas from the Russian Embassy in Helsinki to report any incidents of discrimination against Russian speakers, leading some to believe that Russia is looking for a pretext to justify hostility against Finland.
"Stop buying Russian gas"
Senko believes that "a lot of Finnish people don't like" Russians, but that it is important to distinguish between those who support Putin's war and those Russian speakers who support Europe and democracy. He also urged people to think twice before lashing out at things that look and sound Russian.
"Russian does not equal Russian Federation. Russian is a culture that spans Ukraine, Central Asia, and all of the former Soviet republics. The food I make and the products that I sell remind all of us of home. They don't just belong to Russia," he said.
Whipping out a pen and paper, Artem then began to list his operating expenses and the locations of his suppliers.
He stressed that his money does not go to the Russian economy, with all products being sourced either in Finland or the EU. He added that if Finland really wants to undermine Putin, they should stop buying Russian gas.
"Attacking my business won't stop Putin's war machine," he said.
"The phone calls were the scariest part"
A similar story has unfolded in the upscale enclave of Katajanokka, where the high-end Ravintola Bellevue has been serving borscht and pavlova for more than a century.
Restaurant manager Alma Raitanen has been at the helm since last May. A veteran of the Helsinki restaurant scene, she says that she never expected to have to navigate tensions around a war when she took the job.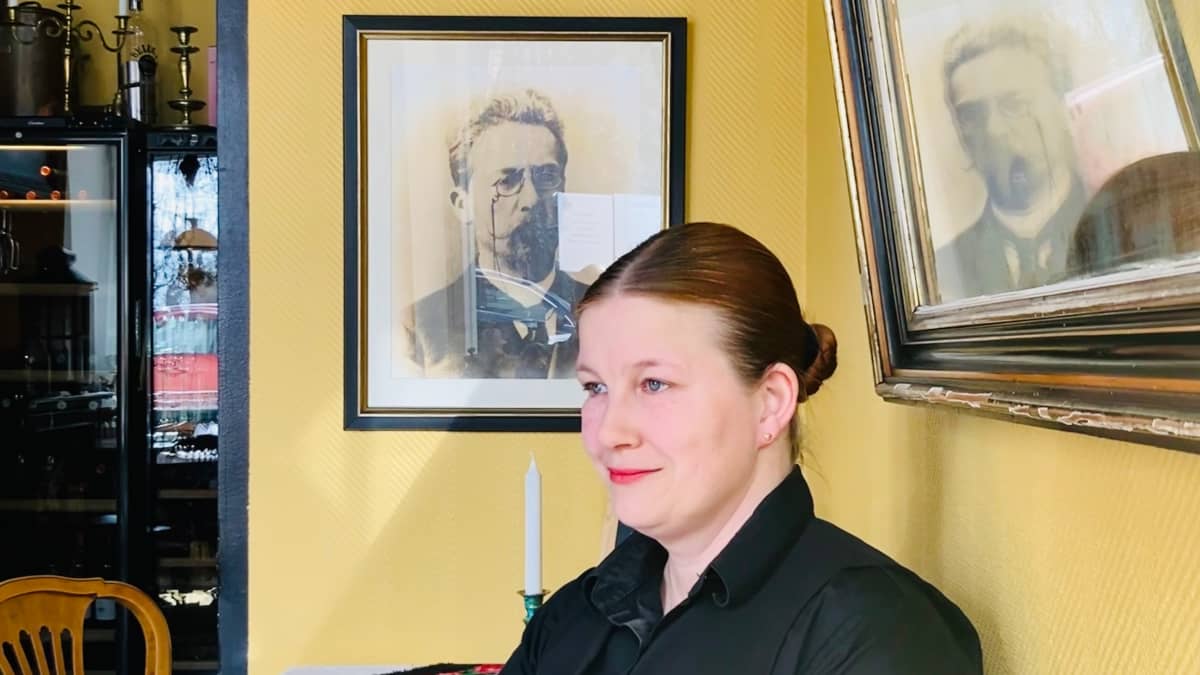 "The phone calls were the scariest part. And some of the comments on our social media have frankly been horrendous", Raitanen said, adding that bookings have collapsed since the war broke out and that revenue will be less than half of what it usually is for this time of year. Although hostility from the public has died down, she says that it has left a mark on herself and on the staff.
"Initially, I was scared all of the time. But the last time the restaurant got a threatening call accusing us of funding Putin, I asked them to come in so that I could explain why that is not the case. He didn't show up".
Since the invasion, Bellevue has removed all Russian vodka and Russian-sourced products from the menu. The restaurant also donates five percent of its revenues to Unicef's Children of Ukraine Fund, an action that Raitanen said was taken "to make our position on Putin's war clear".
Much like Senko, Raitanen was at pains to diminish the "Russian" origins of the business, explaining that Bellevue was in fact founded by an Estonian merchant and his Finnish wife, with ingredients sourced from the nearby Kauppatori market. She also wished to point out that most food thought of as Russian often has a more complicated backstory.
"Vorsmack is Polish. Chicken Kyiv is Ukrainian. The majority of 'Russian' dishes are borrowed from French culinary traditions. Even if you want to make some kind of anti-Russia statement, you're targeting the wrong things".
Raitanen was most worried about her waiting staff, who have had their hours cut back due to the wave of cancellations, only weeks after Covid restrictions were finally lifted for restaurants.
"Our staff are just trying to make a living. If things continue like this, our restaurant will struggle to make it to the end of the year," she said.
"Is the war Tolstoy's and Shostakovich's fault?"
Although restaurants are often the most visible marker of Russian culture in Helsinki, they are not the only targets for abuse.
Ruslania Books, a supplier of Russian-language literature, sheet music, and academic texts since 1986, is also struggling. Until 2020 the company had a physical store on Bulevardi, but financial losses from the pandemic prompted them to relocate to a warehouse in Vallila.
Andreas Agopov, who inherited the business from his Armenian father and Finnish mother, says that the initial fortnight following the outbreak of war was a scary time.
The office received a number of threatening emails accusing them of selling "Putin propaganda" and warning them to cease operations. Meanwhile, the team of seven employees were reluctant to come into work for fear of being attacked.
More serious for Agopov was the significant financial impact, with large numbers of cancelled subscriptions for Russian publications, and total orders falling by 60 percent overnight.
He also believes that fears over sanctions and the removal of Russia from much of the global financial system has led to many former customers incorrectly thinking that they could no longer buy from Ruslania.
"We are passionate about the culture of the Russian-speaking world and do not have anything to do with Putin or his politics", said Agopov, who describes himself as a "non-political" person who did not wish to comment on events in Ukraine.
Rare books and academic texts aren't the only items for sale. Until recently, one of Ruslania's popular product lines consisted of matchbooks and fridge magnets adorned with Putin's face, which were recently removed from the online store. The company does still sell trinkets featuring Stalin's face above captions such as "I'll be back", which Agopov describes as "cheeky".
The company is also a major supplier of Russian-language academic papers, which Andrea says were especially popular among military buyers, including the Finnish military, in the runup to Russia's invasion.
For his part, Andrea believes that Russian literature, culture, and thought is "for everyone" and that limiting access to these resources means that everyone loses out.
"Is the war Tolstoy's and Shostakovich's fault? The richness of Russian culture has something to teach all of us, including here in Finland. It does not belong to Putin," he said, adding that "Finland cannot allow old-school Russia hatred to return".