Satellite images obtained by Yle indicate that Russia has been moving a large number of anti-aircraft missiles toward Ukraine, including from as far away as St. Petersburg, one of the most crucial areas for Russian air defence.
Satellite images reveal that both mobile firing platforms and missiles disappeared during the summer from a base in the Zelenogorsk (Terijoki) area on the Karelian Isthmus, northwest of St Petersburg, among others.
The transfer of equipment has not previously been publicly reported in Russia or western countries.
St Petersburg—Russia's second-most important city—has long been surrounded by a protective ring of 14 anti-aircraft missile bases. Now several of them stand empty.
"Based on the pictures, four anti-aircraft bases have been emptied of equipment," military expert Maj. (Ret.) Marko Eklund told Yle.
Eklund, who has monitored the Russian armed forces for more than 20 years, analysed the satellite images at Yle's request.
This map shows anti-aircraft missile batteries around St Petersburg, 170 km from the Finnish border. It has a population of 5.5 million, the same size as Finland.
Article continues after map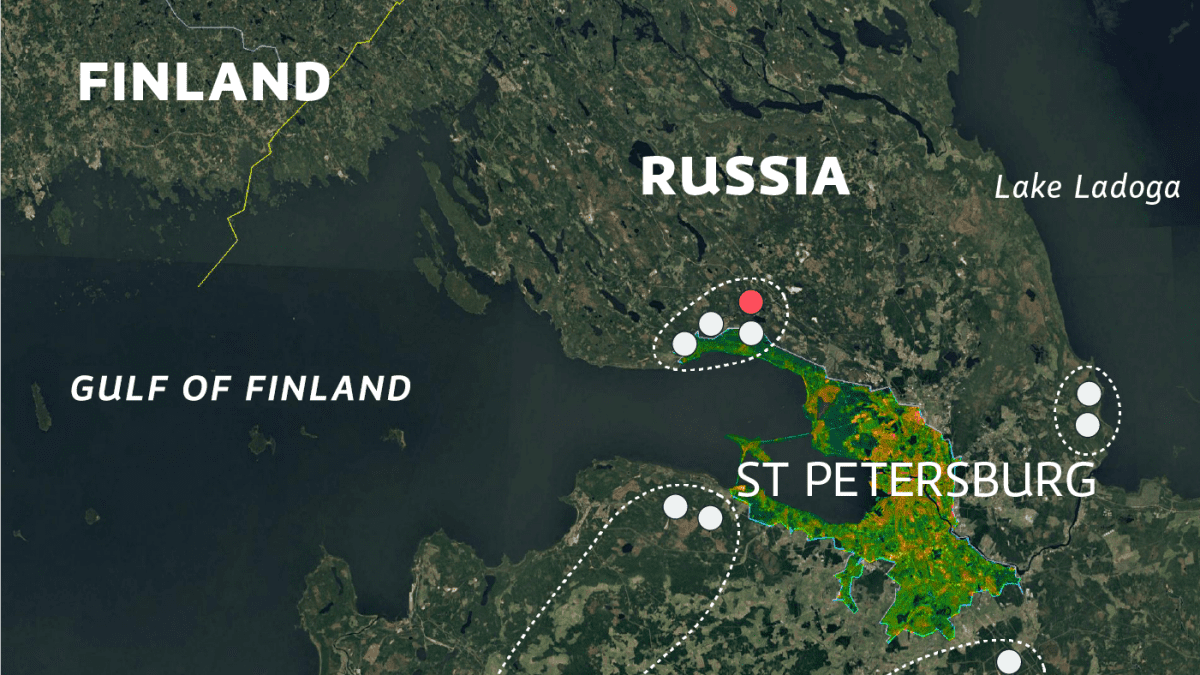 In addition to the completely emptied bases, anti-aircraft missile equipment has been moved from other bases around St Petersburg during the summer, most likely toward Ukraine.
According to Eklund, the transfer of equipment is unlikely to have significantly weakened St Petersburg's air defences, because the armament that has been removed is its oldest, so Russia may no longer necessarily need it for defensive purposes.
In its Ukraine war, even old anti-aircraft missiles still have a use, though, as Russia is running short of modern precision weapons.
Two batteries disappear SW of St Petersburg
Yle has acquired most of the satellite images from commercial operators, complementing them with images from the Google Earth Pro app. The latest images are from August and September.
The most obvious change can be seen to the southwest of St Petersburg. There, two entire batteries have been emptied.
The pair of images below shows that all missile firing platforms have been removed from a missile battery near the village of Kerstovo. In the first picture, a row of 12 of them can be seen in the upper right-hand corner.
The first picture is from a year ago and the latest one is from early September. You can compare images by sliding the vertical bar between the images. The red lines denote areas of particular interest.
Article continues after photo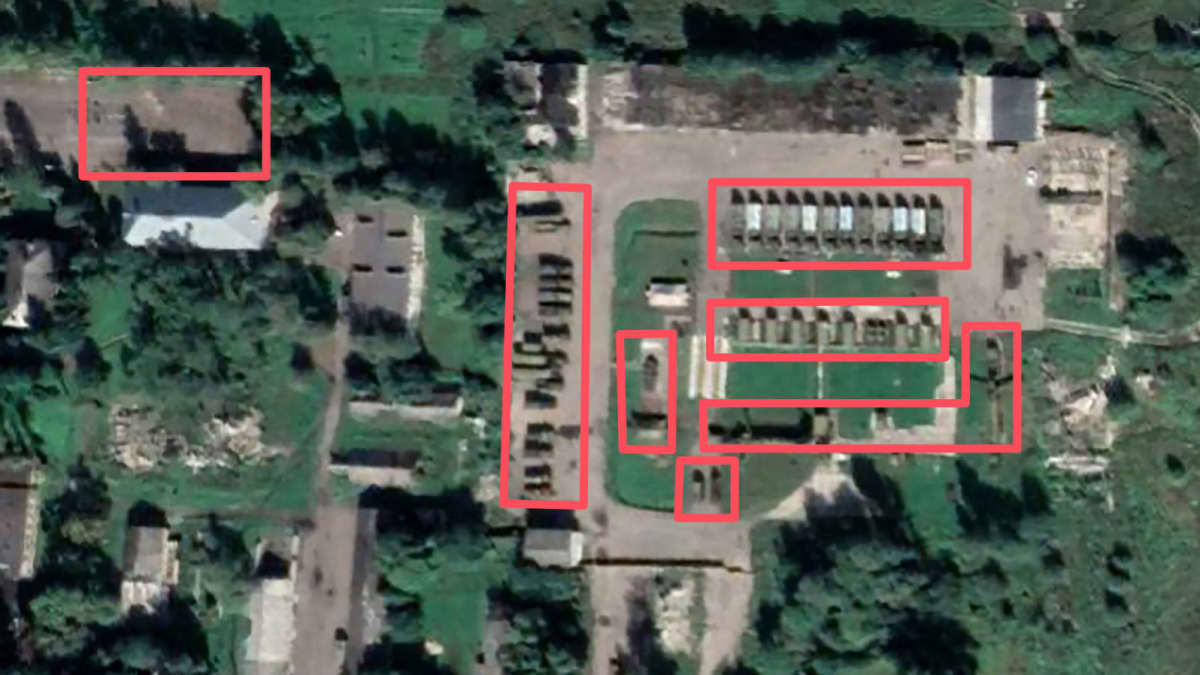 The area of this 500th Anti-Aircraft Missile Regiment battery appears to be completely abandoned. Source: Google Earth Aug. 2021 and Planet Labs 2 Sept. 2022.
One and a half kilometres to the northeast lies another battery operated by the same regiment. It, too, has been completely emptied. All that remains is equipment from a radar station using the same base.
You can see the change in the pair of images below. The latest image is more tightly cropped, so some black areas appear along its edges.
Article continues after photo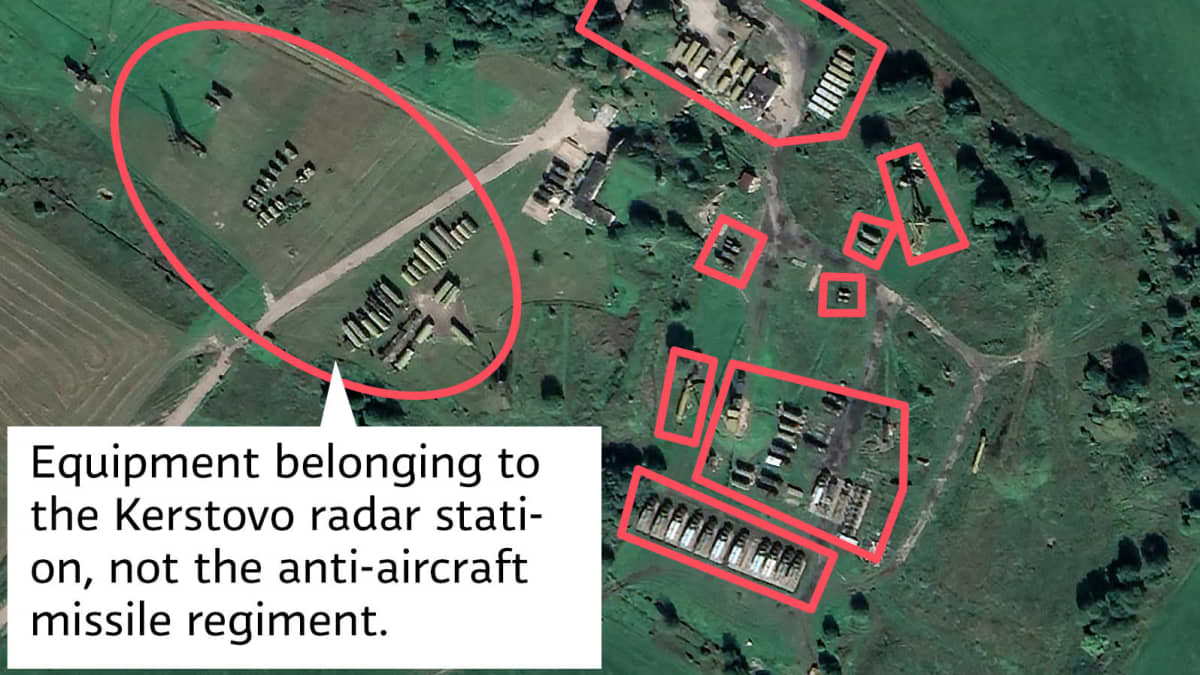 Another battery operated by the 500th Anti-Aircraft Missile Regiment has also been emptied of equipment. Source: Google Earth Aug. 2021 and Planet Labs 2 Sept. 2022.
Thus only two of the regiment's four batteries remain in place. Pictures obtained by Yle show that about 25 missile containers, possibly containing 100 missiles, have been removed from one of the two remaining batteries.
Changes can also be seen elsewhere around St Petersburg.
According to Eklund, at a base east of St Petersburg, close to the shore of Lake Ladoga, missile containers were loaded onto transport platforms in May.
Loading is apparent from the fact that whereas the equipment would normally be in neat rows, the pictured row has empty spots with transport vehicles next to them.
The second image shows that not only the missile containers, but also a row of vehicles that have been standing in the open for years, have disappeared. As many as 120 missiles may have been removed from the site in the missile containers.
Article continues after photo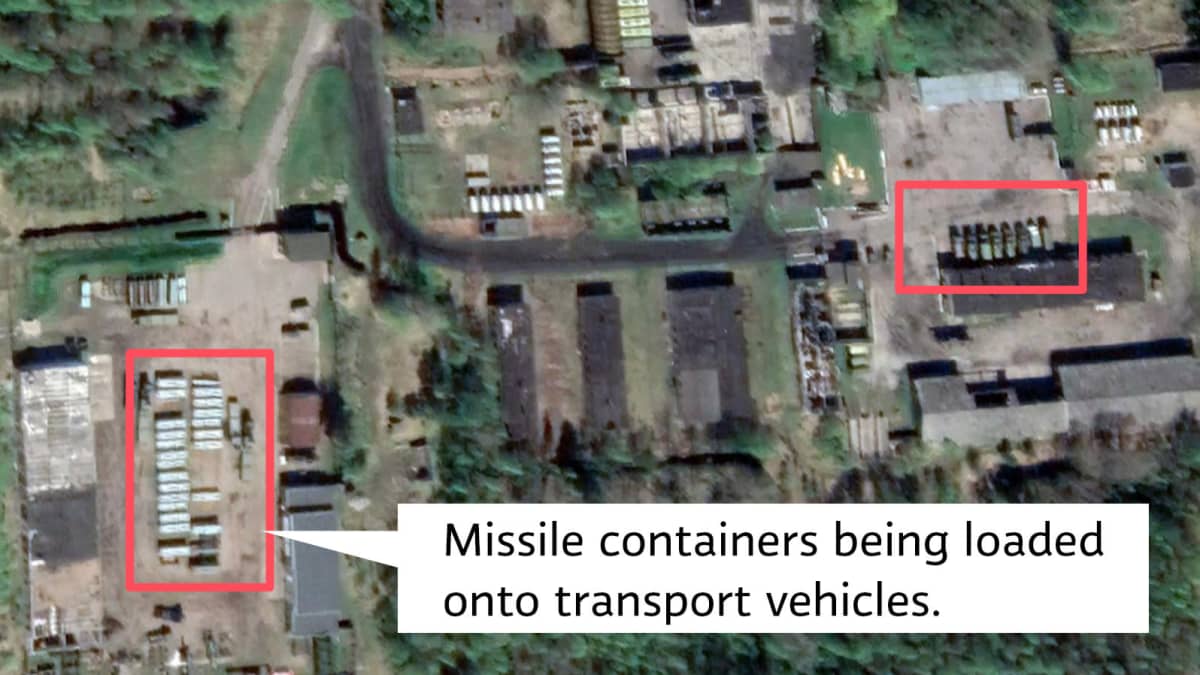 Equipment has also disappeared from the area around the headquarters of the 1489th Anti-Aircraft Missile Regiment near the village of Vaganovo. Source: Google Earth May 2022 and Planet Labs 14 Aug. 2022.
There has also been a significant transfer of equipment from a base southeast of St Petersburg—about 10 firing platforms as well as other vehicles.
According to Eklund, in this case, new missile equipment may also have been removed, as the Russian armed forces said that this regiment was using the newer S-400 anti-aircraft missile system, introduced about 15 years ago.
The pair of images below shows the original equipment and the areas that have since been emptied.
Article continues after photo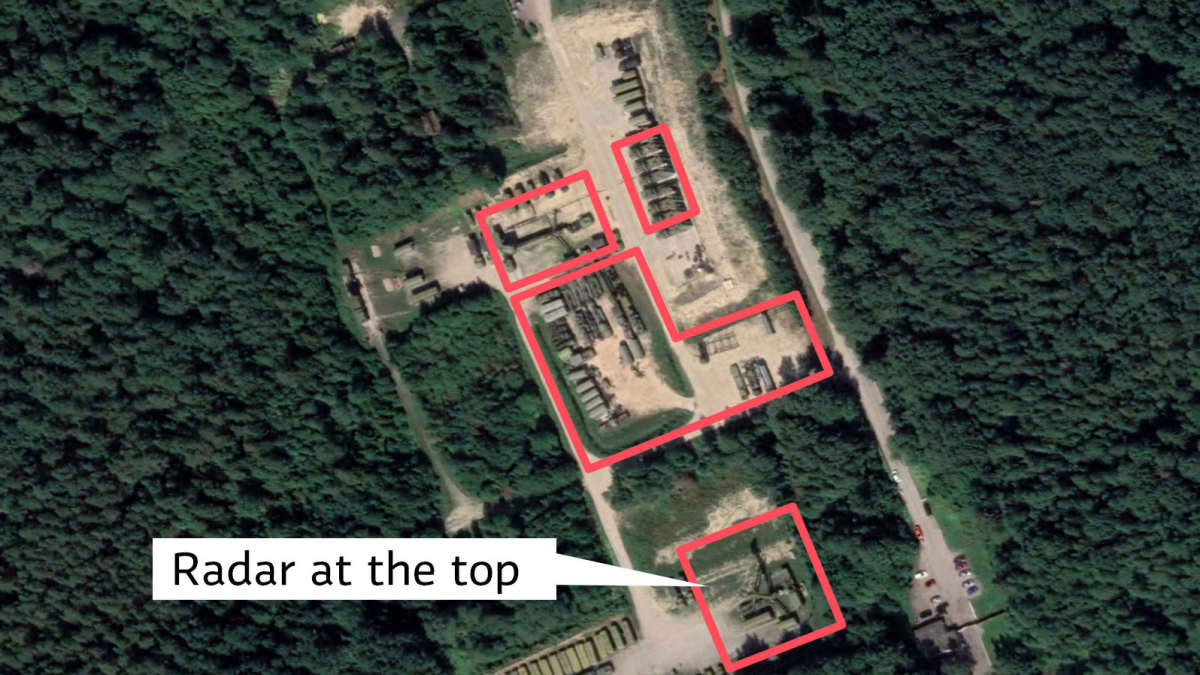 This battery, operated by the 1490th anti-aircraft missile regiment, is located near the village of Kungolovo. Some of the equipment had been removed by July and the rest by September. Source: Google Earth
Even more equipment may have been taken from the St Petersburg region, but Yle could not obtain usable recent satellite images of all batteries.
Most of the remaining anti-aircraft missiles in the St Petersburg region are from the S-400 missile system.
"It is most likely that the equipment that has been removed is primarily from the old S-300 system," said Eklund.
The main difference between the new and old systems is that the S-400s have twice the range of their predecessors.
Despite several upgrades, Russia's S-300 missiles—first introduced in the late 1970s—are becoming obsolete.
Missiles disappeared from central Russia last spring
Experts can readily identify anti-aircraft missile bases from accurate satellite images, as most of the equipment is stored outdoors.
Satellite images can also be used to distinguish whether projectiles are in an upright position, in which case the battery is practically ready for firing. This may be done by units that are on heightened alert.
In training or an actual conflict situation, missiles can be easily transferred to new positions, even beyond bases, since all of the equipment moves on wheels.
However, the transfer of equipment from St Petersburg toward Ukraine is exceptional. Eklund believes that the weakening of missile defences on the outskirts of St Petersburg is due to Russia's need for missiles in its war on Ukraine.
Even before moving anti-aircraft missiles from St Petersburg, Russia appears to have moved missiles to the front from bases located closer to Ukraine and from areas considered less important than St Petersburg.
For example, Eklund has used satellite images to monitor an anti-aircraft missile base in Voronezh, central Russia. Half of its missile fleet had vanished by May, just a couple of months after the invasion of Ukraine began.
The equipment changes around St Petersburg did not take place until summer.
No shortage of old missiles for years to come
Since the anti-aircraft missiles of the old S-300 system are being phased out in any case, Russia may have decided to use as many of them as possible against Ukraine.
According to the Ukrainian armed forces, Russia has so far lobbed more than 500 such projectiles into Ukraine.
The Chief Directorate of Intelligence at Ukraine's Defence Ministry estimates that Russia still has some 7,000 such old missiles left, which, if fired at the current rate, would last for another three years.
"These old missiles are used for ground targets in such a way that the greatest damage seems to be done to civilians," Eklund said.
Article continues after photo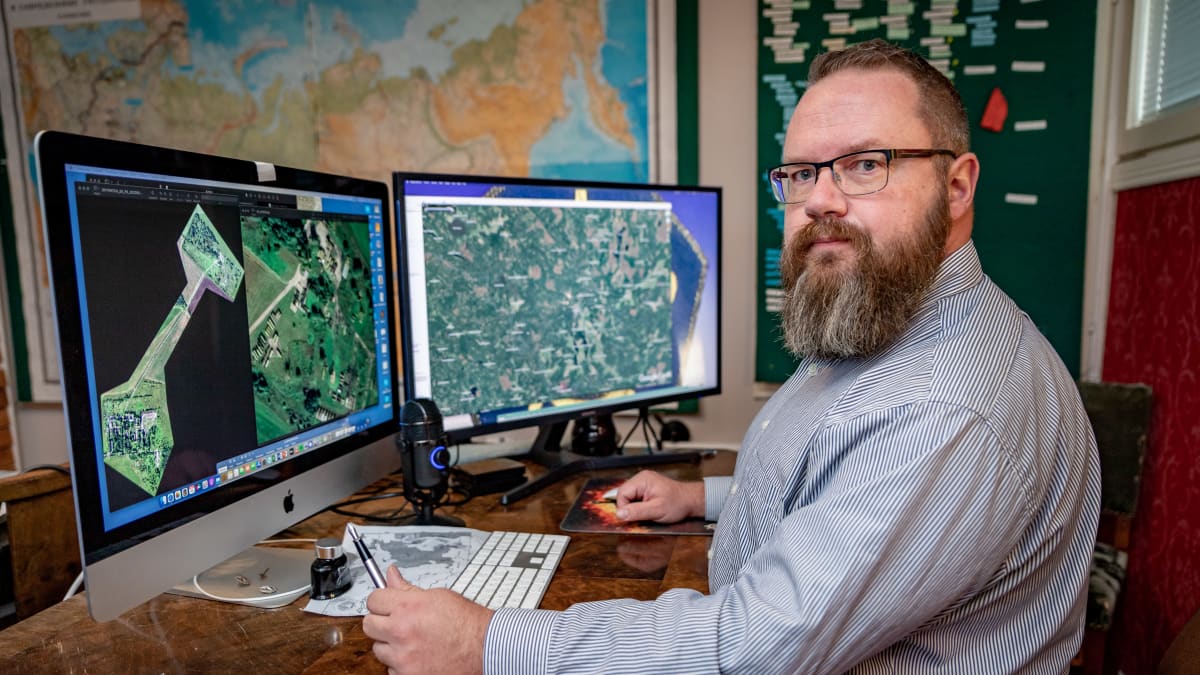 The Armed Forces of Ukraine reported in mid-August that Russia had assembled a large number of S-300 anti-aircraft batteries along Ukraine's borders as well as in the territories it occupies within the country. According to the armed forces, dozens of missiles have been sent to the front from Ulan-Ude in Siberia, for instance.
However, Ukrainian sources have not reported on missile transports from the direction of St Petersburg.
Anti-aircraft missiles are not intended primarily for the destruction of ground targets, though they can be used for this purpose. They have relatively small warheads, because only a small amount of explosives is needed to down an aircraft, drone or missile.
However, Russia has resorted to using anti-aircraft missiles against ground targets as it begins to run out of conventional ballistic missiles.
The Ukrainian Ministry of Defence estimates that Russia has less than 200 Iskander ballistic missiles left.
Anti-aircraft missiles frequently kill civilians
Russia has repeatedly hit civilian targets with anti-aircraft missiles. For example, on 29 August, Russia struck the city of Mykolaiv in southern Ukraine with 16 anti-aircraft missiles. The attacks killed two people and wounded 24.
On 14 September, another attack on Mykolaiv with S-300 missiles killed at least two people.
Kharkiv has also suffered heavily from Russian anti-aircraft missile strikes. Although Russia was forced to withdraw from the area around Kharkiv in early September due to the Ukrainian counteroffensive, it has continued to carry out missile attacks from across the border. The Prosecutor's Office of Kharkiv is investigating the attacks as suspected war crimes.
According to Ukrainian military expert Oleg Katkov, Russia has been using S-300 anti-aircraft missiles specifically to terrorise ordinary Ukrainians. Firing indiscriminately toward an enemy is one way to get rid of obsolete missiles.
"In Finland, decommissioned explosives are detonated every year near Pokka, Lapland. It seems that as Russia runs out of its supplies of first-line military equipment, it is using Ukraine like Pokka," Eklund said.
Article continues after photo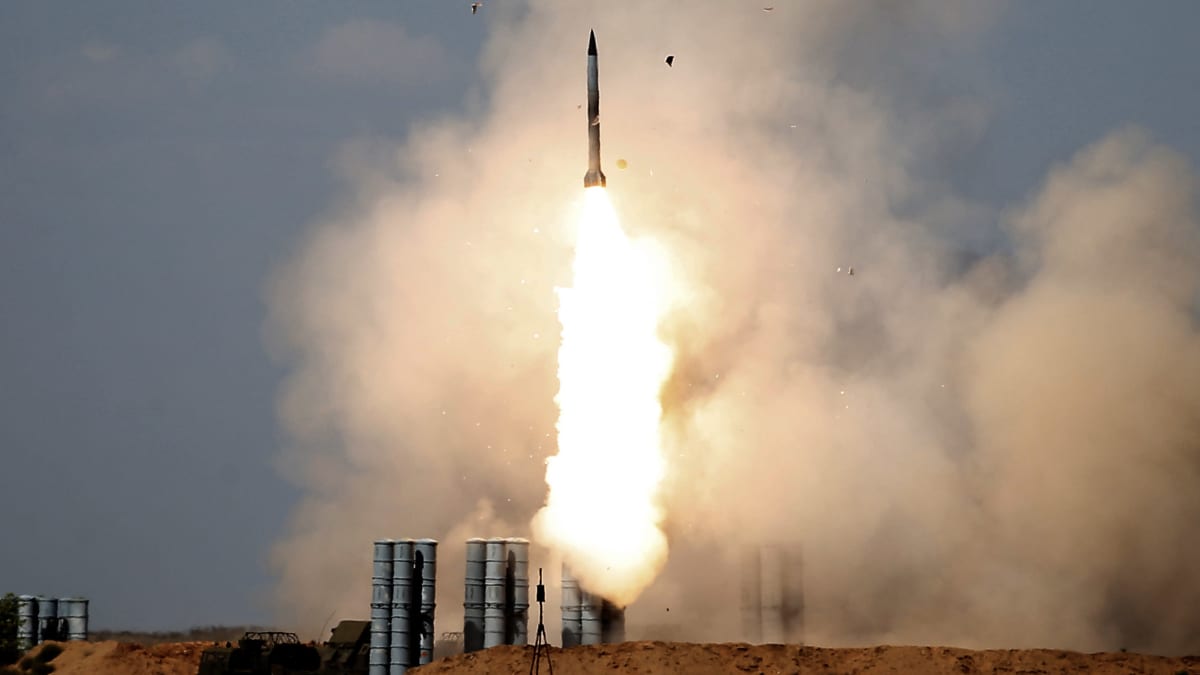 However, Moscow is not deploying the newer S-400 anti-aircraft missiles against civilians, he said.
"Russia probably has so many airborne and explosive items that I don't think that it would sacrifice modern S-400 systems for this kind of mixed use," he said.
According to another Ukrainian military expert, Oleg Zhdanov, it is also difficult to shoot down old anti-aircraft missiles because they can be guided, i.e. their trajectory can meander like cruise missiles.
When projectiles are launched from only 100-200 kilometres away, in other words at targets relatively close by, air defence has very little time to react to them.
In its war against Ukraine, Russia has hardly had to use anti-aircraft missiles for their actual purpose, which is destroying missiles, aircraft or helicopters, because there has been little air combat over Ukraine. Ukraine does, however, make significant use of drones.
The need to counter aircraft and missiles is growing, especially as a result of Ukraine's attacks on Crimea. They have forced Russia to improve the air defence of the Ukrainian peninsula, which it has occupied since 2014.
Russia earns cash for missiles
Although Russia is struggling to produce enough new missiles for its war on Ukraine, it still has enough of the newer S-400 anti-aircraft missiles to export.
In 2019, Turkey angered its Nato partners by buying S-400 missiles from Russia. In August, Ankara finalised a deal for a second batch of the missiles.
Turkey has armed two anti-aircraft regiments with Russian missiles. In practice, that could mean hundreds of missiles.
Even bigger arms deals have been made by India, which is reportedly spending about 5.5 billion euros on Russian S-400 missiles. The Russian manufacturer delivered the first regiment of missiles last year and has promised the remaining four by the end of next year.
Translated and edited by Wif Stenger
The original article in Finnish: