The reality singing competition The Voice of Finland has rescinded its decision to abruptly remove two contestants who hold dual Finnish and Russian citizenship.
After Yle's Russian news service, Novosti, began investigating the case, the producer said that the decision had been an "error" and invited the competitors to return to the show.
The Finnish version of the international hit show airs on commercial broadcaster Nelonen, part of the Sanoma media conglomerate, which also owns newspapers such as Helsingin Sanomat.
One of the competitors, Maria (name changed at her request) moved to Finland seven years ago from St. Petersburg, where she had worked as a singer. In her new home country, Maria taught vocal lessons while trying to build a singing career.
This year she received Finnish citizenship and qualified to compete in The Voice of Finland. Taping of the programme began in early autumn and, in Maria's case, were to have continued in mid-October.
Article continues after image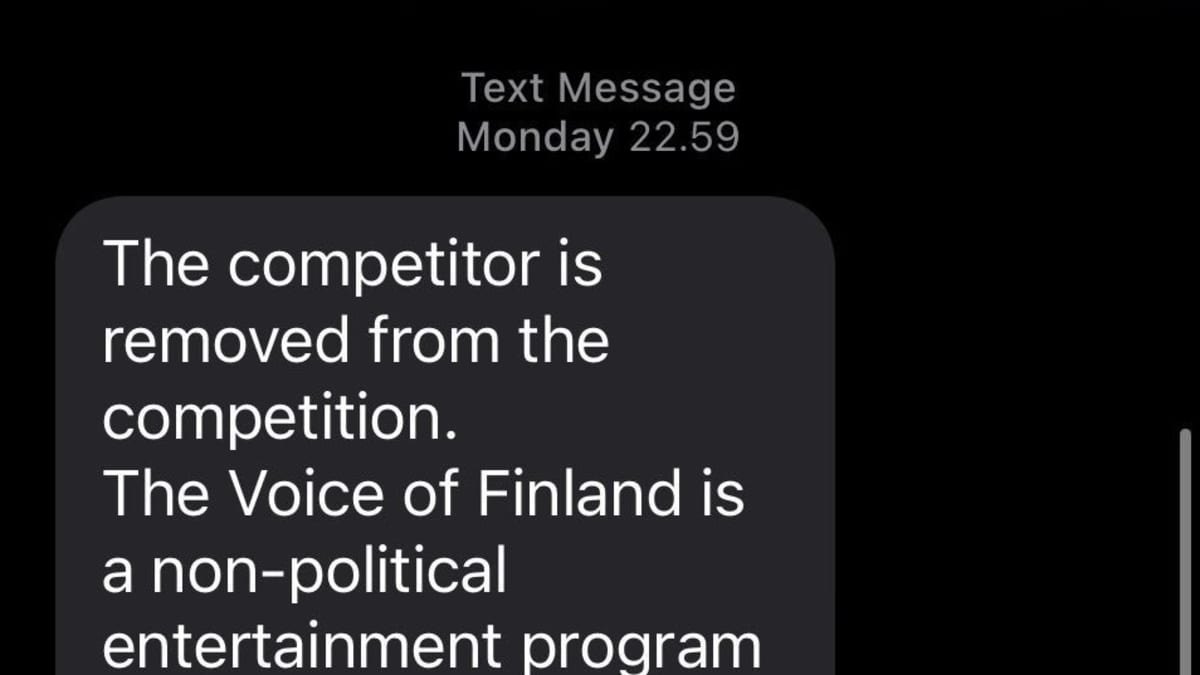 Around 11 pm on the evening before her performance, Maria received a text message in English from a producer of the show, announcing that it she had been excluded from the competition.
"The competitor is removed from the competition. The Voice of Finland is a non-political entertainment program and must remain so. The contestant is a citizen of a country executing a war of aggression, and no matter how impeccably the contestant herself acts in the program, the discussion around the program would become politicized, and unfortunately we cannot allow that," the message said.
"When I got a Finnish passport, I thought that I now had a second home. But now it was as if I was shown my place. After February 24, I lost both my homeland and myself. I think many other Russians feel the same way. Now I have the feeling that I don't have a home in Russia any more than in Finland," Maria told Yle.
"Like many other Russian speakers living in Finland, I have participated in demonstrations, supported Ukraine, provided rides for refugees and unequivocally condemned the war and Putin's regime," she said.
According to Maria, the production company's decision has affected her mental health.
"I'm a Finnish citizen, I can vote in the presidential election, but I can't sing in a Finnish entertainment programme. This has destroyed me mentally," she added.
Competitor invited back after Yle enquiry
Yle Novosti contacted the production company, ITV, and a Nelonen representative.
ITV CEO Pete Paavolainen initially answered Yle's questions by email:
"We are committed to treating everyone equally. However, the extraordinary world situation now brings perspectives to society and to entertainment that we have not encountered before. The production company and the channel made a decision together quickly in the middle of production, which was soon determined to be wrong. We apologise for that and would like to correct the error. We have been in contact with the competitor in question and offered her the opportunity to return to the programme," he wrote.
During research on the story, it emerged from several sources that in addition to Maria, another competitor with Russian citizenship was also excluded from the competition. This contestant has also been invited to return.
According to Paavolainen, the production company made a mistake in the matter, and Yle's enquiries did not affect the decision to ask the competitors to return.
The Voice of Finland was one of the country's most popular TV shows last year.
According to Maria, she was asked back on 22 October, just two days after Yle contacted the production company. She was originally notified of her removal from the show late on 17 October ahead of her scheduled taping the following morning.
Decision weighed at international level
In a later phone call, Paavolainen told Yle that the decision to ask the contestants back was considered jointly with ITV's international management and the owners of The Voice of Finland format.
"We understood that the decision was wrong, and that it had to be cancelled immediately. That's what we were thinking about for two days, how to do it. It is not easy in terms of production, for these two who felt that they had been wrongly treated," he said.
Paavolainen declined to take a position on whether the case was discriminatory.
According to him, there have been no similar cases in other productions.
Producer quits, Maria declines to return to show
The attitude towards the competitors also divided opinions within the production company.
Lotta Stenroos, who worked as a producer at The Voice of Finland, told Yle Novosti that after the decision to eliminate the contestants, she decided to leave the show's production.
"I am no longer employed by ITV due to the conflict of values arising from the incident. I couldn't stand behind the decision, so I thought it best to resign," she said.
According to Maria, the production company's decision to ask her back does not change anything.
"After all the humiliation and stress I experienced, I simply would no longer feel safe around these people," she said.
According to Paavolainen, the other competitor is still considering their decision.
Watchdog: Bias ban also applies to Russian speakers
Non-Discrimination Ombudsman Kristina Stenman noted that Finland's constitution and Equality Act prohibit discrimination based on origin, language or citizenship.
According to Stenman, in some cases, what one person may consider to be discrimination may be found to be justified. As an example, she mentioned sanctions imposed due to Russia's war of aggression, which Finland has approved along with other EU countries and which apply to certain individuals.
At the same time, however, Stenman points out that besides such sanctions, the prohibition against discrimination applies to members of Finland's large Russian-speaking minority.
Stenman declined to comment on any individual case, but said that her office investigates all suspicions of discrimination brought to its attention.
Russian speakers, numbering some 87,000 at the end of last year, are the largest foreign language group in Finland.