Premiered last spring at Hot Docs in Toronto – North America's most important documentary festival – the film has since taken Mattila to San Francisco International Film Festival, the most prestigious U.K. doc festival Sheffield, Nordisk Panorama in Malmö presenting the cream of Nordic docs, and many other top events. In October, Mattila flies to Australia for the Adelaide Film Festival, and to New York, where _Chimeras _is screened at a number of fests.
In terms of international festivals, Mattila's debut is undoubtedly one the year's most successful Finnish feature documentaries. Its international appeal is in no small part due to its subject-matter – though the documentary also shows considerable cinematic, aesthetic and technical flair.
Not just a film on Chinese contemporary art
On the surface, Chimeras delves into the contemporary art world of China through the intercut stories of elder art star Wang Guangyi and upcoming talent Liu Gang.
We follow the ascent of Liu Gang, the only child of a rural family, from a humble photography graduate to a budding art star. China now boasts the world's biggest contemporary art market, with galleries there and abroad on the lookout for the next big art sensation to fill the coffers. Liu's work – dealing with the western-styled fantasies obsessing today's Chinese – may fit the bill, and so through a series of successful exhibitions he enters Beijing's jet-set world of westernized luxury, embassy parties and promises of an international career.
A parallel storyline follows seminal Chinese contemporary art figure Wang Guangyi, who made his name with western-style avant-garde art in the 80s. However, as the film delves deeper into Guangyi's conflicted character, the multi-millionaire pop-artist doubts his achievements wrought in a western-dominated art world. In the end, Guangyi rebels against western influence, and becomes a crusader for a new Eastern form of contemporary art – a kind of oxymoron, as the whole concept of 'contemporary art' is utterly steeped in occidental tradition.
Liu Gang, too, comes to face the fact that his work is trapped in what is essentially a western discourse, and he starts to wonder who he is and where he's heading.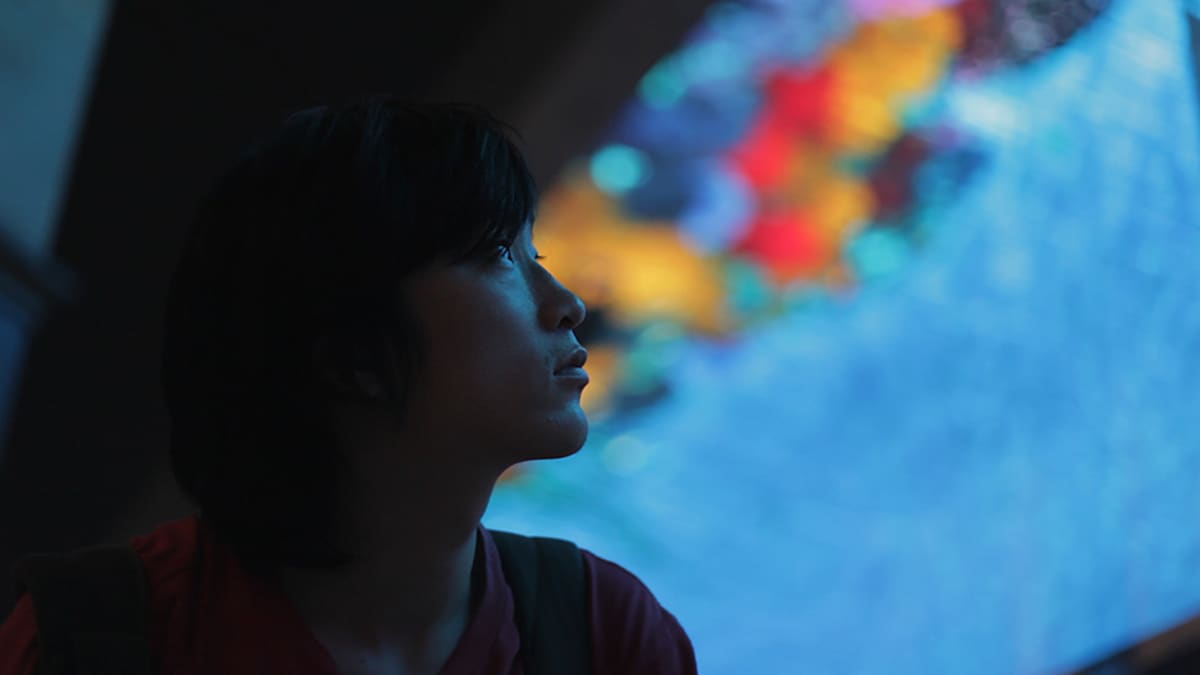 As such, the film is much more than a look at today's Chinese art world; it is a highly topical presentation and analysis of modern Chinese identity, and its conflicted relationship to western-style globalisation.
"What happens in the Chinese art scene not only encapsulates the underlying currents of Chinese society, but tells us something about the world we are about to enter," Mattila notes, alluding to China's growing power on the world stage.
Rave reviews abroad
Its sharp take on modern Chinese identity has earned Chimeras glowing write-ups in publications such as the Los Angeles Times, Canada's national newspaper The Globe and Mail, British Film Institute magazine Sight and Sound, and Variety.
With rave-reviews in the international media, Finnish media interest in the film – by a Finnish director and crew, and produced mainly with Finnish funding – has been conspicuously absent.
As Mattila points out, there is a lot of interest in China in North America, which, as the old seat of world power, is more acutely aware of the challenge presented by the country. Europeans, on the other hand, still seem to be somewhat tuned out of the rivalry, and as such, are more inclined to ignore related subjects. This is particularly true for small European nationalities like the Finns.
In today's highly interdependent, globalised world, one could question the wisdom of ignoring some of the formative powers of "the world we are about to enter," as Mattila put it.
"China-films"
When European audiences – and film funders – embrace seemingly faraway foreign subjects, it is often through stereotypes. Any film set in China, for example, is easily seen as just another "China- film."
This became obvious to Mattila, as he sought funding for what became Chimeras, in the aftermath of the 2008 Beijing Olympics. Television channels and other funding institutions told the director that they had already had too many "China-films" because of the Olympics. That is, instead of seeing films, for instance, on plastic surgery, contemporary art, or western corporates trampling the rights of land-owners (to pick a few recent documentaries set in China), these were all simply labelled as "China-documentaries."
"Nobody is saying that we've now seen so many films from America that I think it's time to start watching Brazilian films rather than American films... There seems to be some imaginary quota of films coming out of exotic places… Any film coming out of China is considered as being about China," Mattila notes wryly.
A documentary looking at the art scenes in London or New York could be perceived as a film on the art scene itself, whereas transported to Beijing, the same project just becomes another "China-film" in the eyes of many film producers and funders – who, in all fairness, are called to reflect the mentality and tastes of the western audiences they are serving.
Though Mattila originally intended to make a piece specifically on the global contemporary art world set in China, Chimeras broadened out into a wider reflection on Chinese identity in general. Mattila does not put this down to yielding to pressures from funders, but rather to his own deepening interest in the subject matter. In any case, the wider perspective was most likely instrumental to the film's international success.
Nordic neighbours succeed with wide outlook
Documentaries delving deep into subjects abroad are, predictably, in the minority in Finland.
Of course, it is unlikely that anyone else is going to explore and document Finnish realities, so it is up to Finnish filmmakers and funders to support these stories. It has also been convincingly argued that documentary makers better concentrate on subjects from their own cultures, as this guarantees the most in-depth and 'authentic' coverage.  
However, Finland's neighbours have been proving that you can also make powerful – and successful – documentaries from further afield. Last year's Swedish Oscar-winner Searching for Sugarman told the story of the unlikely comeback of a U.S. singer-songwriter in South Africa, having absolutely nothing to do with Sweden. This year's most talked-about doc, _The Act of Killing _(which has turned out to be the most popular film at the Helsinki International Film Festival) is a Danish production dealing with Indonesian mass-killers – again, a subject without any obvious Danish connection. The Danes seem to have a particular knack for international documentary productions; other past successes include Oscar-nominated Burma VJ about monks' uprising in Burma.
The trend in Finnish documentary has been to turn more inwards. For instance the Finnish Broadcasting Company Yle has cut down on its documentary slots, and has communicated to filmmakers its intent to focus more on domestic subjects in its commissions (while also continuing to commission occasional important international stories).
Considering dwindling resources, and the undeniable importance of capturing today's significant Finnish stories, such an approach is valid – as long as this does not lead to censoring or smothering talented filmmakers like Mattila working in international subjects, or to reinforcing a narrow, domestic-centred outlook in a globalised world.
Films like Chimeras do Finnish audiences a favour, offering thoughtful, in-depth access into Chinese motivations and mindsets – sure to impact on these distant shores.