Wind jackets, ear muffs, woolly hats and gumboots were decidedly in vogue at the Roihuvuori Hanami festival this year as the weather oscillated madly between crisp air and sunny skies and lowering cloud and showers. Despite the unpredictable skies, thousands showed up to the event throughout the day, stubbornly spreading their picnic blankets in a refusal to abandon their good cheer.
In honour of the Japanese cultural theme, many bolder types eschewed practicality in the name of role-playing. Pink, platform-shod schoolgirls, elaborate wigs, kimonos and anime and manga characters abounded as Helsinki people got into the spirit of the festival.
The cherry blossom celebration has been running in Roihuvuori since 2007.
"We live in neighbouring Herttoniemi and we've been coming here for several years – it's become something of a tradition," says Anitta Iso-Markku from her hillside picnic blanket. For her, it initially came as a surprise that such an amazing attraction can be found in unassuming Roihuvuori.
"Last year the flowers didn't seem so beautiful," chimes in Emilia Kuru, who came here with her young daughter, Lusi.
Each year over 150 cherry wood trees blossom in the park next to the old water tower in Roihuvuori.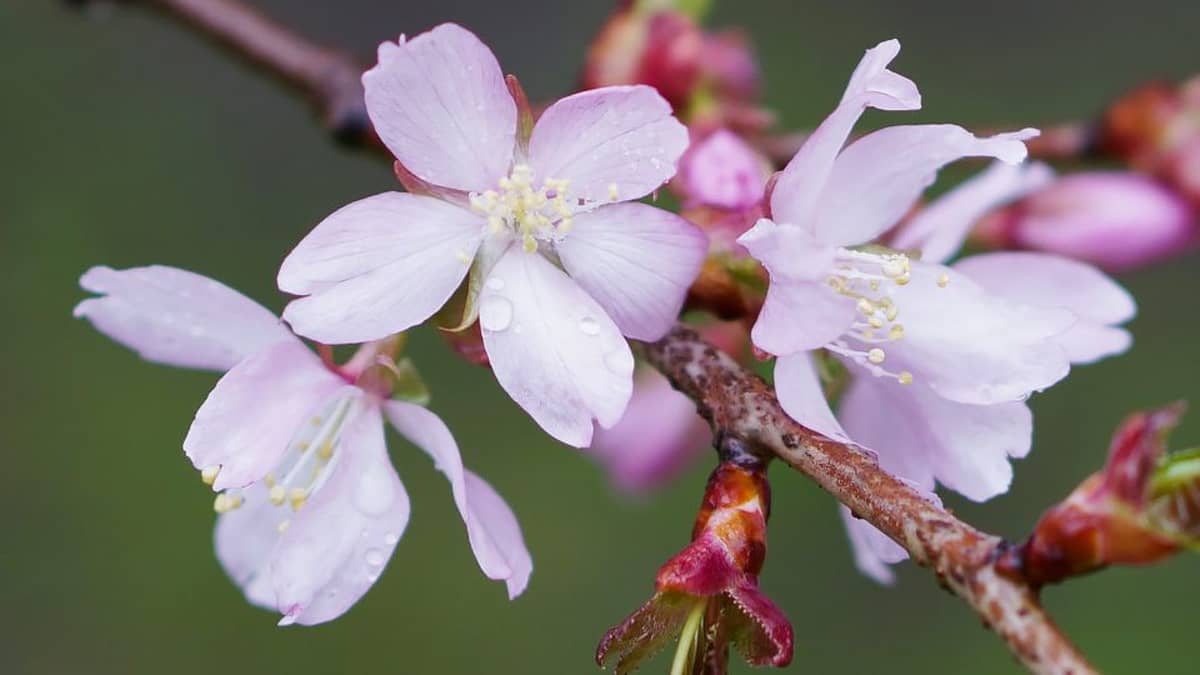 Fleeting beauty
The exact date on which the blooms will be at their peak can't be established much in advance of the festival. Sometimes the cherry trees bloom only for a short time – a matter of mere days. The onset of flowering depends on the weather.
"If it's cold, the bloom lasts longer, but if it's warm it can be only a day or two long," says event organiser and Roihuvuori Society chair, Otto-Ville Mikkelä. "The duration of the flowering season has fluctuated over the past eight years. Last year's 20 days of blossoms was the longest so far."
Never before has the festival actually managed to coincide exactly with the height of the blossoming period, according to Mikkelä, although they have managed to be only a day or two off in the past.
The perfect time to view the blossoms is when the buds have fully opened into flowers and before the leaves of the cherry wood have started to develop. This is the short time when the hillside appears most spectacularly engulfed with the sea of pink, lacy blossoms.
Eventually the brown leaves will begin to dominate the vista and the blossoms will fall from the branches, a rain of petals fluttering down to carpet the ground.
Hanami is a Japanese word that literally means "blossom viewing".
In Japan, Hanami is an important national celebration that takes place there well into the spring. At the peak of the blooming season, families gather in large numbers to spend time together picnicking, drinking sake and soaking in the cycle of nature.
It's easy to see why the symbolism of the event captivates so many Finns. Just like Finnish summer, the beauty and allure of the blossoms is intense, but fleeting.