Increasing numbers of asylum seekers are having their claims rejected, meaning they must return to their countries of origin, new figures show.
Statistics from Finland's Immigration Service show that of almost 10,000 asylum claims processed so far this year, one in four asylum seekers has been granted a positive decision, allowing them to stay in Finland either permanently or temporarily.
However the proportion of rejected claims has risen significantly, doubling from one in six during 2015 to one in three so far this year. By the end of May, 2,843 cases had been rejected outright, meaning neither a residence permit or permanent asylum have been granted.
The rise in negative decisions comes as the government tightens its criteria for granting leave to remain in Finland. Since last autumn the Immigration Service has twice changed its security assessment of three key countries from which Finland's asylum seekers originate – Iraq, Somalia and Afghanistan. These countries are now classed as safer than before, meaning more people are being more readily returned.
Immigration Service asylum director Esko Repo admitted that the changed security assessments have affected the outcome of decisions. "There are currently no areas in Iraq, Somali and Afghanistan from where claimants would be categorically guaranteed to receive protection," he said.
However he claimed that safety assessments are only one reason for the growth in negative decisions. "The issue is simply that the criteria for receiving asylum are not being fulfilled," he said.
The tougher stance has caused concern among organisations and asylum seekers who dispute the government's claim that the countries are now safe enough to return to. On Wednesday this week a group of around 60 Iraqi asylum seekers protested outside parliament against the forced return of rejected asylum seekers to the country.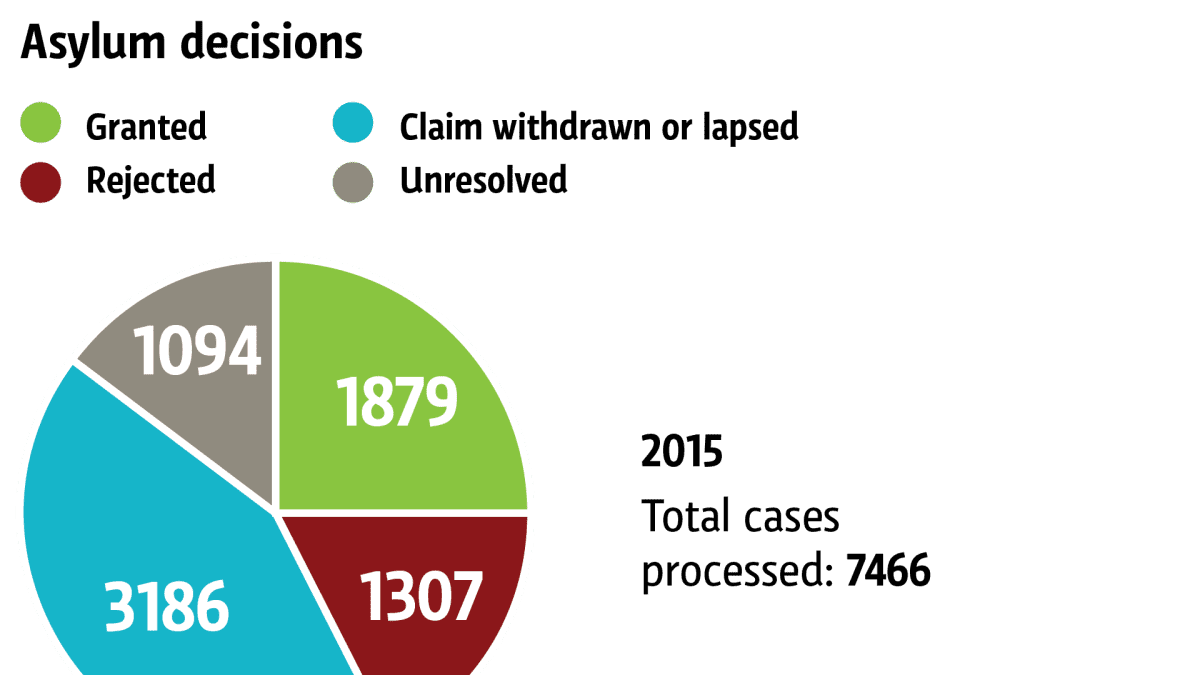 Record year
Following record numbers of arrivals to Europe last year, predominantly from the Middle East, Finland's immigration service has now processed 10,000 asylum claims this year, amounting to 165 decisions a day. The authority still has a further 20,000 applications to go through, meaning their initial aim to clear the backlog by the end of the summer is now looking unlikely.
Earlier this year the interior ministry predicted that only around 10,000 of the 30,000 asylum seekers who arrived in Finland during the peak of Europe's refugee crisis would be granted a positive decision. This claim was disputed by the Finns Party, who insisted that the true number of people allowed to stay would be closer to 25,000. If the current pattern of decisions holds, around 8,000 of the asylum seekers arriving in Finland last year will be allowed to stay, suggesting that the Interior Ministry was closer to the mark than the Finns Party.
Voluntary returns dropped
The proportion of positive decisions has remained steady, with one in four claimants receiving permission to stay in Finland either temporarily or permanently. With the fall in voluntary returnees, more applications are now being seen through to the end, and more negative decisions are being reached.
Last year 3,186 Iraqis – almost half of all asylum claimants from that country – left Finland voluntarily before their claim had been fully assessed. Numbers of people returning voluntarily have now dropped off sharply, however, with only one quarter of asylum claimants leaving of their own accord this year.
So far ten planes – carrying in total around 1,000 people – have taken voluntary returnees from Finland back to Iraq.
One reason for the high numbers of returnees could be that the reality of life in Finland turned out to be very different from the version that was sold to many refugees and migrants by people traffickers or via rumours on social media. For many of last year's arrivals, obtaining a residence permit, finding employment and applying for family members to join them in Finland all turned out to be much less straightforward or certain than expected.
Others have said that the high number of people returning voluntarily is a sign that many of the arrivals to Europe were economic migrants rather than refugees fleeing sectarian violence, and that Iraq is a safe place – a claim that asylum seekers remaining in Finland vigorously refute.